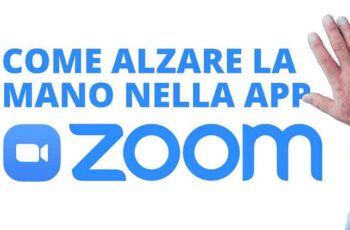 When attending a Zoom meeting or an online lesson, you have to adhere to some rules. Online meetings may seem more relaxed because you participate from the comfort of your home. However, there are a number of rules that make meetings more effective.
One of the first rules is that you shouldn't start talking when you want as this can distract the host and other attendees. You should raise your hand politely to let the host know that you have something to say and wait for the other person to finish their speech. But how do you raise your hand during a Zoom meeting?
How to turn off the camera during a call with Zoom
How to raise your hand to the desktop
Although the Zoom app is very effective, allowing you to join the meeting using your smartphone, many people still prefer to use their PC or Mac. Most are used to taking notes on their PC, while others find it easier to navigate. Here's how to raise your hand if you're using a computer:
Click on the Reactions section at the bottom of the screen.
Click on the small hand icon, labeled "Raise your hand".
Your hand is now raised, which means hosts and other attendees will see that you have something to say. Hopefully your turn will come soon, but it all depends on the person arranging the meeting.
Some people like to have a question and answer session at the end of the meeting, so you may have to wait a bit.
How to lower your hand
Have you ever formed a question in your mind, only to hear the answer a moment later? Maybe the teacher got to that point and made it clear, or someone asked exactly the same question you wanted to ask. This happens often which is why it is important to know how to lower your hand in Zoom meetings.
When you have raised your hand, the label on the hand icon changes from "Raise your hand" to "Lower your hand". All you have to do is click on it and your hand will drop, indicating that you have no questions for now.
How to find the Zoom meeting password on mobile devices and PCs
Shortcuts
If you were wondering if there are any shortcuts, we've got you covered. Shortcuts can be especially useful if you are attending a brainstorming session or an online language course. Anything that requires a lot of interaction.
If you're using Windows, press Alt + Y to raise or lower your hand. Alternatively, if you are using the Mac, press Option / Alt + Y.
How to raise your hand on the mobile?
It doesn't matter if you are using the Zoom app on an iOS or Android smartphone, the process is similar and only takes a couple of seconds. Here's what you need to do:
Scroll to the bottom right corner, then tap More.
Tap the "Raise your hand" icon.
The hand icon should now be visible and everyone should be able to see that you have something to say. Also, the label will change from "Raise your hand" to "Lower your hand". If you wish to lower your hand, all you have to do is touch that mark.
Zoom label
While Zoom meetings are generally more casual than conference room meetings, you should still adhere to certain rules. As we have already said, the first rule is to raise your hand when you have something to say.
The second rule is to keep the microphone muted when you are not speaking. Especially if there are other noises coming from your home, such as your spouse watching TV or your children playing in the other room.
If the conference call lasts too long, you may be tempted to browse social media or read an interesting article in a magazine. We urge you not to, as the third rule is to avoid any distraction during a call. You may think that the other participants won't notice that your mind is elsewhere, but that's not true.
Ultimately, it's disrespectful not to listen to your coworkers, and you could end up getting a bad name. Just because you couldn't resist the temptation to check your Facebook page! Also, you may miss an important part of the meeting and then have to ask someone to do it all over again, which can be really uncomfortable.
How to enable and disable end-to-end encryption in Zoom
Conclusion
Some people prefer meetings in real life, while others prefer Zoom because it is much more relaxed. Well, it's certainly easier to turn on your PC and connect, without having to get dressed and move somewhere. However, don't forget to abide by some rules that help you communicate more effectively.
What's your favorite feature on Zoom? We'd love to hear your opinion in the comments section below.
Further Reading:
How to activate subtitles in Zoom for free
How to set the profile picture in Zoom
How to cast Zoom on Chromecast
How to mute audio on a zoomed call
How to broadcast a Zoom meeting on TV