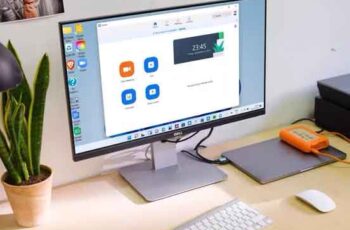 Zoom screen sharing is a boon for those who work from home to do their business but is a problem when it doesn't work. You can share your current computer screen or any window during a Zoom meeting to express your point of view.
Zoom screen sharing not working, 8 solutions
The problem arises when the zoom screen sharing doesn't work and keeps showing a black screen. Read on to learn how to troubleshoot black screen sharing in Zoom on Windows.
Screen sharing with zoom is useful for showing browser tabs or documents from the current computer screen. If you are unable to perform smooth screen sharing in Zoom, please follow the steps below to resolve the issue.
1. Close Zoom completely from the Task Manager
If other Zoom related activities are performed in the background, they may interfere with Zoom functions such as screen sharing. You need to use the Task Manager app to completely close the app.
Press the Windows key and search for Task Manager.
Open Task Manager and find Zoom from the menu.
Click Zoom and select End Task at the bottom.
Open the Zoom app and try sharing your screen again.
2. Enable screen sharing permission for attendees
If you are on a Zoom call, you need to ask the host to enable screen sharing for you. By default, Zoom disables screen sharing for attendees for obvious reasons.
You don't want any attendees to initiate screen sharing in the middle of a call. Enable screen sharing for attendees and ask them to start screen sharing during an ongoing Zoom call.
The host needs to go to Advanced Options in the Share Screen option. From there, enable screen sharing for all attendees.
3. Use a stable Internet connection
Zoom video calls require a high-speed Internet connection for a flawless online meeting. Especially when sharing your screen, you need to have double-digit internet speed for a better experience.
Make sure you connect to the 5,0GHz Wi-Fi frequency and not the 2,4GHz frequency. Then, check your internet speed.
4. Enable hardware acceleration for screen sharing
This option is enabled by default, but it is still recommended to double check it from the Zoom Settings menu. Here's what you need to do.
Open the Zoom app on Windows.
Click the profile icon at the top and go to Settings.
Select Share Screen.
Select Advanced and enable Share Screen in the "Use hardware acceleration for" menu.
5. Lower display resolution
This mainly applies to those who use Zoom on a high resolution display with 4K or 5K resolution. The higher the resolution, the more effort it takes for Zoom to share the screen with other participants. Thankfully, Windows allows you to lower the resolution from the Settings menu.
Open the Settings menu on Windows (use Windows + I keys).
Go to System> View Menu.
Find your screen resolution in the Scale and Layout menu.
Use the drop-down menu and reduce the screen resolution.
Open the Zoom app and see if it solved the screen sharing not working issue for you.
6. Reduce frame rates when sharing your screen
Are you looking to share a screen on Zoom to your high refresh rate display? You need to lower the frame rates when sharing your screen from the Zoom settings menu.
With that, Zoom will require less CPU power and reduced internet bandwidth to perform screen sharing while on a call.
Open the Zoom app on Windows.
Click on the small Settings icon in the upper right corner.
Go to Screen Sharing> Advanced menu.
Enable the option to change frame rates when sharing your screen. For an ideal experience, you should choose around 30 frames per second. Don't go with the default settings of 10fps. It will not be an ideal experience for the other participants.
7. Stop the video and then share your screen
It can be difficult for low-end CPUs to keep up with both video feed and screen sharing during a Zoom call. You may face screen sharing showing blank screen or not working during Zoom call. This trick should work to reduce the stress on the CPU during the next Zoom call.
When in the middle of a Zoom call, you should stop your current video feed and then click the Share Screen button to show the display to participants during a call.
8. When zoom screen sharing doesn't work, please update the app
Zoom regularly releases app updates to improve software stability. Screen sharing not working in Zoom could be due to an outdated build on your computer.
Open the Zoom app and click on the profile above. Check for updates and install the latest update on your computer.
Start screen sharing on a Zoom call
Screen sharing not working during a Zoom call may leave you frustrated. In particular, the black screen error in screen sharing can be annoying. The above steps should fix the problem for you. Let us know which trick worked for you in the comment section below.
Further Reading:
How to share your screen in a Zoom meeting
How to share iPhone or iPad screen on Zoom
How to use the whiteboard in Zoom and other tricks
Does Zoom warn me if someone takes a screenshot?
How to cast Zoom on Chromecast