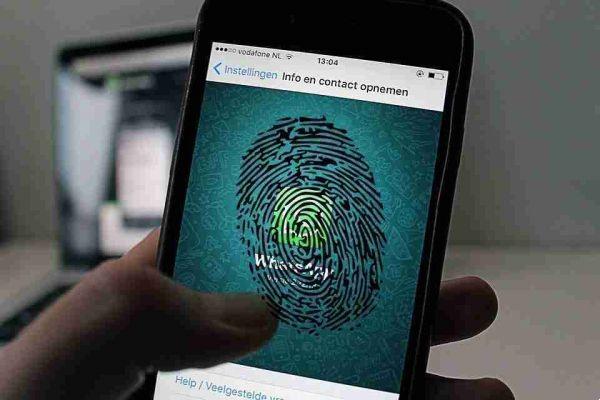 Now you can further protect your privacy on Whatsapp by putting fingerprint protection on your Android smartphone.
This feature is useful if you often give your unlocked smartphone to your children, friends or relatives. For example to show him the photos. These could while the phone is unlocked go to your Whatsapp and see your chats.
If you don't want this to happen, fingerprint protection on Whatsapp will ensure that even if the phone is unlocked this does not happen. If you want to access Whatsapp, and then open it, you will need to unlock it via your fingerprint.
If you decide to activate this function, make sure you have the latest version of Whatsapp installed on your device and follow the procedure below.
Activate Whatsapp fingerprint lock on Android
Open the Whatsapp app on your Android smartphone.
Now press on the three dots at the top right.
Here select Settings.
Now tap on the item Account and then Privacy.
Scroll through the items and at the bottom you will see Blocco with digital imprint, select it.
Then activate the toggle next to the item Sblocca with digital imprint.
You will be asked to tap your device's fingerprint sensor to confirm.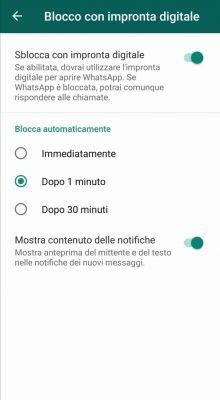 Once done you can decide on Automatically block the time that must pass before the block is activated from when you close Whatsapp, between: Immediately, After 1 minute or After 30 minutes. By default the lock is set to one minute, but choose whichever you prefer.
You can also decide whether to show the content of the notifications or keep it hidden until you enter Whatsapp with your fingerprint and see who sent you a message. Just pick it in Show notification content by setting it to on or off with the green lever next to it.
The same function as.
Disable Whatsapp fingerprint unlock on Android
If you want to remove the fingerprint unlock, all you have to do is go to the three dots> settings> accounts> privacy> fingerprint lock and to the voice Sblocca with digital imprint deactivate the lever next to it by moving it to the left.