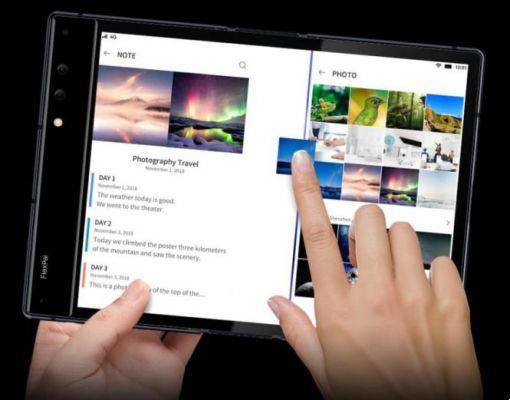 These are the main advantages of the foldable cell phones, but also the disadvantages of some devices that will reach the market in the coming months to replace tablets. Mobile phone design moves according to trends. There is one manufacturer who adopts a design he likes, while the rest flock to what he likes.
This is what happened with the iPhone X notch, something we saw on dozens of phones in 2018, although there are now manufacturers who want to ditch the notch and place the camera in a small hole.
The foldable smartphones of 2022
Advantages of foldable smartphones
Tablet and phone, all in one
The main advantage of folding mobile phones is that no matter what system they use (flexible screen or double screen folding system), we have a mobile phone and a tablet at the same time. This is especially true for mobile phones with flexible screens, since they are the ones that don't have any bezels between the screens (as do foldable phones with two screens), and they really allow us to "Distribute" the mobile screen better and transform it into one but with double the size.
Therefore, we carry in our pocket a device that we can use it as a mobile phone, but also as a tablet to enjoy a large screen when the situation allows.
Productivity and entertainment at the same time
Another advantage of folding smartphones, is that we can have one content on the left screen and another on the right (or top and bottom, if we want). This is something that is controlled by the software, so the mobile allows us to watch YouTube on one screen and a social network on the other, or a game and Twitter, for example.
That is, it's like using two monitors on a PC, but on our cell phone. Imagine the possibilities of viewing content in full screen without the need for Android split screen.
More resistant screens
Another plus foldable smartphones, in this case, is that screens should be much stronger. That is, thinking of glass as we are used to, cell phones would be less prone to breaking than screens, since these panels are more flexible, which makes them more resistant. Of course, we need to see what kind of Gorilla Glass technology, for example, can be applied to a flexible mobile phone. According to Royole, his flexible screens don't break, but of course… it's worth seeing!
Disadvantages of folding smartphones
Of course, like all technologies, the first versions will have a number of shortcomings. These are the main disadvantages of foldable phones.
Screens that will not have optimal quality
Something applicable to flexible screens. There are two problems we can find in flexible screens. On the one hand, the number of pixels. We got used to a very high number of pixels per inch and with foldable mobile phones the number of pixels on the screen may be reduced. Another problem is the IQ, or 'picture quality' of both displays.
Overly thick phones
On the other hand, one of the disadvantages of foldable phones it goes without saying, as the appearance of the smartphone has been developed to incorporate the highest possible technology in the minimum thickness. Indeed, we have reached extremes where manufacturers are forced to give up the 3,5mm jack and very often the camera module, failing to physically reduce the number of lenses, protrudes from the body.
We still don't know what the samsung foldable phone, but from what we have seen in the pictures, when the device is folded it becomes very thick. What we have seen up close is the Flexpai Royole, and it is shaped like a book when folded.
New technology at the price of gold
The main disadvantage of foldable phones is, as always, the major disadvantage of when new technology is released or existing technology is applied in a different way. Manufacturers have invested a lot of resources to create these foldable phones and they will be a luxury item at first.
It looks like we'll have to wait until the Mobile World Congress at the end of February to get some data, but the expected price of telephones with flexible screens will exceed 1.300 euros.
These are the main advantages and disadvantages of folding smartphones. Now we need to know the ins and outs of each of the new devices, and most importantly, see which ones convince us.
Further Reading:
Xiaomi challenges Samsung: it will present the Mi 9 on the same day as the Samsung Galaxy S10
Differenze TV LED: Edge LED vs Direct LED vs Full Array
Why use Trough-hole technology in PCB design?
LED headlights for cars: advantages and disadvantages
The best smart coffee machines