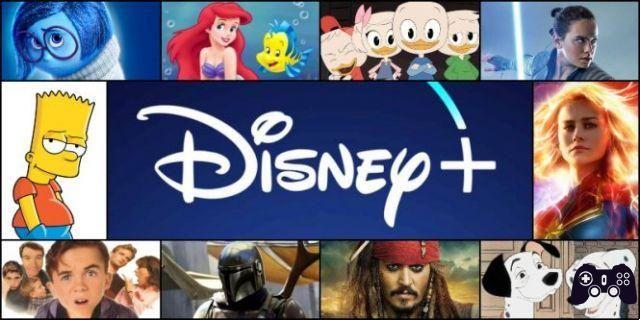 If you are here it is because you want to know what is Disney + and how to use it, well then let's see together. Everything you need to know about the Disney streaming service. Disney + is Disney's on-demand streaming service offering a selection of titles from Disney's vast catalog of movies and TV series. In addition to fan-favorite movies and shows, the service also offers original content based on hugely popular franchises such as Star Wars and Marvel Cinematic Universe.
The Disney Plus service is subscription-based and allows subscribers to stream movies and shows on demand through a website on computers and laptops or an app on phones, tablets and streaming devices. There is no connection between Disney + and the Disney Channel, so you don't need a cable subscription to access this service. Disney also owns ESPN and Hulu, and offers an option to bundle all three services together for a monthly fee.
What is Disney +?
Disney Plus is Disney plus Pixar plus Marvel plus Star Wars plus National Geographic, which basically simply means it's a streaming service built to house all of Disney's multimedia properties. It's essentially Disney's answer to Netflix, it's very similar to Netflix in terms of features and content, and serves as the official streaming home page for all of the Disney properties that were available through Netflix.
The main difference between Disney + and Netflix is ​​that Netflix's streaming catalog of movies and TV shows is much larger. The other big difference is that Netflix costs more. Even the cheapest Netflix plan is more expensive than Disney Plus.
While the Disney + streaming library is smaller, it's also more focused. If you're a fan of Disney, Marvel, and Star Wars, Disney Plus is the only place you'll find those titles.
Disney + also differs from services like Netflix in that they come close to the old television-style content release strategy. Instead of releasing entire seasons at once like Netflix, Disney Plus follows a weekly viewing schedule for their original programming. Viewers who have become accustomed to binge-watching on Netflix may find this return to weekly episodes a little frustrating.
How to join Disney +
You can sign up for Disney Plus via the website or app. Here's how to sign up via the website:
Go to disneyplus.com and click Start Free Trial.
Click on Buy it now if you want to bundle Disney + with Hulu and ESPN +. There is no free trial for the package, so you'll have to pay right away.
Enter your email address and click I accept and continue.
Choose a password and click continues.
Choose a subscription type, enter your credit card information and click I accept and subscribe.
You must enter your billing information to receive the Disney Plus free trial, you will not be charged anything. You will be charged for the subscription if you do not cancel before the end of the trial period.
Click on Start Disney + streaming to start.
How to verify your Disney + account
When you first sign up for Disney +, you may be greeted with a blank screen and error message. If this happens to you, it means you need to verify your Disney Plus account before you can start streaming.
Here's how to verify your Disney + account:
If Disney + displays a blank screen, click account icon in the upper right corner.
If you have not set up any profiles, the icon will appear as Mickey Mouse.
Click on Account.
Click Verify Account.
Check your email for the verification code sent by Disney +. Once copied, enter it on the Disney Plus verification page and click continue.
You are now ready to start streaming.
What content can you watch on Disney +?
Disney + is streaming movies and TV shows from Disney, Pixar, Marvel and Lucasfilm. It also has National Geographic content. While R-rated movies and some original materials, such as Marvel's Runaways, will still appear on Hulu, most of the content from these five sources will be available exclusively on Disney Plus.
If you enjoy watching the latest Marvel Cinematic Universe or Star Wars movies on Netflix, we recommend you upgrade to Disney +. The last Disney movie to appear on Netflix was Ant-Man and the Wasp. Disney Plus will exclusively stream all future Disney, Marvel, Pixar and Lucasfilm films.
In addition to the movies, Disney + also has a lot of original content. The service includes original Star Wars series such as The Mandalorian, original series set in the Marvel Cinematic Universe, original National Geographic documentaries, and more.
All content on Disney + is available upon request and there is no pay-per-view mechanism. This means that the subscription gives you access to the entire streaming library and you can't pay extra to rent movies.
Is Disney + connected to ESPN + or Hulu?
Disney owns ESPN (and ESPN +) and Hulu, but they are separate services that you can sign up for separately. Fans of all three services also have the option to sign up for a package of Disney Plus, ESPN + and Hulu for a monthly fee, according to the latest news € 6,50.
When you subscribe to Hulu with Disney +, you will have the version of Hulu that includes advertising. If you want the ad-free version of Hulu or Hulu With Live TV, you must subscribe to each service separately.
How to watch Disney +
The primary way to watch Disney + is through the Disney Plus website, which includes a streaming video player that works with most modern browsers.
Disney + looks a lot like other streaming services, like Netflix and Hulu. The streaming library has a few categories, including movies, series, and originals, and there's also a search function that you can use to find specific titles.
Users can save movies, TV shows and originals to watch later.
How many shows can you watch on Disney + at the same time?
Streaming services place a limit on the number of streams you can watch simultaneously using a single account. Even if a service allows you to create multiple profiles, that doesn't mean you'll be able to use all profiles at the same time.
Disney Plus allows you to stream on four devices at the same time. This means you can watch The Mandalorian on your smart TV while your kids watch cartoons and movies on a combination of three compatible smartphones, tablets, game consoles or other streaming devices.
How to fix error code 75 on Disney Plus?
If you try to stream to more than four devices at the same time, the error code 75. To clear this error, you need to stop streaming on one of your devices.
How to save movies on Disney Plus?
Going up disneyplus.com or open the app Disney Plus and select a show or movie you want to save.
On the show or movie landing page, click or tap the symbol +.
This is a good way to keep track of original shows like The Mandalorian that have new episodes released every week.
To watch the show or movie later, click or tap WATCHLIST.
With the watchlist open, click or tap the show or movie you want to watch.
How to watch Disney + on mobile devices and TVs?
In addition to watching Disney Plus on your computer, you can download a Disney + streaming app on a variety of other devices.
The Disney + app is compatible with smartphones, tablets, and some streaming devices, including Roku. It is also compatible with some smart TVs and there is a version that works with PS4.
Here's how to download Disney + on Android, iOS, Roku, Xbox One, Play Station 4, Fire TV and on Smart TV.
Android: Disney + on Google Play
iOS: Disney + on the App Store
Roku: Disney + su Roku Channel Store
Xbox One: Disney+ on Windows Store
PlayStation 4: Disney + on the PlayStation Store
Fire TV: Disney + on the Amazon app store
Other Smart TVs: Download the Disney app via your smart TV interface
One of the benefits of the Disney + app is that it lets you stream without being tied to your computer, but it also has some additional features. For example, the streaming to your smart TV and game console versions allow you to stream directly to your TV.
The tablet version of the app also lets you download shows and movies directly to your device so you can watch them later without an internet connection.
Further Reading:
How to cancel your Disney Plus membership
How to download Disney Plus on Xbox
How to cancel Disney Plus membership before the free trial ends
How to download Disney Plus to your computer
How to install Disney Plus on Amazon Fire Stick and Fire TV