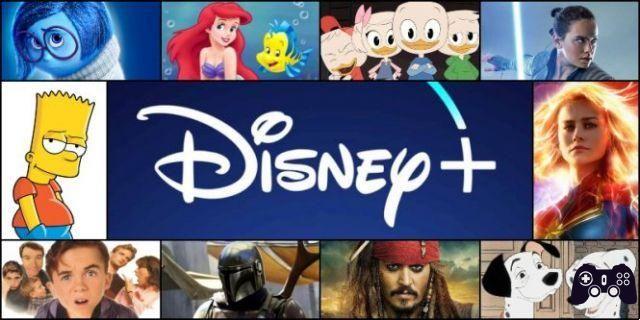 Disney + was finally launched for millions of fans ahead of its time. It has been speculated that the service was active as early as 2016, following Disney's acquisition of key assets in the streaming industry. It features most of the Disney content and is priced well below many other streaming services.
Disney + is Disney's on-demand streaming service offering a selection of titles from Disney's vast catalog of movies and TV series. In addition to fan-favorite movies and shows, the service also offers original content based on hugely popular franchises such as Star Wars and Marvel Cinematic Universe.
The question that many users ask themselves is: what now? Where and how to use this streaming service? In this article, we will see how to download the app and access the service on a SONY Smart TV.
SONY OR ANDROID TV
SONY Smart TVs use the Android TV operating system to manage applications and streaming. This operating system is a simplified version of the Android mobile platform, with a focus on entertainment center functionality. This results in an interface geared towards discovery and ease of use. That said, let's move on to the actual download.
DISNEY + ON SONY TV
The simplest and most direct way to install the Disney + app, as well as most other apps, is via the Google Play Store on your TV. Open the TV Home screen and search for "Apps". Here you will find the Google Play Store, so follow these instructions:
Choose the "Google Play Store" option from the menu. If this is your first time accessing it, you will be asked to accept the terms of service. You have to accept them to continue.
Once the Play Store loads, you will be shown a selection of popular apps. You can scroll through these apps and try to find the one you need. Since Disney + has just launched, it's likely to be in the featured section. Otherwise, you can use the search bar.
Switch to the magnifying glass in the upper left corner of the screen with the remote, select it and type "Disney Plus".
The Disney + app should appear on the screen. Scroll down and select it. When you select it, you will be shown information about the app and given several options in a horizontal menu. One of these options will be "Install".
Select the Install option. A progress bar will appear while the app is being installed.
When the app installation is complete, all you have to do is go back to the Home screen and the app will be listed along with the other apps. Speaking of the Home screen, if you select the Featured Apps option from the menu on the Home screen, you will see the apps currently in the foreground and you will likely find Disney + there.
WHAT IS AND IS NOT ON DISNEY +
Disney + isn't Disney's first foray into the world of streaming. They have made some relatively unsuccessful attempts in collaboration with other streaming giants. However, Disney + represents their first serious attempt to create a proprietary streaming platform. As such, it goes without saying that a tremendous effort has been made.
The content available from day one on Disney + is impressive, as it contains most of Disney's catalog and some of their more recent properties. It lacks content not suitable for children and families, for many it is better this way. Additionally, all properties released under Disney Touchstone Pictures are temporarily absent.
Disney will also have to refrain from adding related properties with agreements with other streaming services before they can appear on Disney Plus. This includes Black Panther, Daredevil and parts of the Avengers series.
COMPATIBILITY REQUIREMENTS AND SMART TV
As of this writing, Disney Plus is available on over nine hundred Sony TVs. This means that you can log into Sisney Plus by following the on-screen wizard and install the streaming service directly.
HAVE FUN WITH DISNEY ON YOUR SONY
Downloading the Disney + app to a SONY smart TV is a very simple process. SONY TVs use the intuitive and simplified Android TV operating system.
It's a simple matter of navigating the Google Play Store from the home screen and finding the Disney + app. The installation should not take more than a few seconds and the app will then be accessible from the main screen. And, remember to sign up for the service before installing the app.
You are a Disney + subscriber, what attracted you? Was it a deal for you? Is there any content you would like to find on the platform? Let us know in the comments below.
How to download Disney Plus on Vizio Smart TV
How to download Disney Plus on Hisense Smart TV
How to download Disney Plus on LG Smart TV
Further Reading:
How to watch Disney + on TV, phone and laptop
How to download Disney Plus on Chromecast
How to download Disney Plus on Philips Smart TV
How to download Disney Plus on Xbox
How to cancel your Disney Plus membership