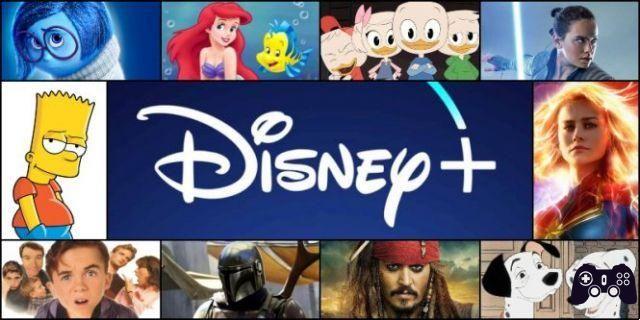 How to download Disney Plus on Apple TV? How to watch Disney Plus on Apple TV? If you haven't lived under a rock in the past few months, you've seen the internet buzzing with the words "Disney Plus". Disney announced the launch of their streaming service well over a year ago. This new platform faces direct competition with services like Netflix, Hulu, Amazon Prime Video and Apple's upcoming streaming TV launch.
From the start, Apple TV users already knew they could get their hands on Disney Plus. So here's a tutorial on how to download and watch Disney Plus on Apple TV. The great thing is that Disney has made things very easy for Apple TV users. Don't worry, we'll show you how to download and watch Disney Plus on your Apple TV. Before you start streaming your favorite Disney movies on Disney Plus, you need to register and create an account. Get started by signing up here for a one-week free trial.
How to download Disney Plus on Apple TV
Before you know all the details that revolve around the platform, you'll probably want to know how to make it work on your Apple TV device. It's not rocket science, but if you want to watch Disney Plus on Apple TV as quickly as possible, here's what to do.
First of all, sign up. Using the browser on your PC, laptop, smartphone or tablet, go to the Disney Plus website and follow the registration instructions.
You will be prompted to enter your information and purchase the subscription, which is the only way forward.
After you're done creating an account and subscribing to the service, go to Apple TV and start it.
Now launch the App Store on the TV.
The Disney Plus app will be in the Featured tab but you can also find it by searching for "Disney Plus" via the Search box.
Click the icon, select Download and wait for the app to download and install automatically.
Log into the Disney Plus app by entering the Disney Plus credentials you used for the subscription.
Now all that remains is to sit back and enjoy the content. Browse the Disney Plus app to browse or search for your favorite shows and movies. Once you've found what you're looking for, select Play. That's all!
Which Apple TVs are compatible with Disney +
It shouldn't be surprising, but Disney + isn't available with all Apple TV models. Instead, here's a short list of which TVs are compatible:
HD 32GB – A1625
4K 32GB - A1842
4K 64GB - A1842
This means that if you have an Apple TV older than the A1625, you won't be able to download Disney +. Fortunately, there is still a way to enjoy your favorite Disney content on the big screen in your home.
What if you have an older Apple TV?
If you have an Apple TV that is older than the A1625, you will not be able to download the Disney + app. The simplest answer for this is due to the fact that there is no App Store available on these older devices. In case you own one of these old Apple TVs, you can take advantage of AirPlay. This requires installing the app on your iPhone and here's how you can use AirPlay on your ATV:
Make sure your iPhone / iPad is on the same network as your ATV
apri Settings
Toccata Wi-Fi
Make a note of the network
Open theapp Disney + on your iPhone
Find a movie / show you want to watch
Tap the icon AirPlay in the upper right corner
Select yours Apple TV
Provided everything is working properly, the content will start playing on Apple TV from your iPhone. There are rumors that Disney may open a "channel" dedicated to older generation Apple TVs. This would give you access to Disney + without using AirPlay, but that's just rumors for now.
Can I install Disney Plus on a device with an older iOS version?
If you have to rely on AirPlay with an old Apple TV, another possible obstacle is your iPhone or iPad. The Disney + app is compatible with all iOS devices capable of running iOS 11 or later. However, the app will not be available on any device running iOS 10 and earlier. This could be problematic if you have an old iOS device that is being used by a child to watch content. Currently, Disney has no plans to make the streaming app compatible with devices running iOS 10 or earlier.
How many devices in my family can use Disney Plus at the same time?
As is the case with almost all streaming services, there are limits to the number of devices that can be used at the same time. The same goes for Disney +, as there are some limitations. Disney + subscribers can stream content to four devices simultaneously at no additional cost. Also, if you set up sharing with your family, you can share your subscription with up to six family members.
Can I download Disney Plus content to my device for offline viewing?
The next big question is whether you are able to download and watch content from Disney + offline. Perhaps you are going out of town and have no data available to use through your carrier. Or maybe you just want to put some shows and movies on your iPad for the little ones. Thankfully, you can download your shows and movies for offline viewing, and it's pretty simple:
Open the app Disney + on your iPhone / iPad
Switch to the shows / movies you want to download
Tap the shows / movies
Next to the play icon, there is a download button
Tap the download button to enter the download queue
You can view the download progress by tapping the Queue button at the bottom next to your profile picture. There is a status bar that shows how much has been downloaded so you know when it's ready for offline viewing. If you try to download content to your mobile network, you will be shown a message. While it's possible, you'll need to enable it in the Disney + app settings.
Open the Disney + app
Tap your profile picture in the bottom right corner
touches on App settings
Activate / deactivate download via Wi-Fi only in the off position
Now you can easily download your content with cellular data. However, be aware that this will cause quick data exhaustion.
Further Reading:
How to watch Disney + on TV, phone and laptop
How to cancel your Disney Plus membership
How to download Disney Plus on Xbox
How to cancel Disney Plus membership before the free trial ends
How to download Disney Plus on iPhone