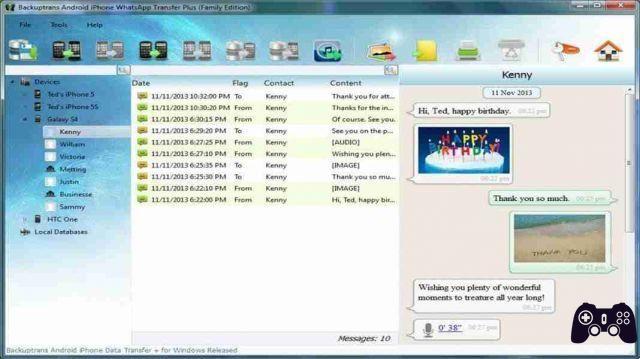 Whatsapp transfer how to download and how it works. Download and install Whatsapp Transfer on your computer.
The world's first software capable of transferring whatsapp chats between Android phones and iPhones and capable of making a backup of all Whatsapp conversations on your computer.
Whatsapp transfer how to download
WhatsApp Transfer is the innovative software (for PC and Mac) that allows you to transfer Whatsapp conversations from one device to another, from an iPhone to another iPhone, or between iPhone and Android devices or between two Android smartphones. This tool does not require jailbreak on iPhone or root permissions on Android devices to work.
Here is everything you can do with Whatsapp Transfer:
Make the Backup WhatsApp chats from Android / iPhone su PC/Mac
Restore WhatsApp chats from your computer on Android / iPhone
Transfer WhatsApp messages between Android and iPhone, between two iPhones, and between two Android.
Recover WhatsApp messages from backup iTunes and brings them back to the Android / iPhone device
Export conversations WhatsApp in un file Txt, Csv, Doc, Html o PDF
It allows to print WhatsApp conversations directly from your PC or Mac.
Extracts photos, videos, audios and other attachments from WhatsApp and save them on your PC or Mac
It supports iPhone, the whole series of Samsung Galaxy devices, HTC, Motorola, Sony Ericsson, LG, Huawei etc ...
Download the free demo version of Whatsapp Transfer now to start managing and / or transferring all Whatsapp chats, without any risk of losing or deleting them!
Download WhatsApp Transfer For computer Windows (Windows 10 / 8.1 / 8/7 / Vista / XP) here is the
Download WhatsApp Transfer Per computer Mac OS X (OS 10.7 -10.12) ecco i
NB. FOR MAC VERSION, if when you try to open the app you see the error Unable to open "Backuptrans Android iPhone WhatsApp Transfer" because it comes from an unidentified developer, you simply have to click on the app with the right mouse button and choose OPEN and then confirm (alternatively holding down the Ctrl key on the keyboard choose Open from the context menu)
If you get other types of errors you will have to go to the Apple menu> System Preferences> Security and Privacy> General panel and under choose "Allow applications downloaded from: ANYWHERE"
Whatsapp transfer how it works
Discover the features of WhatsappTransfer video guide
Guide & Tutorial
Whatsapp transfer costs
Whatsapp transferred from the links above and available for free in demo version if you want to buy the full version here are the costs of the program.
Buy Full Version
Personal Edition

€ 27.50+iva (win)
€ 32,00+iva (mac)
(3 devices - License valid forever)



This type of license allows you to manage whatsapp messages on up to 3 different devices. The program can be installed and used on one computer only.
Family Edition

€ 46.0o+iva (win)
€ 50.00+iva (mac)
(8 devices - License valid forever)

The "family" license allows you to download and install the program on all the computers of your family and to manage / transfer whatsapp messages on up to 8 different devices.
Business Edition

€ 159.00+iva (win)
€ 163.00+iva (Mac)
(Unlimited Devices - License valid forever)

This license is designed for companies and those who work in the world of mobile telephony. It allows you to download and install the program on all computers of your company / company and to manage whatsapp messages on unlimited devices.