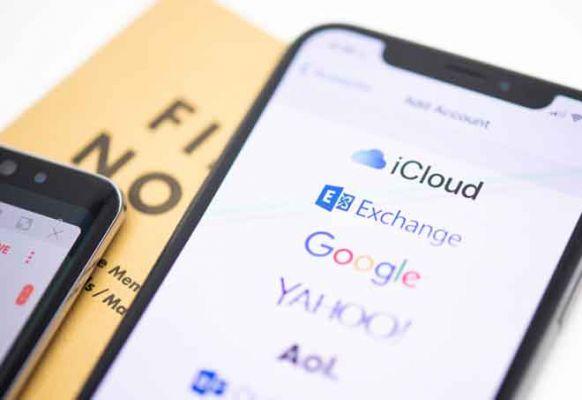 Switching to a new phone is exciting until reality hits us hard in the face. This happens when you need to transfer data from your old phone to a new phone. It's a heartbreaking experience when you have to move data between an Android phone and an iPhone. The hardest thing is to transfer the contacts. Are you looking to move contacts from your Samsung phone to an iPhone?
Find out four easy ways to do it without using any third party apps that might just cause you problems. The methods mentioned below involve using the official Apple app, creating a VCF file, and using Google Contacts. Check out all 4 methods to transfer Samsung account contacts to iPhone and see which one you find easy to use.
Method 1: Use the Switch to iOS app
One of the easiest ways to move contacts from a Samsung phone to an iPhone (and other data such as messages, apps, etc.) from any Android phone to iPhone is to use the "Move to iOS" service. This method helps to automatically move contacts from Samsung to iPhone.
Switch to iOS is a free app available for Android phones. You just need to download the app on your Samsung phone and follow the onscreen instructions. The only drawback of this method is that there is no iOS app available. You can use this method on your iPhone only when setting up a new iOS device.
It appears when you set up your new iPhone from scratch. In case you have already set up your iPhone, you can reset iPhone or check other methods mentioned below. You also need to be connected to the same Wi-Fi network.
However, if your iPhone still needs to be set up, this method will come in handy. Here's how to proceed.
Download the Move to iOS app on your Android phone from the link given below. Download the Switch to iOS app
Turn on your iPhone and begin the setup process. Follow the onscreen instructions. When you reach the Apps & data screen, tap the "Move data from Android" option.
Open the Move to iOS app on your Android phone and follow the onscreen instructions. You will be shown a ten or six digit passcode on your iPhone. Enter it on your Android phone to establish a connection.
On the Data Transfer screen, make sure Contacts is selected. Wait for the transfer to take place. You will find the contacts in the Contacts app. Check out our detailed guide on how to switch from an Android phone to an iPhone using the Move to iOS app.
Final report: If this method doesn't work, check out various ways to fix the inability to move contacts issue using the Move to iOS app.
Method 2: export contacts as a VCF file
Another easy way to move contacts from Samsung to iPhone is to create a VCF file and then add it to your iPhone.
Here are the steps:
Launch the Samsung Contacts app on your phone. Tap the three-bar icon at the top to open the sidebar.
Now two cases arise. You can move contacts stored in Samsung Cloud or move all contacts to phone, such as internal storage, Google account, Samsung Cloud, etc.
Tap the All contacts option at the top of the sidebar. Select the Samsung account from the list if you want to move only the Samsung Cloud contacts. Alternatively, select All contacts.
Return to the main screen of the Contacts app. Touch and hold one of the contacts to select it. Then tap on the All option at the top to select all contacts.
Tap the Share button at the bottom. It will create a VCF file that you need to send to your iPhone. You can email it or send it via messaging apps like Telegram, WhatsApp, etc. Select the app to send to the iPhone.
On your iPhone, open the app you sent the VCF file to. Let's say I sent it via Telegram. Tap the VCF file to download it to your iPhone. Then tap or open the file.
You will be shown one of the contacts. Tap the Share icon. Select the Contacts app from the share sheet.
This will save all your contacts sent from Samsung to iPhone. Open the Contacts app and you will see your new contacts.
Method 3: import VCF files from iCloud to PC
You can also import the VCF file via iCloud on PC. Here are the steps:
Export the VCF file from Samsung phone, as shown in method 3 above. Then email it to yourself and download the VCF file to your computer.
Open iCloud.com and log in with your Apple ID. Click on Contacts.
Click the Settings icon in the lower left corner. Select Import vCard. Then choose the VCF file you downloaded in step 1.
On your iPhone, open Settings. Tap your name at the top.
Tap iCloud. Enable the switch next to Contacts. This will sync the contacts saved in iCloud to your iPhone.
Method 4: use Google Contacts
To transfer contacts from Galaxy to iPhone, we will use the help of Google Contacts. Since Google Contacts works on both Android and iPhone, it's an easy way to transfer contacts. First, you will need to transfer your Samsung contacts to the Google account. Then use the same Google account on your iPhone.
Once you have established your Samsung contacts in Google Contacts, open Settings on your iPhone. Go to Contacts and tap Accounts.
Tap on Add account and add your Gmail account where you have saved your Samsung contacts.
Once added, return to the Settings> Contacts> Accounts screen. Tap on Gmail. Enable the switch next to Contacts. This will sync all your Google contacts to your iPhone.
Successful transfer
We hope you were able to easily copy contacts from Samsung phone to your iPhone using the methods mentioned above. In case you own another Android phone, my colleague has written a separate post on this one. He learns how to move contacts from any Android phone to iPhone.
Further Reading:
How to transfer contacts from one Android phone to another Android
How to transfer contacts from Android to iPhone
Transfer contacts from iPhone to iPhone
2 best ways to sync contacts from iPhone to iPhone
How to use iCloud on Android