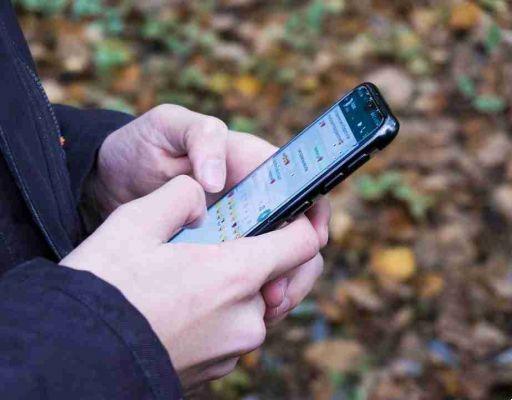 Find out how to recover deleted photos from WhatsApp using different methods, as well as knowing if this is possible in your situation.
It is easy to accidentally delete photos in WhatsApp. After a wrong tap, you may wonder how to recover WhatsApp photos that you have deleted.
Let's take a look at how to recover deleted photos from WhatsApp. We will go through the possible methods to recover your photos and what you should know about this unfortunate scenario.
How to recover WhatsApp images that have been saved automatically
By default, on both Android and iPhone, WhatsApp will automatically download images from your chats to your device. Therefore, the first place you should check to recover deleted photos from WhatsApp is your phone's photo app.
On Android, take a look inside the Gallery app or Google Photos. IPhone users should look in Photos. To narrow your search, go to the tab Album and search WhatsApp . You can also use your gallery app's search tools to check the time the image was sent, if you remember that information.
If you find your deleted WhatsApp photo, you are in luck! You still have a copy and can send or share it wherever you want. Make sure to back it up so you don't lose it permanently.
In case you don't see the photo here but are using cloud storage on your phone, there is still hope. If you use the cloud storage app's camera auto upload feature, it is possible that WhatsApp downloaded the image by itself, then the cloud storage app uploaded it automatically.
Check inside the folder Camera uploads , Camera roll or similar of your cloud storage service and you may find the image inside.
How to recover WhatsApp images from someone else
Retrieving a deleted image from WhatsApp without a backup might be even easier than you think. You should then check if the person (or people) you were talking to has a copy of the message with the lost photo attached. If you uploaded an image to a WhatsApp chat and then deleted it for yourself, someone else in the group chat (or your chat partner) may still have it on their device.
Ask the person to check their WhatsApp chat for the photo. If they have it, they can forward the picture to you or even save it to their phone and broadcast it via email or another messaging service. WhatsApp allows you to see all the multimedia content shared in a chat by tapping its name at the top and choosing Media, links and documents .
Just because you touched Delete for me on a photo in WhatsApp does not mean that it is gone for everyone. WhatsApp shows the option Delete for all only for about an hour after sending a message, making it harder to accidentally hit.
It is advisable to ask people to recover WhatsApp images for you as soon as possible. The longer you wait, the more likely the other person will delete the image too, losing it when they switch to a new phone or similar.
How to restore deleted photos from a WhatsApp backup
If no one else has a copy of your deleted picture, the next best way to recover lost WhatsApp photos is through a backup. Both the Android and iOS versions of WhatsApp support backups (to Google Drive and iCloud, respectively). If it hasn't been long since you lost your photos, restoring the latest WhatsApp backup is your best bet.
Of course, you must have enabled the WhatsApp backup feature before deleting the image for this to work. If you haven't backed up in the past, this method isn't an option.
First, go on Settings> Chat> Chat Backup . You'll see information here, including when the last backup was made and how often you are set to back up your data. If you have deleted pictures from the last backup, you can uninstall and reinstall WhatsApp to restore the backup and then recover your pictures.
Simply uninstall the app from your device, then reinstall a fresh copy of WhatsApp from the App Store or Google Play. You'll need to confirm your phone number again, then you'll see a prompt to restore your data from a backup, if there is one. Accept it and WhatsApp will restore all your messages as they were at the time of backup.
Keep in mind that this way you will lose all WhatsApp messages that you have exchanged since the last backup. You should therefore make sure to save or take a screenshot of all important messages before restoring the old backup to recover your pictures. Again, time is of the essence here. If another backup was made after deleting the photos, you are probably out of luck.
How to recover deleted WhatsApp photos from phone storage (Android only)
By default on Android, WhatsApp saves all the images you send and receive and places them in a specific folder. Therefore, you can delete an image from a WhatsApp chat and still have it on your phone in this folder. Download a free Android file browsing app, for example, then drill down to the following folder:
Internal Memory> WhatsApp> Media> WhatsApp Pictures
Here you will see all the images you have received in WhatsApp. There is a folder sent within this that contains the images you sent. Browse and see if your missing photos from WhatsApp are inside.
If you are looking for a media type other than the photos, you will also see WhatsApp video and other folders here - be sure to check it out.
Unfortunately, this step isn't an option for iPhone users. This is because Android allows you to browse much of the device's local folder hierarchy, while the iOS Files app is limited to a few cloud folders.
Try the dedicated recovery solutions for WhatsApp photos
When you Google for help to recover deleted WhatsApp images, chances are you come across dozens of programs that promise a solution. Even though they sound great, the reality of recovering WhatsApp photos this way is grim.
Just like recovering deleted WhatsApp messages, the vast majority of this "recovery" software won't help you. Recovering WhatsApp images is a little different than recovering regular text messages, but these programs still all have the same big problems: they require root access (on Android), they don't work without paying or both.
These recovery programs follow a similar story. They claim they can easily retrieve your messages by installing software on the desktop and connecting the phone. But once you run the program, you won't get any results, you will see that the app requires root access or you will have to pay to actually perform the reset. These include dr.fone, Johosoft, iMyFone, and similar tools.
The truth about WhatsApp photo recovery
Unfortunately, the only real way to recover deleted media from WhatsApp comes from having a proper backup in advance. WhatsApp does not keep chat history on its servers, this is due to the nature of the end-to-end encrypted app. You cannot contact the company to retrieve messages or files.
In case you were wondering, you can't even use file recovery programs like Recuva. These apps cannot scan modern smartphones to retrieve files, as today's phones don't use the USB mass storage protocol used by external drives.
Once a message is deleted, the only way to recover it is via the backup file stored on your phone or cloud account. If you have a backup, the best way to restore it is to use the reinstall and restore method described above.
Without a backup, you can't restore those photos. Recovery apps don't have the ability to make deleted images appear out of thin air. This is why it is so important to back up everything in advance to prevent such data loss.
If you decide to try one of the recovery programs (which we don't recommend), be sure to act quickly. When you delete a file from your phone, it is not deleted immediately. Instead, the operating system marks it as safe for deletion. Then, when new data arrives, it replaces the data marked for deletion. This means that you have the best chance of recovering the data immediately after deleting it.