Fighting disinformation is more important than ever. We have seen how the hoaxes linked to the spread of COVID-19 have led to extreme gestures in some cases, such as in Great Britain where some network control units were burned believing the correlation with 5G. A recent study by the University of Oxford and the Reuters Institute showed the amount of fake news that various social platforms manage to block.
In this case, Facebook gets away with blocking 76% of false or misleading news. YouTube follows with 73% ahead of Twitter with 41%. According to the data collected, in the period between January and March, the number of checks on English-language news on social networks grew by 999%.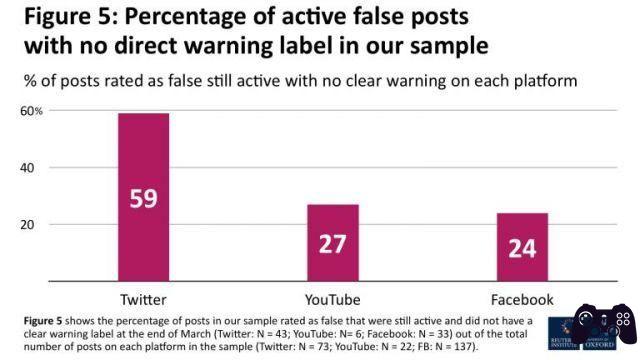 Going into the specifics of the so-called fake news, he studies it underlines how 59% of them are true news but are manipulated, distorted, decontextualized and reworked thus spreading disinformation. 38%, on the other hand, is invented from scratch. 39% of the content concerns manipulated or fabricated statements about the actions and norms of public authorities, including representatives of governments and international authorities such as the WHO and the UN.
Judging by the social media data, misleading news saw higher engagement (87%) compared to entirely invented content (12%). As for the sources, 20% of the misinformation was conveyed by prominent public figures (politicians or celebrities) with 69% involvement. Most fake content, on the other hand, is generated by ordinary people. In some cases, however, it was not possible to fully analyze the extent of the news spread as the analysis is unable to trace the spread through private channels or instant messaging applications.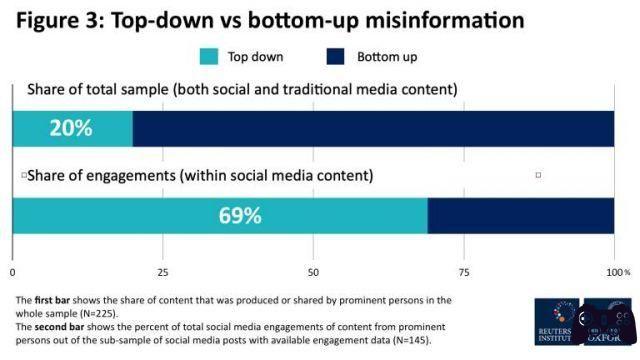 As we have had the opportunity to repeat on several occasions, in such a particular moment it is necessary and necessary to obtain information from official and reliable sources and verify more than ever the truthfulness of the information we intend to disseminate among our contacts and on our social channels.
Mi Note 10 with 108MP camera is available for purchase on Amazon with one discount of over 200 euros. .