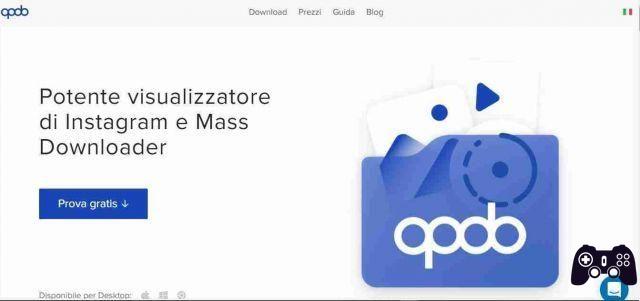 With Qoob Stories, you can download Instagram videos, browse your feed and watch stories anonymously.
If you need to download Instagram photos or videos, you should use Qoob Stories. Not only does it let you view Instagram content on your desktop, it also lets you download it in bulk.
What is Qoob Stories
Qoob Stories is an easy-to-use Instagram story viewer that allows you to browse and save stories, photos and videos from public and private Instagram accounts. The desktop app is available for Windows, Mac and Linux.
You need to have installed Windows 7 or later, macOS 10.13 or later or Ubuntu 18.04 or later, 64-bit only.
Go to and press the button Try free to download the program.
Features of Qoob Stories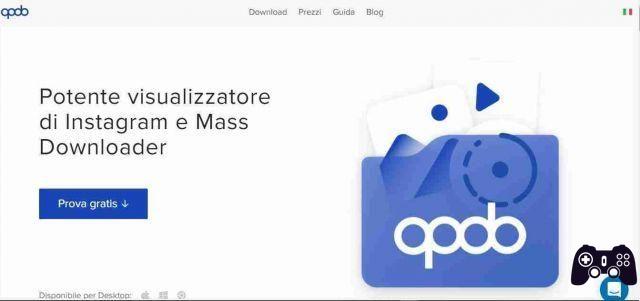 Browse the ad-free Instagram feed - Qoob Stories offers a wonderful desktop experience for Instagram users. You can browse the feed without ads.
Download Instagram Photos and Videos: The app allows you to view and download content from Instagram by hashtag, username and location.
Download Instagram Stories: Qoob Stories can even download stories.
Watch Instagram Stories Anonymously - The app allows you to browse and view Instagram Stories on any account anonymously.
Control over automatic downloads: Qoob Stories gives you full control over the download function. After typing in your username, hashtag or location, the app lets you decide which media files you want to download.
How it works and how to use Qoob Stories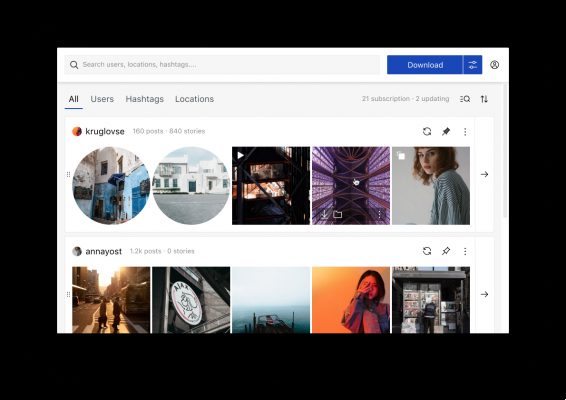 If you need to download photos via hashtag or from any public account, no login is required. But if you want to save stories, pictures from private accounts, your posts and posts from the accounts you follow, you need to log in with your Instagram account.
Importantly, the app does not store any information on your Instagram account.
To download Instagram content, you can do it in three ways:
Hashtag: Type the "#" sign before the word or phrase and click Subscribe.
Username- Type your username, then click Sign Up to browse an account's Instagram photos, videos, and stories.
Location- Enter the name of the location and click the search locations for the word highlighted in the search field. Then click Subscribe.
The app offers an option to select the media type and conditions for automatic download. Type in your search term and click Options next to the Sign Up button. Here you can set the date range for posts and select the type of media you want to download.
In the main UI, click the arrow button to see all posts for that account. You can hover over a post to see the caption. If you'd like to read the comments and check out any other information, right click on the post and select the Show on Instagram option.
Once the content is downloaded, click the More button and click Show in Folder to browse the saved content. Or you can export the posts as CSV and TXT for archiving purposes.
Qoob Stories pricing
Qoob Stories offers you three plans: Basic, Personal and For commercial use.
The starter plan allows you to sign up for two different profiles and download 200 photos or videos every day for free.
The personal plan (€ 8,55 / month) allows you to subscribe to 10 Instagram profiles with unlimited downloads. And the For commercial use plan (€ 30,50 / month) allows you to subscribe to unlimited profiles and export captions.