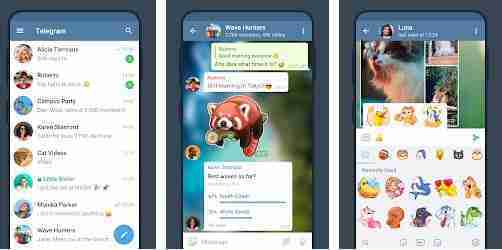 Recently, Telegram rolled out an update that brought some very cool features to its app. In addition to features like group video calls, bot menus and improved animated emojis, Telegram has also added animated wallpapers. Using animated wallpapers, you can now add animations to the chat background. If you use Telegram as an instant messaging app and are curious about how you can set and create live wallpapers in Telegram, then this guide is for you.
How to set live wallpapers in Telegram
Live Telegram chat wallpapers are disabled by default. Here's how you can enable them:
Launch the Telegram application. Tap the three-line icon in the top left corner and select "Settings".
Tap the "Chat Settings" option, then "Change Chat Background".
Once inside, you will see more live wallpapers. You can choose from any of the backgrounds. Note that only patterned, gradient, or solid backgrounds support animation. The best part about this feature is that you can also create your own Telegram animated chat wallpaper. For now, you need to select a chat background and tap the "Set wallpaper" option located at the bottom.
How to create live wallpapers in Telegram
While there is a nice collection of animated gradient wallpapers in the library, you can actually make your own animated wallpaper. There are two ways to do this:
The first method basically allows you to change the wallpapers already available as needed. In particular, you can choose different templates and choose to disable the template by pressing the "Template" button.
In addition, you can also select or change the intensity of the patterns using the slider. What's more, you can choose to add or remove motion from the live wallpaper as well.
Alternatively, there is a second method that allows you to create your own Telegram live wallpaper using a color or image in the phone's memory.
Method 2:
Telegram allows you to create a solid live wallpaper by tapping the "Set a color" option in the "Chat Background" settings. By clicking on "Set a color" you will be directed to the preview section.
In the preview section, you can tap the "Colors" button to change the background color. You can also select colors based on their hex codes as well.
You can show your creativity and share the Telegram chat wallpapers created with others by simply tapping the share button in the upper right corner of the wallpaper preview screen.