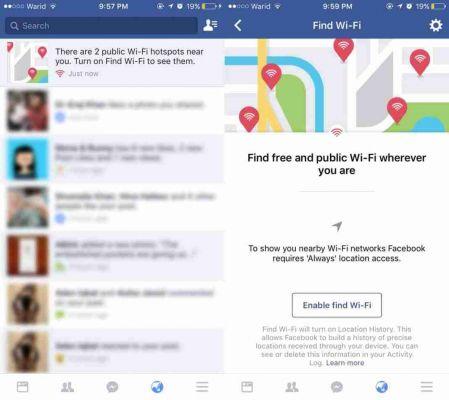 Facebook Wi-Fi. How disable public network warning. With the new Facebook update it will search for you public wifi networks to connect to.
Facebook appears to be on its way to becoming Big Brother. It has a new feature that tells you when WiFi networks are available and where. A notifies tells you when a public network is available 'near you', and asks you to activate the function WiFi connect to them. To view these public networks, Facebook asks you to use the position even when you are not using the app. It sends you notifications whenever a public network is nearby. The way the notification is displayed, an unsuspecting user tapping on it will give permission to connect. Here's how you can turn off Facebook Wi-Fi and why you shouldn't use it.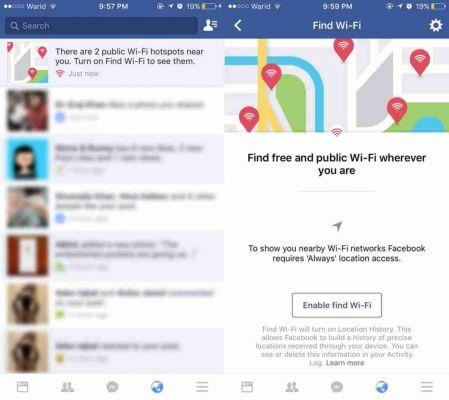 Facebook Wi-Fi: how to disable public networks warning
Turn off Facebook WiFi
Open the Facebook application. Tap the hamburger icon (the three horizontal lines at the top right). Scroll to the 'Account settings', to touch 'Location'.
On the Location Services screen, tap 'Find Wi-Fi', and turn it off.
On the iOS device it is also good to go to:
open the Settings app. Go to Privacy> Location. Select Facebook from the list of applications, and change its permission 'While using'.
Why Facebook WiFi should be disabled
The public networks that Facebook wifi detects are even km from the real position and therefore useless as we will never be able to connect.
Second, connecting to public Wi-Fi networks is generally not recommended because it is a security risk. This is not to say that all public networks are bad, but you should still use caution.
If you don't see this feature, Facebook hasn't implemented it yet in your version of the app