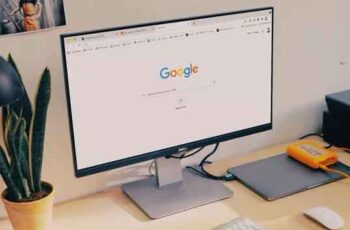 Google Chrome showing an untitled blank page could leave you in a dizzying situation. Let's solve the problem once and for all. Google Chrome continues to take advantage of rivals in the browser wars. People have remained attached to Google's offering thanks to the Chrome ecosystem and overall reliability.
However, not everything works as perfectly as you might think. For example, we've seen Chrome crashing or showing an untitled blank page when you open a new tab in the browser. So let's try to fix these new problems with Google Chrome.
Google Chrome shows blank page without title, 7 solutions
There are multiple factors at play here. It is not possible to pinpoint the problem on a specific item. We will go through some basic steps first and then move on to the advanced solutions to fix Chrome showing blank page without title.
1. We fix Google Chrome crashes
This is one of the common problems related to Google Chrome. The browser will display an 'Aw, Snap!' error every time you try to load a web page.
It means that Chrome is having trouble loading the page. You can move to the address bar and at the top left, click the Reload button to refresh the page.
2. Check your internet connection
If you are working with a slow internet connection, you will face problems with loading web pages in Chrome. This could cause an untitled blank page error.
Make sure you are working on a fast internet connection for flawless performance. Open the Windows 10 Settings app (use Windows + I keys) and go to Network & Internet> Status and make sure it says "You are connected to the Internet".
Try opening a webpage on a different browser like Microsoft Edge and if it works as expected then the problem is only with Google Chrome.
3. Close Google Chrome correctly
Sometimes when you close Chrome, the browser doesn't close properly. Some of Chrome's activities may remain running in the background.
In these cases, an untitled blank page may appear when you try to open the Chrome browser. You need to shut down Chrome properly using the Task Manager in Windows 10. Here's how to do it.
Press the Windows key and type Task Manager.
Press Enter and open the Task Manager app for Windows 10.
Right-click on the Google Chrome process (the one with the number next to it) and select End Task.
It will completely close the Chrome browser and all its related services. Now you can restart your browser and see if the Chrome error showing blank page without title is resolved or not.
4. Clear the Google Chrome cache
Google Chrome collects cache data in the background to instantly open new tabs. A huge amount of cache data can lead to an untitled blank page in the browser.
You should clear the cache data and try to load new tabs and web pages again. Here's how to do it.
Open Google Chrome and select the three-dot menu at the top.
Go to More tools> Clear browsing data.
From the following menu, go to Advanced and select Cache files and cookies to delete.
5. Disable Chrome Extensions
Extensions play a vital role in the Chrome ecosystem. However, unlike Apple, Google does not check the extensions available in the Chrome Web Store.
Some of the extensions may be outdated and subject to security threats. These extensions also take up a good amount of computer memory space.
If you have dozens of extensions installed on your Chrome browser, it's not easy to point fingers at a specific extension. Instead, we recommend that you disable all irrelevant extensions from verified sources.
Open Google Chrome, tap on the three dot menu at the top.
Go to More tools> Extensions.
From the Extensions menu, click Remove and disable these extensions from Chrome Browser.
Try opening some tabs and you will never see an untitled blank page again.
6. Disable Google Chrome Sandbox security
This is only a temporary solution. We recommend that you enable Google Chrome Sandbox once you spot the untitled blank page error on Google Chrome
Sandbox is a security add-on included with the Google Chrome browser to protect you when you browse the web. Here's how to disable it.
Right-click on the Google Chrome icon and go to Properties.
Go to Connection> Destination. It looks like this right now.
C: UsersAdminAppDataLocalGoogleChromeApplicationchrome.exe
Type no-sandbox at the end and edit it as below.
C: UsersAdminAppDataLocalGoogleChromeApplicationchrome.exe-no-sandbox
3. Press Ok at the bottom and start Google Chrome, the error should be gone.
7. Update Google Chrome
The Google Chrome untitled blank page problem may be due to an outdated browser build on your computer.
The Chrome team regularly releases updates with new improvements and bug fixes. Go to Chrome Settings> About Chrome and install the new Chrome build.
Chrome does not ask to save passwords - how to fix
Chrome too many processes running, how to fix
How to prevent Google Chrome from blocking downloads
Enjoy a flawless sailing experience
Google Chrome showing a random, untitled blank page could pull you away from the browser and force you to search for alternatives. Using the above methods, you can easily fix the blank untitled page issue and start browsing the web as before.
Further Reading:
5 solutions for when Google Translate isn't working
Google Chrome doesn't load pages, 7 solutions
How will I save a web page in PDF in Google Chrome
How to fix "err_empty_response" error
How to add a web page to the iPhone home screen