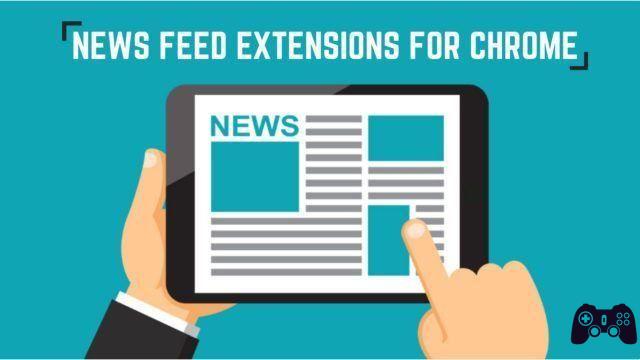 The Internet is the main source of news for many of us and spend a lot of time a read articles to stay up to date. There are many news sources available, divided into various categories. However, it is a time-consuming task to open each of these websites. This is exactly why you need to News Reader extensions / Extensions / News aggregator on your browser.
Since most users use Chrome as the default browser, I have listed the best Google Chrome extensions to read the news.
All of these Chrome add-ons collect the main news of the day from various sources and display them in one place, so you don't have to waste more time looking for the news of the day.
News Tab
News Tab is one of the best extensions to read the news on Chrome. Automatically curate trending news from popular publishers in one place for you. In case you find yourself reading a specific topic, it allows you to add sources to the feed so you don't miss any news. All the news is displayed on the screen every time you open a new tab and saves a lot of time
Why use News Tab?
Clean UI with dark themes
Even offline
reminder
International and local news sources in over 130 regions and languages ​​around the world
Panda 5 | News & Inspiration Dashboard
Panda 5 is one of the best news reading extensions I've come across to date. It allows you to browse multiple websites at the same time. You can customize sections and view news headlines from particular sources and specific topics. There are different layouts for setting the focus mode, timer, notepad, relaxing wallpaper, etc.
Why use Panda 5?
Browse news from multiple sources at the same time
Customize your new tab
Distraction-free reading
Search option within feeds
Breaking News Tab
Breaking News Tab is one of the best extensions to read the news on Chrome, brings you all the latest news from the best sites in one place. You can select your favorite sources and news and customize the new tab accordingly. What I really liked was its ability to sort the most recent and relevant news after selecting favorite topics and sources.
Why use the Breaking News tab?
Read the full articles without leaving the new tab
Follow any RSS or Twitter feed
Works on Web, Android and iOS
Rowe News New Tab
Just like the other news extensions mentioned in this list, Rowe News also brings you the latest news listed in a new tab. What is different about this newsreader extension is the ability to detect your favorite news sources and add them to your collection.
Why use Rowe News?
Share news on social media with just one click
Offline support for news sources
Ad-free reading experience
Toys
RSS Feed Reader
This is probably one of the oldest and most popular RSS Feed addons. Also known as Feeder, this one Chrome extension to read the news it's a perfect choice for those who don't want a new tab. I personally prefer a clean interface for new tabs, so I prefer those extensions that show all the latest news in one place every time I log in. Feeder has a clean user interface and offers several options to customize the feed exactly how you want it. The only drawback is that the presence of options could confuse someone who is not used to so many options.
Why use the RSS Feed Reader?
Different light and dark themes for easy reading
Supporta feed RSS e Atom
Support for exporting / importing feeds
Further Reading:
How to manage Chrome extensions, install and uninstall
Google Chrome doesn't load pages, 7 solutions
How to uninstall Chrome apps and extensions on Windows and Mac
How to install Chrome Extensions on Android?
How to enable advanced protection in Google Chrome