Vodafone Curve is a small GPS tracker, which can be located at any time thanks to the integrated 4G connectivity. It represents a solution to not lose important objects but it can also be used for pets or as a support in the care of the elderly. Requires a monthly subscription.
Design
Vodafone Curve is small and light. At sight it appears as a small cylinder of 42 mm in diameter and 16 mm in height, weighing only 30 grams. In the package there is also a rubber ring that makes the Curve slightly larger and easier to handle, but above all it allows you to attach it to a key ring.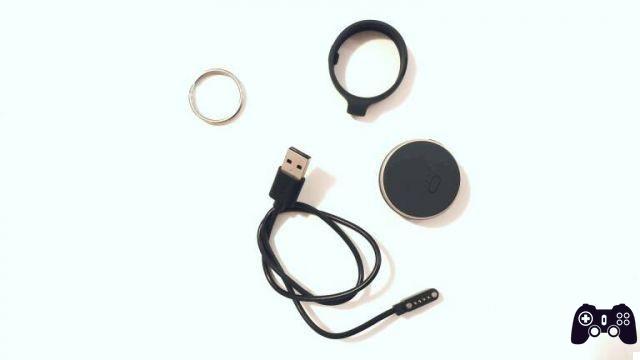 It will be easier, then, to attach it to a backpack or to the house keys. However, correctly installing the rubber ring, included in the package, proved to be a rather difficult undertaking.
Vodafone Curve is available in two colors, black and gray, both with a gold border. On the side there is the power button while above, in the central position, a second button allows you to activate the "Find me" function. Pressing it sends a notification to the application on the smartphone, with the position of the tracker. Also above are some LEDs, which indicate the state of charge of the battery.
Vodafone Curve is fully rubber coated and boasts IP67 certification, so it resists water and dust pretty well. Which is great news for an object that could end up outside the home, in environments that are not exactly ideal for an electronic device. Below we find a magnetic connector for charging, which is proprietary. Through customer service, Vodafone ensures the availability of spare accessories, should they be needed.
Functions and characteristics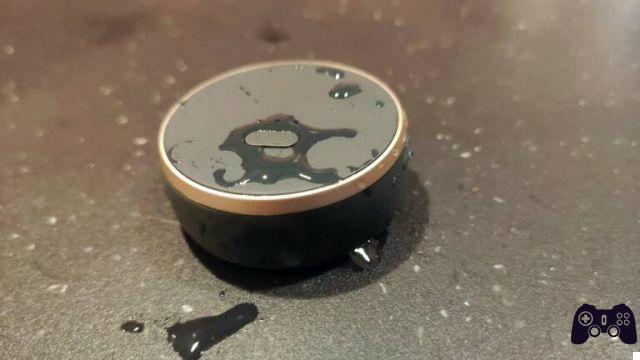 Vodafone Curve mainly uses GPS but also relies on Bluetooth, Wi-Fi and LBS (triangulation via GSM) to determine the position, which is therefore very precise. You will not be able to tell if it is on the first or fifth floor of a building, but it will hardly make you believe you are in the building next door. In remote areas, where you can only rely on GPS, you will have a position roughly as accurate as you get on a smartphone. Vodafone Curve does not use the Galileo system or Glonass.
To use Vodafone Curve you need to download and install the Vodafone Smart App, available for Android and iOS. At the first installation it is mandatory to create an account, and this part it requires too much information; even the male / female choice is mandatory, which in 2020 is simply absurd and Vodafone should hurry to change this part, limiting itself to asking as little information as possible. As it is now, the account creation step looks rather like a page for indiscriminate collection of personal data.
It is also mandatory to enter your credit card details, because you cannot activate Vodafone Curve without having activated the relevant one service from 3 euros per month. However, the first 90 days are free and the cancellation can be done directly from the app at any time.
Once the first configuration is finished, you can add a new device; or even more than one because the application supports up to 20. You can then have a Curve for the dog, one for the children, one for the keys, one for the bicycle and so on. From this point of view it is a lot flexible and versatile.
As mentioned, the Curve itself offers two buttons: one to turn on / off and another to send a notification with the location. Everything else is done from the application: from here you can select one of the three energy profiles for example.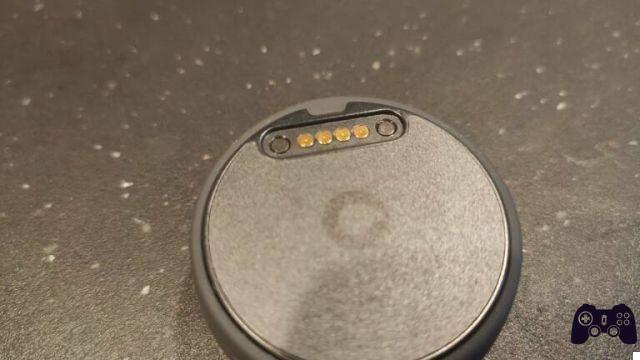 What changes is the frequency with which the Curve detects the position: in Performance Curve mode it detects the position every 5 minutes, with a declared autonomy of 3 days. In Daily mode we have a detection every 30 minutes and 5 days of autonomy. In Energy Saving mode the position is detected every two hours and the battery lasts a week. The data are the official ones declared by Vodafone.
There should also be a Real Time mode, with detection every 5 seconds, but it was not available when we tested the Vodafone Curve.
From the app settings we can also give the Curve a different name or assign a specific image, which will be very useful for those who want to use more than one. Here we can also decide which notifications to receive, establish virtual fences, examine the history and verify the position of the Curve on a map.
From the map a link is missing to start navigation and reach the Curve, nor did we find this feature anywhere else in the app. The only thing possible is to somehow make a note of the position (but there are no addresses or coordinates) and enter them in Google Maps or similar applications.
There is also no interface accessible via web and cloud, offered instead by the actual localization services. Another thing missing is a tool to… find the Curve. That's right, if you lose it between the cushions of the sofa, inside the house, you cannot make it ring or vibrate. Which would have come in handy during the test.
Performances
The Vodafone Curve is very comfortable and resistant: thanks to its compact size and its resistance you can clip it wherever you want, even to the dog's collar, and do not fear that it will suffer damage - except perhaps if your friend somehow manages to chew it.
If you want to keep an eye on some important object, or monitor a movement occasionally, just put it in your pocket or bag, and you can count up to 7 days of operation.
Furthermore we never had any coverage issues, with the Vodafone Curve which was always available and connected; it must be said that we were in the Red Zone and then the Orange Zone, so we did not have the opportunity to make large movements due to the restrictive measures due to the Covid-19 pandemic.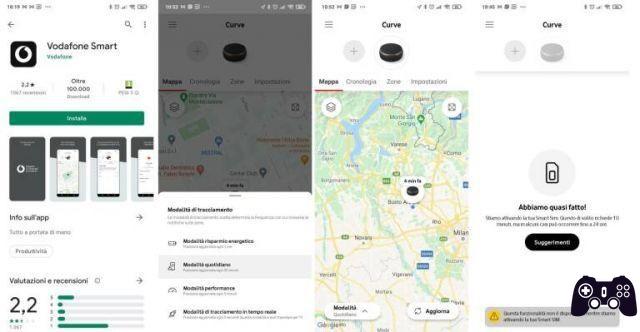 The detected position has always been very accurate, and during the days we tested it, the Vodafone Curve always found the correct place with a tolerance of a few meters.
The notification sent by the device arrives within seconds, as well as those that are activated relative to the virtual fence, if you decide to use it. In other words, if the dog were to run away, you would know it in an instant.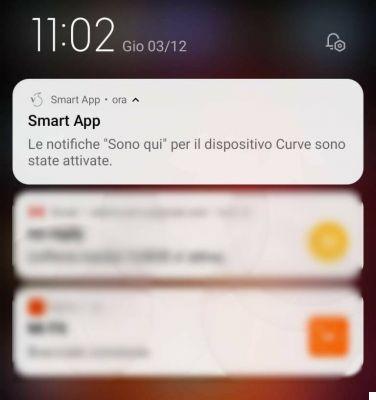 However, the application is not perfectly stable. Occasionally some items fail to load and you need to restart it. Given the nature of this app we do not believe it is a significant problem, but we must report it.
The autonomy is consistent with that declared by Vodafone. And in general the battery has an acceptable duration, but perhaps from this point of view Vodafone could have done better - surely a slightly larger battery would not have compromised the weight or pushed the costs too high.
Conclusions
Vodafone Curve is available on the Vodafone website for 29 euros, until next December 22, a sign that the company would like to offer it as a Christmas gift. And indeed it might be a good idea. Its normal price is instead equal to 59 euros, which in our opinion would be too much for a similar device - especially considering that there is also a monthly subscription to be charged.
The price for the device is then added 3 euros per month for the mandatory subscription (Vodafone Curve does not work without it). The monthly cost is similar or lower than that of other solutions on the market (runic.io, illocalizzato.com, GPS Beghelli and others), which however also offer cloud platforms and advanced tools, absent in the Vodafone offer.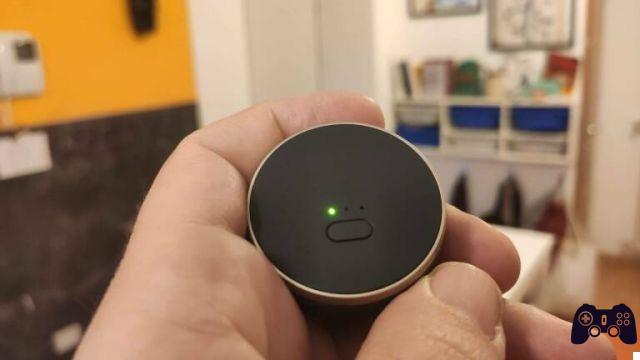 We therefore consider that the asking price for the Vodafone Curve subscription is a bit high in relation to what is offered, precisely because the service is really basic. However, it can be an economical solution for those who, for example, want GPS tracking for the elderly or for dogs. Vodafone Curve has fewer things than many competitors but costs less, and that might be an acceptable trade-off.
Finally, the fact that a subscription is mandatory is certainly a negative aspect. It is not a technical limitation, and without SIM coverage it could at least function as a simple locator via Bluetooth and Wi-Fi - an option that Vodafone has however decided to exclude. Too bad, also because doing so does not seem to buy a device but rather to rent it - which would be more tolerable if it were explicitly written.