Let's find out together how to get all the 4 Stars related to Magikarp, thanks to our guide dedicated to New Pokémon Snap
The one with Magikarp it will certainly not be the most exciting encounter you can have in New Pokémon Snap, but it still has its good times. Despite being one of the Most popular Pokémon, almost like Pikachu, albeit for the wrong reasons, this creature manages to give its best when it's time to pose for the camera of all players. Let's find out how to get the 4 Stars linked to the creature in question, thanks to our dedicated guide.
New Pokémon Snap: how to get 4 Stars with Magikarp
Thanks to the help of some Soft Apple, as well as some unexpected guests, some really funny moments can be captured while we are busy trying to get the 4 Stars in photographing Magikarp. Below you will find all the precautions necessary to succeed.
1 Star: take a photo a Magikarp as soon as he leaps out of the water, without interacting with her.
2 Stars: throw one Soft Apple to make her jump high. Take a picture when it is in mid-air.
3 Stars: in the second level, when you reach a point with a wooden bridge, look to the right under the structure, so as to see a Magikarp intent on swimming. Throw some Fluffy apples to make them eat: take a picture right now.
4 Stars: to succeed in the objective you will have to make sure that a Pidgeot take one Magikarp, all this during the day inside the Floreo Natural Park (one of the stages in the game). You will have to reach the large area with Swanna, where there will be, on the right, a Magikarp intent on swimming. At this point you can wait, or throw a Soft Apple, so as to make it jump up and make it see more quickly from the Pidgeot. He will quickly throw himself at the Pokémon aquatic, and you will have to be quick to take a picture when it is gripped in the bird's claws.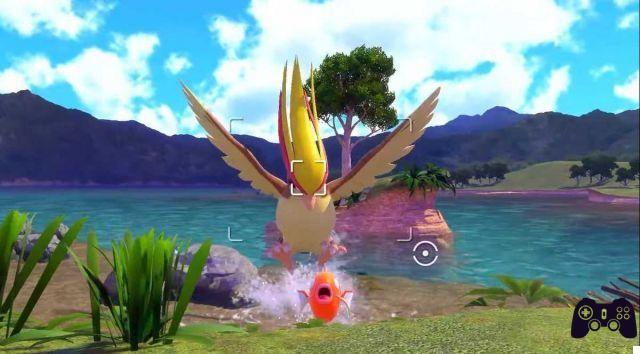 Remember that as you increase yours Research level in each stage, you may encounter different gods behaviors Pokémon present in the game. Therefore, if you are unable to find what you are looking for, it could be for this reason. So, our advice is to keep taking photos inside the various stages, so as to unlock each Research level and thus be able to complete the Photodex.
Before saying goodbye and inviting you to stay with us on the pages of Holygamerz, we remind you that New Pokémon Snap is currently available for Nintendo Switch. If you are looking for other games at a discounted price, our advice is to visit the Instant Gaming pages.