The challenges of this week 8 have come out and as Fortnite season 6 begins to roll towards the end, we at Holygamerz are here to offer you our guide as always. Let's see together how to survive this week
Season 6 begins its slow decline, but the developers continue to hold on Fortnite alive thanks to the arrival of new modes and new objects introduced just yesterday in the patch 6.30. A little while ago, however, the challenges of week 8 and now we of Holygamerz we will show you how to overcome them thanks to our tips and maps in this guide. So let's go see how to complete all the missions in the fastest way possible.
Fortnite: complete guide to the free challenges of week 8 | Season 6
Phase 1: access the Retreated Refuge and the Commerce Course in a single game (0/2)
The first challenge this week is divided into several phases and will see you forced to visit two locations in a single game. In the first stage we have to visit Retreat Refuge e Commerce Course, in the second Crossroads of the Ciarpame e Pacific Park, then it will be the turn of Latrine laboratory e Lande Letali, in the fourth stage Montagnole Maledette e Pompous pastimes and finally Confused ducts e Tomato Temple.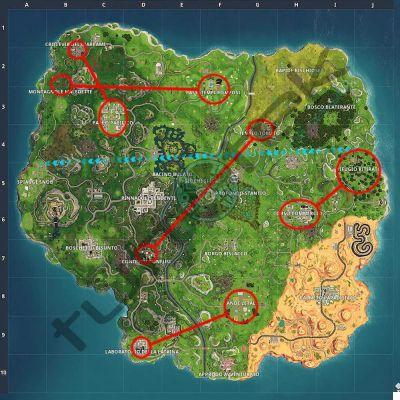 Dance with a trophy fish in different places indicated (0/7)
All you have to do is find a trophy fish and dance in front of it. Nothing could be simpler for this mission, but watch out for enemies, please. Below you will find the map with all the places where you can complete the challenge.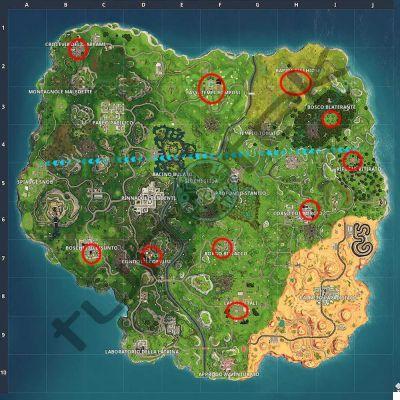 Kills with six shots and heavy assault rifle (0/2) (HARD)
Killing an opponent can be an easy or difficult challenge depending on our skill and that of the other. Definitely have a weapon as strong as the sand the shots or heavy assault rifle it makes our life easier, but we will not always succeed in the enterprise. The advice I can give you is to try to take the enemy by surprise and take him down in no time, before he can react and escape, or defeat you.
Fortnite: complete guide to the challenges of the Battle Pass of the week 8 | Season 6
Get a score of 3 in different clay pigeon shots (0/3)
Below you will find the map with all places in which it is possible to complete the challenge. My advice is to use a shotgun or a machine gun if you don't have good aim.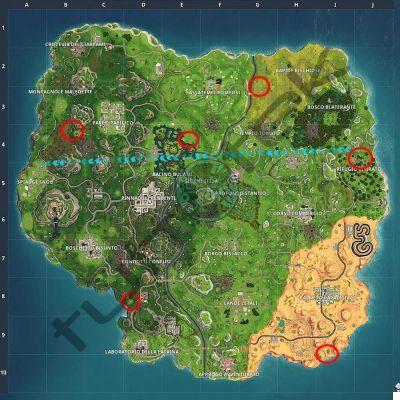 Get stunt points in a vehicle (0/250000)
To complete this challenge, all you have to do is jump with some vehicle in order to get a high bonus score. But remember that to confirm the points you will have to land correctly otherwise you will be penalized.
Visit different places indicated in a single game (0/4) (HARD)
By now this challenge is a must of Fortnite and it seemed strange to us that it had not yet come out in this season 6. The challenges of week 8 brought it back to life and to complete it we can not do anything else in this guide except tell you to land in one location, pick up a few weapons and head to the next. My advice is to land at Risky Rapids and then head in order to Bosco Blaterante, Retreat Refuge e Commerce Course (completing the previous stage of the challenge). Alternatively you can land at Crossroads of the Ciarpame, go down towards Montagnole Maledette and then head towards Pacific Park e Wash basin.
Phase 1: use the grappling hook (0/1) (HARD)
In the first phase of this challenge, all you have to do is use a Grapple, nothing complicated actually. In the second you will have to use one lunch pad while in the last phase a rift.
That's all for this week 8 challenge guide. If you are having trouble with the previous week's missions, do not hesitate to consult our guide clicking here. To stay up to date on the latest Fortnite news and how the season 6 finale will evolve, keep following the pages of Holygamerz!