We have now entered the final phase of season 7. Fortnite week 8 challenges have just come out and now let's see together how to overcome them thanks to our guide
In the last week the developers have started preparing us for what will be the actual change that will take place between this season 7 and the next one that will start in about 3 weeks. As we have seen, the huge snowball above Polar Peak has exploded revealing its content and as a result of all this the map became all snowy. But now let's focus on something concrete and start there complete guide to the challenges of Fortnite week 8.
Fortnite: guide to the free challenges of week 8 | Season 7
Place a comfortable bonfire or a launch pad in different games (0/3)
We start week 8 with a not too complicated challenge were it not for being able to find one of the two objects. All you need to do next will be place it on the ground (even without using it) and you will have completed a part of the challenge. Repeat this for 3 games and the five stars will be yours without too much trouble.
Build structures (0/250)
I believe this is one of the simplest challenges that can be completed in Fortnite season 7. Who has never built structures to defend themselves from enemies? All we can tell you to complete this challenge is to have a lot of inventory resources and play normally because it will complete itself.
Search among a mysterious hatch, a gigantic rock lady and a wobbly floor (0/1) (HARD)
In this guide we will show you the map with the exact spot to look for your star. Watch out for the multiple enemies that will crash on the target.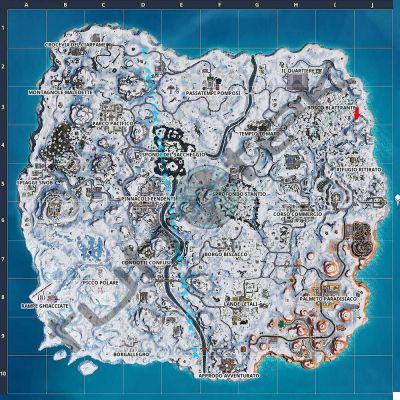 Fortnite: guide to the challenges of the Battle Pass of the week 8 | Season 7
Phase 1: Visit Palmeto Paradisiaco and Borgo Bislacco in a single game (0/2)
The first of the Battle Pass challenges involves visit both Palmeto Paradisiaco and Borgo Bislacco in its first phase. Next we will have to visit Crossroads of Ciarpame and Sponde del Sacking, while in the last phase it will be up to Montagnole Maledette and Bosco Blaterante. In this guide we show you the map with all the places to visit in the corresponding order.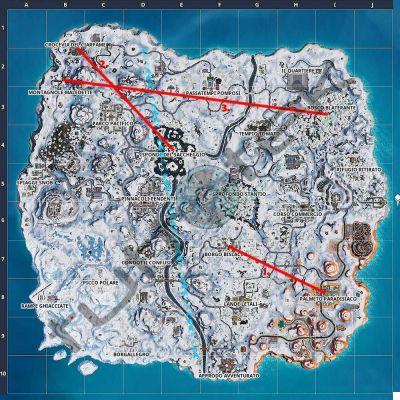 Look for chests in Condotti Confusi or Refuge Retired (0/7)
If in the first few seasons completing this challenge was somewhat complicated, in this season 7 of Fortnite it has become a little easier. In fact, the many who want to complete this mission will be divided into two places and not concentrated in one. My advice is to be able to land as fast as possible, grab a weapon and slam into a chest.
Inflict damage to opponents while on board a vehicle (0/100) (HARD)
The third Battle Pass challenge for this week 8 plans to inflicting damage on opponents in a vehicle. To complete it then you will only have to play one of the multiplayer modes and have good aim. In fact, it is not always easy to aim and many times your shots will fail.
Eliminations with explosive weapons (0/3) (HARD)
If you have thought about a grenade launcher or a rocket launcher then you have made the right choice! Indeed with this type of weapon it will be easier to take down an enemy, contrary to what happens with grenades and dynamite. This does not mean that it is impossible to complete it with the latter, on the contrary. All you have to do will be open fire on your opponent by bombarding him everywhere to try to tear it down.
That's all for this guide on Fortnite week 8 challenges. If you are left behind with those of the previous week of this season 7, you can consult our article clicking here. In order not to miss future news regarding the game of epic Games, continue to follow the pages of tuttoeK!