Have you installed Instagram and started following the people you care about and now you would like to chat on Instagram with them but you don't know how to do it? Better still, you don't know where to find the Instagram chat function on the app? Here's how to chat on Instagram.
How do you chat on Instagram?
Open the Instagram app and you will notice at the top right an icon in the shape of a paper plane, that is the Instagram chat function that allows you to send private messages to the people you follow and to your followers or friends.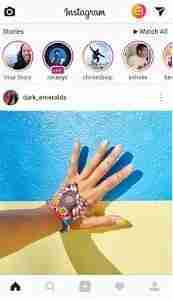 Once you have tapped on it, all you have to do is search for the person you want to chat with on Instagram through the appropriate search field at the top.
Once you have found the desired person, just tap on his name to open the Instagram chat window with that person.
Now at the bottom of the appropriate text box you can start writing your message, attach photos, voice recordings and gifs. Once you have chosen what to send, click on Send appeared.
Now the sender will receive your message on the Instagram chat.
To see the various chats to which you have sent or received messages, always click on the paper plane icon as mentioned above to see and reply to them.
How do you chat on Instagram with multiple people?
Instagram also allows you to send messages to multiple people at the same time and thus create a group chat on Instagram.
What you need to do is always go to the paper plane icon in the upper right corner as soon as you open Instagram and this time press the icon with a square and a pencil in the upper right or the + sign always in the upper right (this may vary depending on the version of Instagram or the device in use).
Now here search and check each person you want to include in the chat, once the selection is finished click on Chat at the top right and a new Instagram chat window will open where you can now start a chat with the people of your choice.