Goodbye noisy meetings. Google Meet has started making the noise canceling feature for G Suite Enterprise and G Suite Enterprise for Education users. This was announced by Serge Lachapelle, director of product management of G Suite, in a long interview with VentureBeat during which it was explained and shown how it works.
The cancellation of background noise during video calls will debut for the web version before also landing for the mobile version, on Android and iOS. The feature will be enabled by default. The user can obviously decide to deactivate it and let the system not eliminate any noise, by going to the settings. No icon will be shown on the call interface for the will to leave it as clean as possible.
Everything is managed by artificial intelligence algorithms, trained to recognize voice and other sounds. The video in the article shows the function in action. The result is excellent. The sounds (clearly audible with the function deactivated) disappear completely, creating no discomfort during the video call. VentureBeat reports that Google has been working on it for about a year and a half, using thousands of internal meetings to train its AI model. The team also used YouTube videos featuring many voices.
However, Lachapelle wanted to point out that although there will be improvements over time, the company will not use its users' external meetings to train the algorithm (not even those registered). Internal channels and customer support will be used to understand where the software did not work in order to improve AI recognition.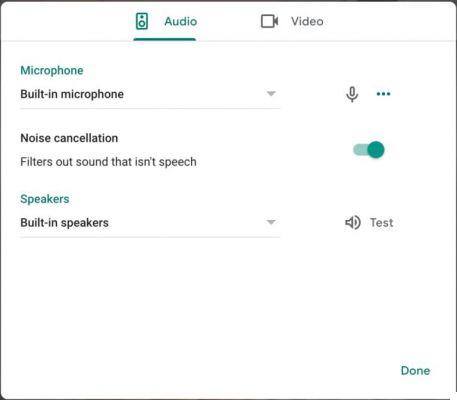 Google has also decided to put the machine learning model in the cloud. The processing therefore takes place in the cloud. This should allow you to have the same user experience no matter what device you are using. As for privacy, Lachapelle points out that data is encrypted and is never accessible outside the noise cancellation process. The feature will reportedly be able to eliminate noises such as baby cackling and crying, dog barking, clapping, and other interference that could disrupt the meeting.
The release has already started for G Suite Enterprise and G Suite Enterprise for Education accounts. As always, the roll-out will take place gradually. No information has been released about the debut for all other users and for the mobile version of Google Meet.
The new Redmi Note 9s is available for purchase on Amazon at less than 250 euros. .