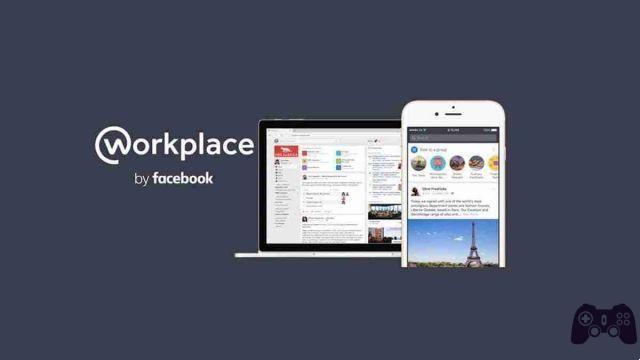 Facebook Workplace is an all-in-one collaboration tool that helps large groups or businesses communicate and create communities online.
You have probably heard of the Facebook (Workplace) platform within your social or professional circles. Are you familiar with the basics of how it works and how you can use it?
In this article we will explain everything you need to know about Facebook Workplace and how to best use it for your business.
What is Workplace Facebook
Workplace is a Facebook-owned platform that offers companies an internal communication tool. Workplace incorporates the usual Facebook layout into a company's communication tools. It allows its users to stay up to date on all their business on the go.
The best part is that Workplace is easily accessible on mobile devices. This way, workers can receive or provide updates to their colleagues anytime, anywhere. In the words of Facebook, "Workplace is a dedicated and secure space where companies can connect, communicate and collaborate".
Why your business should use Facebook Workplace
The main goal behind the creation and use of Workplace is to promote seamless communication in the Workplace. Simply put, Workplace is a better alternative to communication platforms like Yammer or even Slack. Using Workplace in your company will gradually eliminate the use of regular email.
It's a fast, lively and exciting platform that will bring vitality back into your business. Workplace allows workers to interact with themselves, without neglecting remote employees.
Further enhance collaboration by bringing together diverse employees from various departments and industries. This diversity in communication facilitates a formidable unity in your company.
Benefits of Using Workplace
Workplace boasts numerous benefits for both individual workers and the company as a whole. Here are some advantages of its use:
Digitalized Communication: Workplace improves digital and mobile structures for the proper functioning of communication and other similar processes. With Workplace, communication becomes much more accessible and simplified.
Eliminate Collaboration Tools: Reduces the company's reliance on internal collaboration tools. This means that with Workplace in your business, you'll likely spend less on video conferencing apps, intranet costs, and other similar infrastructure.
No Training Required: One of the significant threats faced by companies when integrating new systems is the cost of training. Fortunately, Workplace doesn't carry that weight. Since this is a modification of traditional Facebook, employees don't have to learn how to use the features again. The news feed, messages and groups are exactly like on regular Facebook.
Wide range of users: Facebook is already the leading social media company in the world. With so many people already on Facebook, it will be easier to use Workspace as a platform as it will easily connect you to existing users.
Seamless transition: Since many teams are already on Facebook, the transition to Workplace won't be difficult. Most people already have Facebook as part of their daily life. The transition to "Facebook for Work" shouldn't be a problem. As most businesses use the tool, using these two side by side will be a joy.
Workplace is different from regular Facebook
You probably think Facebook and Workplace are the same thing, right? Wrong! Although made and managed by the same creator, the two sites operate independently of each other.
First of all, the two are based in completely separate locations.
Second, you don't need to have a personal Facebook account to log into the Workplace website. All you need is a Workplace account which will allow you to log into the relevant Workspace account owned by your company.
As an employer, you may have access rights to your employee's workplace page. However, their personal Facebook page cannot be accessed without the permission granted by the individual employee.
As an employee, you only have access to the company's account as long as you work for them.
Workplace features
Similar to Facebook, Workplace offers its users a wide range of useful communication features that often prove invaluable in their businesses. Here are some of the more useful features:
Groups: yes it is an excellent feature that allows members to share communication with more than one individual. Groups in Workspace can be public, private, or closed. They work exactly like on Facebook.
Messenger: Messenger allows you to send or receive messages. These could be both individual messages and messages intended for a group of recipients.
Live video: This feature allows you to post live video footage to a team section or the entire team. With this feature, it becomes much easier to advertise within the company.
News feed: le Companies can use this feature to keep all workers updated on essential details and announcements such as upcoming deadlines.
Workplace also has additional features that make communication more accessible, such as: analytics, identity providers, reactions, trending posts, and single sign-on.
Is Workplace free?
Unlike traditional Facebook, Workplace is not a free resource. While Workplace is not very expensive, the price can vary depending on the number of users per company. It may be slightly higher if you own a large company.
Workplace also offers monthly membership packages for businesses that don't want long-term contracts. If you are unsure whether it is suitable for your business, you can take a free trial and test its features before adopting it.
Workplace how to register
If you're interested in getting a Workplace account for your business, here's what to do:
Visit the workspace from. Once there, follow the instructions and sign up for the services.
Once registration is complete, you can now set up your profile.
As part of the setup process, you will need to select a URL for your account. Your company's URL should look like this: [Company] .facebook.com.
You will then need to invite your team to participate.
Your company page will then be accessible to your team both on the web and on the downloadable Workplace mobile application. (Please note that you can get both Android and iOS apps).
Your team members can then interact with each other using the tools available in Workspace for Facebook.