After Apple and Samsung, now it's Facebook's turn. Mark Zuckerberg's company reported positive results in the last quarter beating analysts' estimates. However, this did not thrill investors. The stock of the popular social network fell as much as -7% in after-hour deals. What worried the market were not the numbers scored by the American giant but the exponential increase in costs that the company recorded during the year. Let's go to order.
For the fourth quarter of 2019, earnings increased 7% yoy to 7,35 billion compared to the 61% growth in 2018. Earnings per share of $ 2,56 versus the 2,53 forecast by Refinitiv . The turnover increased by 25% to 21,08 billion against the 20,89 billion expected, with revenues that rose by 27% during the year. Active users also increased: monthly users reached 2,5 billion, while daily users increased by 9% to 1,66 billion.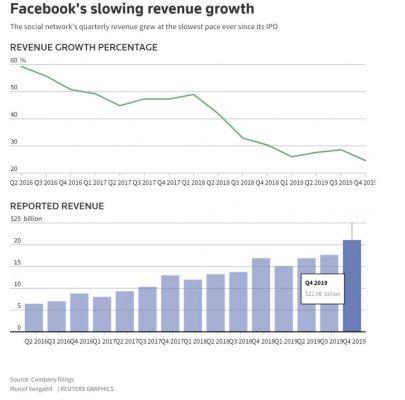 In short, results always on the rise but this was the quarter with the weakest growth since the company went public. Revenue growth was 24,7% year-on-year. To all this is added the 51% increase in annual expenses compared to 2018 reaching the figure of 46,71 billion dollars. This expense resulted in a squeeze of the company's annual operating margin which went from 45% to 34%.
The increase in expenses is justified by the hiring of new staff (+ 26%) with over 1000 engineers committed to privacy. In short, expenses have grown and profits have fallen faster than Wall Street expected. As Facebook's user base continues to grow, the company is no longer making money like it used to. Mark Zuckerberg had previously stated that it would be costly to address hate issues, election interference, and other content moderation and security issues. The stated future goal is to continue making its platforms more private and safer.
Redmi Note 8 Pro with camera from 64 Megapixel is available on Amazon for 226 euros.