Facebook has no intention of letting users out of its platform. The new function - confirmed at TechCrunch - goes precisely in this direction. The US company is upgrading the search tool introducing a card with information taken from Wikipedia. To be clear, it is a box very similar to the one shown by Google when you search for a movie, character, place and much more.
In practice, by typing a keyword from the search bar, a tab will appear on the right side with information related to that same word. All this will allow the user to stay inside Facebook without going outside - for example on Google - to search for information. Mark Zuckerberg's giant confirmed that the feature is being tested on the mobile web, desktop, and iOS app versions of the popular social network. For the moment, it is limited to a small number of users.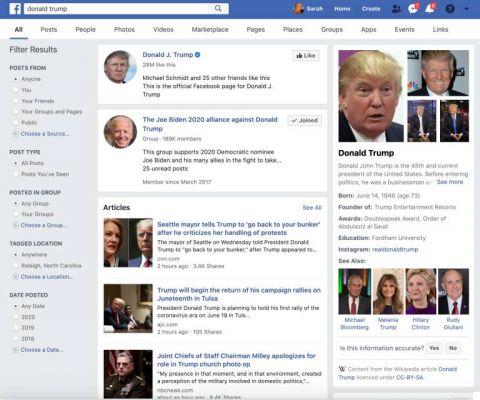 We therefore do not know when and if it will reach all users. TechCrunch reports that the function - at present - still has some imperfections. Relevant results are not always shown or appear differently depending on how the search word is typed. Finally, it seems that Facebook refers to its tools whenever possible. For example - the source reports - the word "covid" shows the Facebook COVID-19 Information Center and not the side panel with data relating to the pandemic, as is the case on Google.
In short, it still needs improvement. As already mentioned, being in the early stages of testing, Facebook has not released information on possible global availability. The ultimate goal, however, is clear: to keep the user who entered it within the platform as much as possible.
The satisfying Realme 6 is available discount on Amazon. .