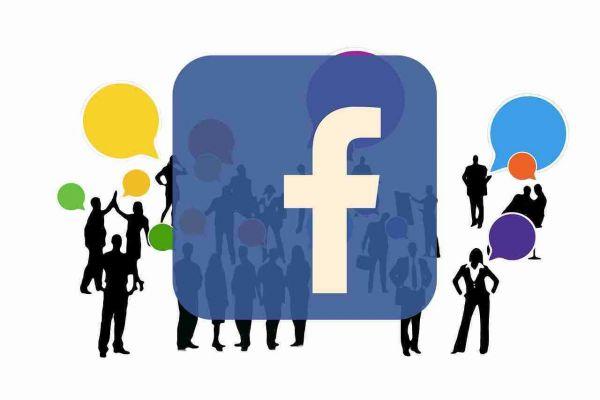 Who Unfriended Me on Facebook? All the ways and apps to find out.
But where have all my Facebook friends gone? There is something wrong, there must be a problem with Facebook! No, no problem! It's just that those who you thought were friends decided to unsubscribe you from their friends list and of course they did it without telling you and explaining why.
In the following paragraphs you can find out who are the users who have decided to unsubscribe from you on Facebook.
Check through your friends list on your Facebook profile who has removed your friendship
to check your friends list it is the easiest way to find out who has 'removed' you from Facebook contacts and also quite cumbersome, especially if there are many users who you think have deleted you from friends, but it is certainly an effective and safe solution.
Go to your profile and press the button Friends located next to your profile photo.
Now in the text field Look for your friends type the name of the user you think has deleted you from Facebook at this point the results are two:
if the name appears then it means that your friend has not deleted you from Facebook
if, on the other hand, the wording appears No result for: [name of the user searched for], then I'm sorry but it means that the user in question has removed you from his friends.
Using this simple "trick" you will be able to know with absolute certainty who is still your friend on Facebook and who, on the other hand, is no longer one because he has decided to remove you.
Extension for Chrome to know who has deleted you as a friend on Facebook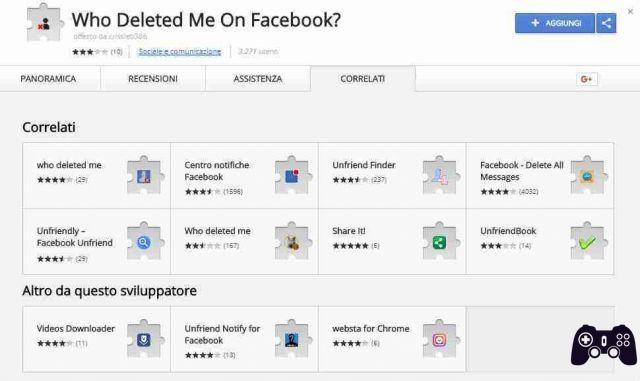 One of the most used extensions to find out who deleted us from Facebook is Wdid I delete me on Facebook?, available for free.
It is necessary to connect to the page that hosts the extension, press the button Add and then click on the item Add extension.
Now log into your facebook account through Chrome. Click on the Who deleted me on Facebook? Extension icon. located at the top right.
In the new page that opens, immediately under the heading Unfriends (icon oflittle man with the red number -1) you will be able to see the number of friends who have deleted you from Facebook.
App to find out who has removed your friendship on Facebook
Who deleted me on Facebook?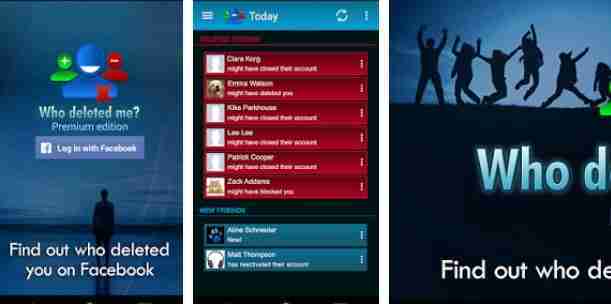 Among the most popular apps to use is Who deleted me on Facebook ?, it's an app only available for Android, which allows you to find out which users have deleted you from their friends on facebook.
Download Who deleted me?
then start the app, you have to put the check next to the item I have read and agree to the Privacy Policy about the Collection of data (by doing so you allow the app to access some of your personal information on your Facebook profile)
then log in to your Facebook account by pressing the blue button Log in with Facebook.
click on the symboleye (located at the top) and make sure there is a check mark on the item Friend who unfriended you.
Reload the page by pressing on the symbol of two arrowse placed at the top.
If a friend has unsubscribed you from their list, you will see the wording Deleted Friends followed by the photo and the name of the friend in question.
Who Unfriended Me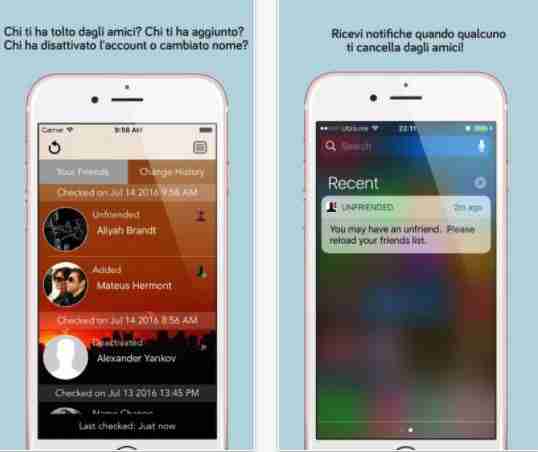 For one device iOS, you can try to use Who Unfriended Me to find out which users have deleted you from Facebook. Download the app for iPhone and iPad now.
To use the app you need to allow access to your Facebook profile.
First you need to download and launch Unfriended on your device
log into your Facebook account and wait for the data relating to your account to be loaded.
Once your data has uploaded, click on Changes (top right)
all changes regarding your friends list will be listed: those who accepted your friend request, friends who removed you and other information.
If, on the other hand, you press the button Your friends (top left) you can check the updated list of your Facebook friends.