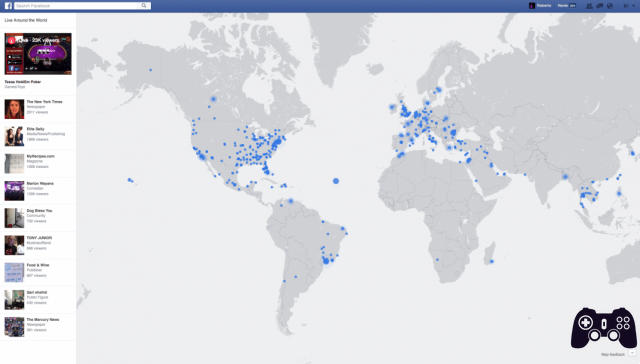 Facebook Live Map, an app that shows a minimal world map on which publicly streamed videos are placed.
Facebook Live Map, a huge interactive map that covers the whole world where subscribers to the social network can find out where the Live broadcasts using the Facebook Live. Tool that is now available to everyone and whose access is really simple.
On the occasion of large events such as concerts or important events, tens or hundreds of streams are often seen in the form of blue dots collected on a point on the map. The bigger the point, the more the stream is followed. The blue line, on the other hand, shows in which country and in which city the spectators are. Facebook Live Map is therefore an easy way to get a complete overview of a number of different situations.
How to access the Facebook Live Map
To reach the live video map (we specify that only those with public sharing are accessible) consult the menu located on the left of the Facebook desktop interface.
Under the heading uses, click live video. At this point you will see the map with some flashing icons which indicate the place where users are broadcasting from. On the left of the map you will find a list of the videos that have the greatest number of viewers.
Hovering over the icons could see the preview of the video, while clicking will open the window with the live in which you can express your liking or not by commenting and adding your like.
Or click here to access directly