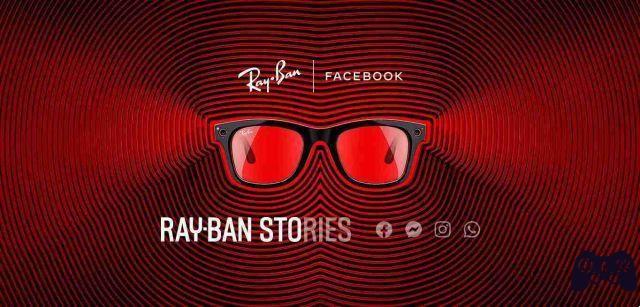 Facebook and Ray-Ban are teaming up to create the next best thing in wearable technology. But what can it do and will it cost a fortune?
Given how much the smartphone has proliferated in our personal and work lives, it can be difficult to imagine doing things without one. However, Facebook plans to make smartphones a thing of the past with new Ray-Ban-designed smart glasses called Ray-Ban Stories.
So, what's the social media giant up his sleeves (or rather, his nose)? Let's find out
What are Ray-Ban Stories glasses
These glasses are the result of the collaboration between the luxury sunglass company and the tech giant Facebook. The idea behind Ray-Ban Stories is that they can help you capture events happening around you without having to reach for your phone.
The glasses are equipped with cameras on the sides so that you can capture everything that happens from a first person perspective. You can use them to take pictures or record short videos to post later when you get home.
Not only that, but smart glasses want you to use them as you would a phone. You can use the glasses to play music and podcasts while on the go, and you can even receive phone calls with them.
The great Ray-Ban story theme gives you the ability to capture the world around you without having to leave it. There is no need to search for your phone when something extraordinary happens, nor is it necessary to look through a screen while recording something. Now you can capture anything just by looking at it, so you can focus on living in the moment.
Specifications and how Ray-Ban Stories glasses work
Ray-Ban Stories captures the world around you using two 5 megapixel cameras. They are activated by pressing a small button on the side of the frame of the glasses: a short tap to record video and a long press for a photo. If you're feeling brave, you can also say "Hey Facebook, make a video" to start the process, but be prepared to record nothing but people staring at you in confusion.
If you want to listen to music or make calls on the go, there are miniature speakers on the frame near the ears. Facebook didn't explain whether they used technologies to stop people next to you on the train from listening to your podcasts, but they said they are "discreet."
The glasses have enough space to hold 30 videos or 500 photos. Once you are full, you can download the media files to your phone using a companion Facebook View app. The announcement did not reveal whether you should use this app or if third-party apps will work with it as well.
Fortunately, Facebook will allow you to share media on other platforms. The video revealed that you can upload your media files to WhatsApp and Snapchat, and there is a possibility that other social media platforms will work with glasses as well.
Even if they don't, the video claims that you can save media files to your phone. This implies that nothing prevents you from uploading your files wherever you like.
The glasses will have an off switch, which will disable all the technology on them once they are turned upside down. And Facebook prides itself on displaying a bright LED on the camera to show others you're recording them, which helps improve privacy. In the video, Mark Zuckerberg states that this is "more than smartphones do," but we argue that holding a phone to record someone is more obvious than an LED.
How much Ray-Ban Stories Facebook glasses cost
The Ray-Ban Facebook glasses cost € 329,00 and can be ordered at.