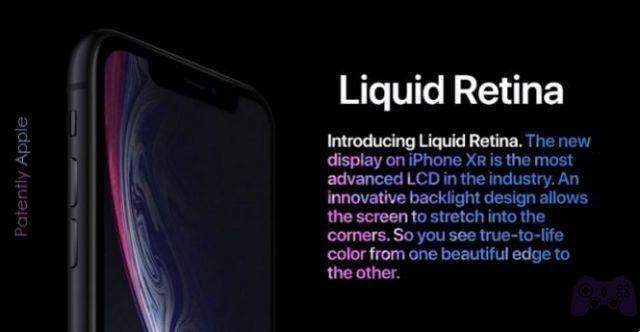 How this Retina display is different from the others. Apple used the Retina Display screens in the iPhone and in other devices for years, but the iPhone 11 is perhaps the highest-profile device to use a different type of screen: a display Retina liquido, which is a type of LCD used only by Apple. Here's what you need to know about what is a liquid retina display and how it is different from other types of screens.
What is a Retina display?
To understand what is a liquid Retina display, you must first understand what the Retina display Basic. Basically, it's a screen where there are so many pixels so closely side by side that you can't see single pixels or jagged lines on the screen, even when looking at it closely. Basically, it is a very high resolution screen with a high pixel density.
Apple introduced the first Retina Display screen on the iPhone 4. It has since introduced new screen versions that are larger, higher resolution, and use different technologies.
What is a liquid retina display?
The technologies used to manufacture the screen are the main difference between the Liquid Retina Display in the standard iPhone 11 and the Super Retina XDR display in the iPhone 11 Pro or the Super Retina HD display used in the iPhone XS or XS Max.
Il display a retina liquida is made using a liquid crystal display (LCD), a standard type of screen found in computer monitors, laptop screens, smartphones, tablets, and other devices for many years. It is a tried and true technology, but also an old technology.
- Super Retina XDR screens used in the iPhone XS and 11 Pro they use OLED (Organic Light Emitting Diode) screens, which are a more modern screen technology that offers brighter colors, deeper blacks, and uses less power than LCDs.
Differences between "Always On Display" and "Ambient display"
How is a liquid Retina display different from a Super Retina display?
The main ways a screen Liquid Retina Display (iPhone XR and 11) is different from screens Super Retina XDR (iPhone 11 Pro) e Super Retina HD (iPhone XS) are:
Screen technologyLiquid Retina Display Screens are made using the older LCD technology instead of the new OLED used in Super Retina XDR and HD displays.
Pixel Density: Liquid retina displays have a pixel density of 326 pixels per inch (ppi) or 264 ppi (on iPad). Both Super Retina HD and XDR displays show a pixel density of 458 ppi.
Contrast ratio: The contrast ratio on liquid retina displays is 1400: 1. A Super Retina HD display has an aspect ratio of 1.000.000: 1, while a Super Retina XDR has a ratio of 2.000.000: 1. The contrast ratio affects the range of colors that the screen can display and the depth of its blacks.
Brightness: The maximum brightness of a liquid retina display is 625 nits, while a Super Retina XDR reaches a maximum of 800 nits.
Battery lifeThis is less easy to quantify, since many things affect battery life, but OLED screens in Super Retina HD and XDR screens generally consume less power than LCD screens in Liquid Retina display.
Which Apple devices use a liquid retina display?
The following Apple devices use a Liquid Retina display:
Device
Screen size
in inches
Screen resolution
in pixel
Pixels per inch
iPhone 11
6.1
1792 x 828
326
iPhone XR
6.1
1792 x 828
326
iPad Pro 12.9 "
(3rd generation)
12
2732 x 2048
264
iPad Pro 11 "
11
2388 x 1668
264
What is a liquid crystal display (LCD)?
Further Reading:
What is the difference between Amoled and LCD display?
What's the new iPad coming out right now?
8 Solutions To Fix Screen Flickering On MacBook
Apple introduces the iPad Air 10,5 (2022), the affordable alternative to the iPad Pro
Suonerie iPhone 11 e iPhone 11 Pro download [HQ Sound]