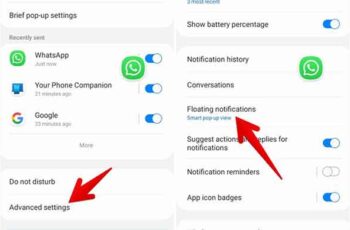 Samsung has long supported chat heads on their Galaxy phones. All thanks to the smart pop-up display function. With One UI 3, Samsung Galaxy phones also received the Bubble feature of Android 11. So now you have two types of notification bubbles on Samsung phones, but only one can be used at a time.
Sometimes, even one of them can get annoying. But do not worry. If Samsung notification bubbles are bothering you, find out how to get rid of them. In this guide, you will learn how to disable mobile and pop-up bubbles on Samsung phones for individual contacts and everyone.
I can't make and receive calls on Android
Android 11 notifications not working, 6 solutions
Turn off mobile bubble notifications on Samsung
Temporarily eliminate notification bubbles on Samsung
The first method allows you to temporarily remove the notification balloon or close it without opening it. To do this, touch and hold the bubble. Drag it to the bottom of the screen where you will see a cross (X) or the trash can icon.
Lift your finger when the bubble reaches the X icon. This should temporarily hide the notification bubble from the screen. However, once you receive a new message from the same app, the chat bubble will reappear.
To prevent bubbles from reappearing, you need to disable bubble notifications on Samsung permanently as shown below.
How to disable Bubbles and Smart Pop-View on Samsung
There are two types of bubbles on Samsung phones: Android 11's notification bubble and Samsung's Smart pop-up display. Both can be disabled from the same setting. Here are the steps for the same:
apri Settings on your Samsung Galaxy phone and go up Notifications.
To touch Advanced Settings followed by Mobile notifications. You can also reach this screen by searching for Mobile Notifications in Settings.
On the next screen, you will find three options: Off, Bubbles, and Smart Pop-up View. If you don't want to use any type of floating balloon notification, select Disabled. However, if you want to use bubbles or smart pop-up display for some selected apps, please follow the instructions in the next sections.
Final report: If there is already a Bubble or Smart pop-up display icon on the screen when you tap Off, please remove it manually. That is, drag the icon down. This will hide the icon and disable mobile notifications.
How to turn off smart pop-up display for some apps
The above method will completely disable the mobile notification bubbles on your Samsung phone. But if you want, you can allow some apps to appear in Smart pop-ups.
To do this, go up Settings > Notifications > Advanced Settings > Mobile notifications and tap View pop-up intelligente. This will enable the Included apps option. Touch it.
Then enable the switch next to the apps that should use the smart pop-up display feature. Likewise, turn off the toggle for the rest of the apps, just in case it's enabled.
How to turn off bubbles for certain apps
Similar to the smart pop-up display, you can disable some apps from displaying mobile bubble notifications. The difference between smart pop-up view and Bubbles is that the former opens the full app when you tap on the mobile icon.
Conversely, Bubbles only shows conversations that take place with others. To keep bubbles enabled for some apps, follow these steps:
First, enable bubble mobile notifications in Settings. For this, go on Settings > Notifications > Advanced Settings > Mobile notifications. Toccata Bolle.
apri Settings i went his App
Tap the app you want to enable or disable Bubbles for. Let's say the Samsung Messages app. Then, tap Notifications.
To touch Show how it bubbles. If you don't see this option, make sure you followed step 1 correctly. You will be greeted by three options: All, Selected Only, and None. Tap All if you want all notifications of the selected app to appear as bubbles. Choose Selected only if you want notifications from selected contacts in the same app to appear as a balloon.
Once you've selected Selected Only, go back and tap the conversation you want to enable or disable the speech bubble for. Enable or disable the switch next to Bubble this conversation.
How to turn off the pop-up notification bubble in Samsung
The above methods help you to turn off mobile notification bubbles. If you are interested in turning off the notification popups that appear at the top of the screen, you will need to follow several steps as shown below.
Open Settings and go to App.
Tap the app you want to disable pop-up notifications for. Let's say WhatsApp.
Within the WhatsApp settings, tap Notifications. You will see different notification categories. Tap the one that looks familiar to you for the intended activity.
Turn off the switch next to Show as popup.
The above steps will help you disable pop-up notifications for WhatsApp. Similarly, repeat the steps for other apps.
Summary: Manage Samsung Notification Bubbles
When it comes to notifications on Samsung phones, several customization options are provided. You can change the tone of individual contacts' messages, set a different volume for notifications and ringtones, enable notification reminders, and much more.
Enabling or disabling notification bubbles is one of them. We hope the above methods helped you disable Samsung notification bubbles.
Further Reading:
How To Disable Notifications On Samsung Galaxy S21
How To Disable Notifications On Samsung Galaxy A12
Disable notifications on Samsung Galaxy A52, how to
Disable notifications on Samsung Galaxy A72, how to
Disable notifications on Samsung Galaxy S20, how to