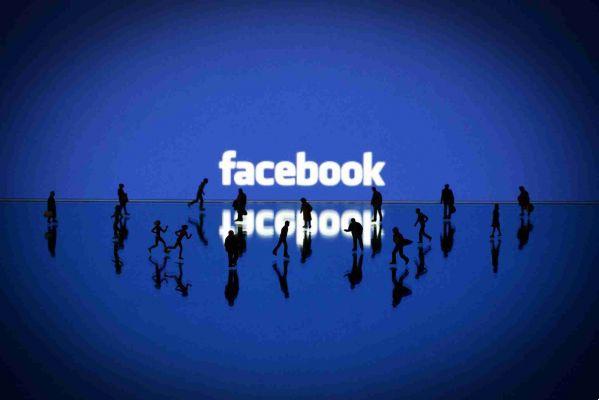 Facebook is a social networking service launched on February 4, 2004, owned and operated by Facebook Inc.
The site, founded at Harvard in the United States by Mark Zuckerberg, Eduardo Saverin, Andrew McCollum, Dustin Moskovitz and Chris Hughes.
It was originally designed exclusively for Harvard University students.
Then it was soon open to students from other schools in the Boston area, the Ivy League, and Stanford University as well.
Later it was also open to high school students and then to anyone who claimed to be over 13 years of age.
since Facebook achieved enormous success: according to Alexa it is the third most visited site in the world after Google and YouTube.
It has profoundly changed many aspects related to socialization and interaction between individuals, both privately and economically and commercially.
It is available in over 100 languages ​​(in Spanish since May 14, 2008) and in July 2016 it had around 1,7 billion monthly active users, ranking as the first social networking service by number of active users.
The name "Facebook" is inspired by a list of students' names and photographs, which some US universities distribute at the beginning of the academic year to help members socialize with each other.
Users can access the service after a free registration, during which personal data such as name, surname, date of birth and email address are requested.
The website clarifies that the mandatory insertion of the date of birth serves only "to promote greater authenticity and allow access to various contents based on age".
Once the registration is complete, users can create a personal profile, include other users in their social network, adding them as "friends", and exchange messages, including via chat, including automatic notifications when they update their profiles.
To personalize their profile, the user can upload a photo, called a profile picture, with which they can make themselves recognizable.
It can also provide additional information, such as the municipality of birth and residence, the school attended, one's employer, religious and political orientation, one's sentimental situation and many others.
Furthermore, users can found and join groups to share interests in common with other users, organized according to the workplace, school, university or other characteristics, share multimedia content and use various applications on the site.
Recently millions of users use Facebook as a platform similar to that of YouTube, that is, show their videos, creating a large audience.
Facebook is not only for individuals and their private life but, through a dedicated service (Facebook for Business), it is also a social marketing tool.
Facebook the story
The then 28-year-old Mark Zuckerberg posted Facemash, the predecessor of www Facebook, on October 2003, XNUMX, while in his sophomore year at Harvard University.
To finish the project, Zuckerberg went into protected areas of the university network to copy the photos of the students' identification documents.
Facemash recorded more than 450 visitors and 22.000 photos viewed during the first four hours of the site's visibility, but was closed a few days later by the university officials.
Zuckerberg was accused of violating security, copyrights and individual privacy, potentially risking deportation, but ultimately did not face any action.
In January 2004, Zuckerberg began programming a new website, which was launched on February 4, 2004, also thanks to the help of Andrew McCollum, who contributed to the programming, and Eduardo Saverin, who took care of the corporate aspects.
The site was reachable at thefacebook.com.
Six days later, three other Harvard students, Cameron and Tyler Winklevoss and Divya Narendra, accused Zuckerberg of scamming them, as he promised them to help them create a social networking service called "HarvardConnection.com" while he was intent on stealing his idea to create a competitor site.
The charge later resulted in a lawsuit.
By the end of February, more than half of Harvard's university population was registered for the service.
At the time, Zuckerberg was also helped by graphic designer Dustin Moskovitz and Chris Hughes to promote the site, and in March 2004 Facebook expanded to Stanford University, Columbia University and Yale University.
In April 2004, the service expanded to the rest of the Ivy League, MIT, Boston University, and Boston College.
It was then the turn of other institutes in the United States and Canada. In mid-2004, the corporation Facebook, Inc. was founded.
Entrepreneur Sean Parker, who until then had been an informal advisor to Zuckerberg, became its president. In June 2004, after the academic year ended, Zuckerberg and Moskovitz moved to Palo Alto, California with McCollum, who had followed a summer internship at Electronic Arts.
They rented a house near Stanford University where they were joined by Adam D'Angelo and Parker. At the end of the month, they received their first funding from PayPal co-founder Peter Thiel.
Between April and August 2005 the current domain, facebook.com, was registered for the sum of $ 200.000.
Over time, people with a university domain email address (eg. Edu, .ac.uk and others) acquire the rights to become users.
On February 27, 2006, the service was also opened to high schools and some large companies, including Apple and Microsoft.
From 26 September 2006 anyone over 13 years old can participate.
From September 2006 to September 2007, according to Alexa, the position in the ranking of site traffic went from sixtieth to seventh position.
Since July 2007 it has been in the top 10 most visited sites in the world and is the number one site in the United States for viewable photos, with over 60 million images uploaded weekly.
In Spain there was a boom in visitors in 2008: in the month of August there were over 961 million visits, with an increase over the previous year of 135%; the third quarter also saw Spain at the top of the list of countries with the greatest increase in the number of users (+ 2011%). According to data provided by Facebook and collected in the Facebook Observatory, Italian users in November 21 amounted to 13 million, of which XNUMX million logged on every day.
Those who log in from mobile device monthly are 7,5 million.
The latest survey of August 2013 shows further growth: 24 million active users in the month, of which 17 million connect daily. From a mobile device they are 15 million on a monthly basis and 10 on a daily basis.
Traffic on www Facebook grew at a rapid pace, surpassing the Google search engine for number of visits in the United States for a week in March 2010.
In March 2011, it was disclosed that www Facebook was removing personal profiles at a rate of approximately 20.000 per day due to various infractions, including spam, forbidden content and an age below the minimum allowed.
In 2011, the company takes its cue from many features introduced by its new rival Google+ (in response to the Google social network), including for example:
automatic translation of the language of the posts on the bulletin board;
the ability to share from the mobile application.
In March 2012 www Facebook announced the launch of App Center, an online store for mobile devices, dedicated to applications to connect to www Facebook.
On 1 June 2012, www Facebook promoted a vote on the new Declaration of Rights and Responsibilities and the Data Use Law, in which it was possible to choose the old documents from 2011 or the new ones from 2012. The vote will close on June 8th and if more than 300 million users have voted it will be binding.
On 24 August 2015, www Facebook reached a record number of 1 billion concurrent active users on the platform.