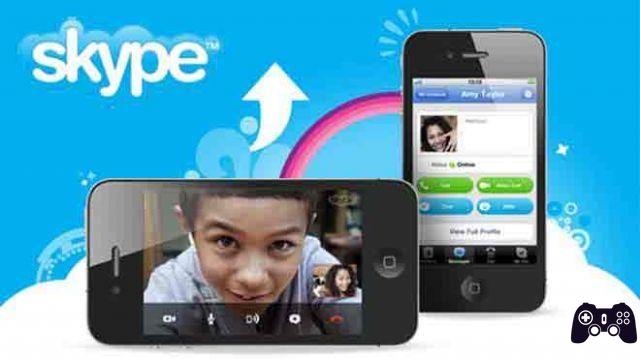 If Skype isn't working, there are a number of steps you can take to fix the problem. In a few lines we will see what are the causes and what we can do when Skype does not work. Maybe there's a problem with the microphone or a problem with the audio settings and you can't hear the other person or they can't hear you.
You may not be able to log into Skype because you have forgotten your password. Again the causes could be that your external speakers or microphone no longer work and you need to get yourself a new set or Skype won't connect.
Regardless of the problem you have with Skype, there are a handful of tips for you to try, which we have written below.
What to do when Skype isn't working
1. Reset your password if you can't sign in to Skype. Visit Microsoft's Recover Your Account to perform the Skype password reset procedure. Enter the email address you used when you first signed up with Skype, then follow the instructions to find out how to get a new password and log back in to start making video and audio calls again. If you need a new Skype account, you can create one via the Create Account page.
2. See if others are also having problems with Skype. There's not much you can do if Skype isn't working and it's not your fault. Sometimes things go wrong on Skype and the only thing you can do is wait. The best way to check if Skype is down or if it is having some problems with its messaging service is to check the status of Skype / Heartbeat. If there is a problem with Skype, it will affect all platforms, whether on the web, on your mobile device, on your laptop, Xbox, etc.
Another thing you can do to fix a Skype problem is to check Down Detector to see if other Skype users are reporting that Skype is down or have some other connection problem. If either website shows a problem, it most likely means you're not the only one who can't use Skype. Wait a few minutes and try again.
3. Make sure it's not a network problem. Skype won't work if you don't have a network connection. If you can't open the websites from step 1 or nothing else works, you probably have Wifi issues. Try restarting your modem or reading our tutorial to troubleshoot Wi-Fi issues.
If other websites are functioning normally, the reason why Skype is unable to make calls or why you are experiencing call drops could be related to bandwidth usage.
If there are multiple people on your network using the Internet at the same time, pause or stop the activities of those devices and see if Skype is working.
4. Check your Skype audio settings and permissions. If you can't hear others when on Skype, check that other audio sources, like a YouTube video, are working normally. Open any video to see if you can hear it.
If there is a playback error in Skype specifically and not YouTube, etc., and you can't hear the other person you're using Skype with, or can't hear you, you need to check that Skype has access to your speakers and microphone .
5. Make a test call in Skype. Now that you've made sure your hardware is turned on and enabled in Skype, it's time to make a test audio call.
The test call will verify that you can hear through the speakers and speak through the microphone. You will hear the test service speak to you and you will be given the opportunity to record a message that can be played.
If you cannot hear your voice during the audio test or the recording is not playing and you are told there is a problem with the audio recording device, repeat the above steps to make sure the hardware is working properly and setting up correctly. Otherwise, continue with step 6 below for some other options.
6. Reinstall Skype. If after trying all the steps above, you still can't get Skype to work and it's definitely not a problem with the Skype service (Step 2), try removing the app or program and then reinstalling it.
When you remove Skype and then install the latest version, you are basically resetting the program and all its connections with the camera and microphone, which should fix all the problems. However, you may need to follow the above steps once again to make sure the new connections are configured correctly.
7. Update device drivers. If Skype still does not allow you to make calls or receive video and you are using Skype on Windows, you should consider checking the device driver for your webcam and sound card.
If there is something wrong with both, the camera and / or sound won't work anywhere, even with Skype, and you may need to update your drivers.
What to do when Skype doesn't work on a computer
If you're using Skype on a computer, open Skype and tap the Alt key so you can see the main menu. Then, go to Tools> Audio and Video Settings.
With these settings open, note the volume area under Microphone. As you speak, you should see the bar light up. If the microphone doesn't work with Skype, select the menu next to Microphone and see if there are other options, you may have selected the wrong microphone.
If there are no others to choose from, make sure the microphone is plugged in, turned on (if it has a power switch), and has batteries (if wireless). Finally, try disconnecting the microphone and reconnecting it.
To check that Skype audio is working and make sure it is using the right speakers, select Test Audio under the Speakers option. You should hear the sound in the headphones or speakers.
If you don't hear anything when you play the sample sound, make sure your speakers or headphones are at maximum (some headphones have physical volume buttons) and that the on-screen settings are at 10.
If the volume is okay, double check the menu next to Speakers and see if there is another option to choose from, then try the sample sound again.
If Skype video isn't working on your computer, open Skype video settings via the Tools> Audio and Video Settings menu item (press the Alt key if you don't see the menu).
You should see an image in that box if your webcam is configured correctly. If you don't see your live video in front of the camera, take note of these tips:
Try disconnecting and then reconnecting the webcam if it is external.
Make sure nothing is physically blocking the camera.
Use the menu to the right of the Camera area in settings to choose a different camera if you have more than one.
What to do when Skype doesn't work on Android or iOS
If you use Skype on a tablet or phone, the speakers and microphone are built into the device and cannot be adjusted manually. However, there are still the proper permissions that Skype requires to use the microphone, and if they have not been configured, it will not allow anyone to hear what you say through it.
On iOS devices such as iPhone, iPad and iPod touch:
Go to the Settings app.
Scroll to Skype and tap on it.
Make sure Microphone is turned on (the bubble is green) so Skype can access your device's microphone. Just tap the button on the right if it's not already green.
Android devices can give Skype access to the microphone like this:
Open Settings and then Apps.
Find and open Skype, then Permissions.
Select Allow.
Check your Skype video settings and permissions. Problems with how Skype accesses the camera could be why the person you're using Skype with can't see your video.
If Skype video doesn't work on iPad, iPhone, or other iOS devices:
Go to the Settings app and find Skype from the list.
Turn on camera access if you haven't done so already.
If you are using an Android device:
Launch the Settings app and then find Apps.
Open the Skype option and then choose Permissions from the list.
Enable the Camera option.
If your device still doesn't allow you to use video in Skype, remember that it's really easy to switch between front and rear cameras and vice versa. If your phone is resting on a table or you are holding it in a certain way, it can completely freeze the video and make it appear that the camera is not working.
Try tapping the little camera toggle button during the call to switch between front and rear cameras. If you're not on a call right now, you can use the Camera option to test the video from your device.
Further Reading:
How to disable Skype automatic start on your PC
How to delete a Skype conversation
How to use Skype on Chromebook
Skype not working on Android? Let's see how to solve
How to download and install Skype