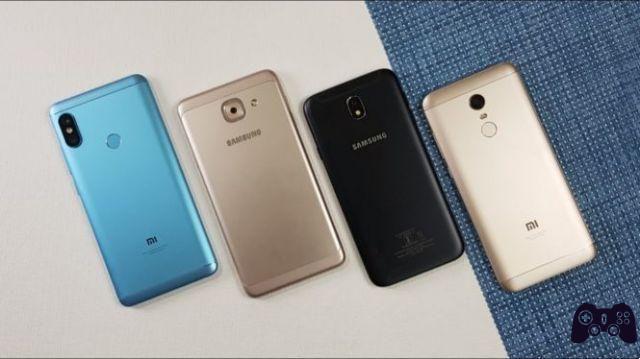 If you are about to buy a Chinese smartphone, there are a number of aspects and factors that you need to take into consideration in order to make the right choice. Pay attention to this guide for buy a Chinese cellphone and make sure you make the perfect purchase.
The best Chinese Android smartphones >>
In just 10 years, China has become a world power in the mobile phone market, and more and more users decide to buy a Chinese smartphone. With the passage of time, the terminals that arrive from the Asian country are gaining quality, to the point that some of the most popular and representative brands come from there. Even some mythical reference companies, such as Motorola or Nokia, have passed under the control of Chinese companies.
Buying a Chinese mobile phone in 2022 it is an increasingly common activity. Long gone are the times when Asian technology was based on imitation and cheaper productions. It continues to happen, even in the mobile market, but there are also Chinese brands that pursue excellence and produce reliable and powerful smartphones with the highest production standards, which have nothing to envy to Western companies.
And this is where the buyer's dilemma begins.
Currently, we can find hundreds of brands on the market that sell mobile devices, and there are many differences between them. For this reason, it is important to investigate a little to know what you are buying and to avoid any unpleasant surprises. So that you can make the right choice, we have compiled these for you tips and guidance to know how and where to buy a Chinese phone in 2022.
Production and assembly
Ironically, we still distinguish between Chinese mobiles and the rest, but the reality is that the vast majority of smartphones are made in China. At the hardware level, of pure and hard components, there is not much difference between a Chinese brand and a Western or Korean brand.
The differences have to be sought in terms of displays and manufacturers.
Chinese factories produce most of the components that smartphones now use, from processors to the WiFi circuit, camera, fingerprint reader, etc. Most Chinese brands, especially those found in the middle and lower range, like many Western companies, are simple assemblers.
They buy the processor from one factory, the antenna of the telephone from another factory and so piece by piece the new telephone takes shape. Also, to save costs, things that are not visible are eliminated: surge protection, sensors, connections, etc.
On the other hand there are brands like Huawei, ZTE, Xiaomi and others who manufacture part of the components, or at least oversee the manufacturing, and all the various processes in the chain. Like Apple or LG, they manufacture, select and customize hardware for maximum performance and make sure everything works perfectly.
It's the difference between a mobile that gets very hot and another with similar hardware that doesn't, or that costs half as much but apparently has the same hardware.
Reliable brands
All of this brings us to the question of brands, an aspect to be taken into consideration when it comes to Chinese mobile phones. If you acquire a terminal from a company in the Asian country that enjoys fame and recognition, you will get advantages and reliability superior to those of other unknown brands or that have a much cheaper than average catalog.
Perhaps a OnePlus 6 or a Meizu M6 could break immediately, while an unknown phone could last a lifetime, but the normal thing is that the opposite always happens.
Chinese new companies seek international projection and have international models that have passed the checks of Amazon and other stores, such as Elephone, Cubot, Leagoo, Doogee and others. Out of this loop, it's a question of risk.
Import from China
The cheapest way to buy a Chinese smartphone is to buy it directly from a Chinese store. The main advantage is the price, but there are also some drawbacks.
There is a risk that the order will go through customs, the more likely the larger the purchase amount and the larger the packaging. And that means paying a tax between 25 and 40% of the product price.
Se shopping in China do not ask for shipment by DHL or another transport agency, because it always goes through customs. Do this by post, where the chances of being stopped are small, but there are also problems with the packaging breaking or getting lost.
Like any international product, orders in China come with a one-year warranty, but returning or repairing your mobile phone to China, shipping costs are often your responsibility. It can take weeks between sending and returning the device. Furthermore, some Chinese stores ignore these problems.
Pay attention to the version of the ROM. If it's a Chinese version, surely the menus are only in Chinese and English. Look for phones with an international ROM or software in Spanish.
If you decide to buy a Chinese smartphone in a store that ships from China, our advice is to do this only with very cheap phones. Wouldn't you mind losing all your money?
Best Android smartphones under 300 euros
Chinese stores with warehouse in Europe
Major Chinese stores, in the style of Aliexpress or Gearbest, already have warehouses in Europe. Also in Spain, as with Aliexpress Plaza or Amazon itself.
This means that the product will never go through customs. Shipments from Europe arrive in less than 10 days, and if they depart from Spain it takes between 2 and 5 days. Even better: the purchase is regulated by Spanish legislation, so it has a 2-year guarantee and returns are made from Spain, a maximum of a couple of weeks.
More complicated is the problem of the technical service. Some brands have it in Europe, but others don't, so repairs are highly variable.
The only drawback is that in the European shop they only have a small selection of mobiles. Many of them will have no choice but to ask you to send the device to China.
Brands established in Spain
The most convenient and satisfying way to buy a Chinese smartphone is to trust a brand established in Spain.
That is, they have an open branch in our country, with a local technical service. Brands like Lenovo, ZTE, Huawei, Meizu the recently, Xiaomi, fall into this category.
For all intents and purposes, they have the same benefits and obligations as any Spanish brand. You can buy the phone in any shop, with a two-year guarantee, immediate exchange and refund and technical assistance with numerous shops in the main cities of Spain.
Another major advantage is that in many cases their phones have an authentic Spanish version, with all software configured in Spanish, including manuals and help.
Nothing stops you from buying these same phones in Chinese stores at a cheaper price, but you miss out on all the perks we mentioned. In mid-range and high-end smartphones, things like warranty and technical service are worth gold.
Smartphone with the best battery
Beware of Bloatware
If you decide to shop in Chinese stores, keep in mind that someone is adding a lot of bloatware to smartphones. Even the brands themselves. It is advertising software that is usually little used by the user, but is difficult to remove, because it is built into the ROM itself.
This practice is very limited by prestige brands, although it is true that they usually install their own user interface on the operating system. But there are exceptions, such as Xiaomi Mi A2, the only Chinese Android One smartphone (with pure Android operating system without customization) distributed in Spain.
Other issues to consider
You may have decided to buy a Chinese smartphone very powerful and cheap from a little known brand. Now comes the big question: What about updates? A smartphone that cannot be upgraded will become a brick.
There are brands that take a long time to update their smartphones and use custom ROMs that cannot be replaced by others, or the procedure is very difficult to perform.
Check in forums, social networks or user reviews if the little-known brand smartphone you are about to buy is updated correctly when there are new versions of Android. If you are unsure, don't buy it. The recognized brands guarantee at least two years of updates.
Finally, if it is a very cheap 4G mobile phone, check that it supports the LTE band from 20 to 800 MHz, which is used in Spain in low coverage areas, inside buildings.
If you've read the whole article I'm sure you know now how and where to buy a Chinese phone in 2022.
The best smartphones without frames
Further Reading:
Antutu: the 10 best and most powerful Android smartphones - September 2022
Xiaomi Mi 9 is the most powerful Android phone in the world
TV Box Android 9.0, TUREWELL is on sale on Amazon
For only 80 € you buy a 6,5-inch screen, 3 cameras and Android 10
My experience with a Chinese mobile of an unknown brand