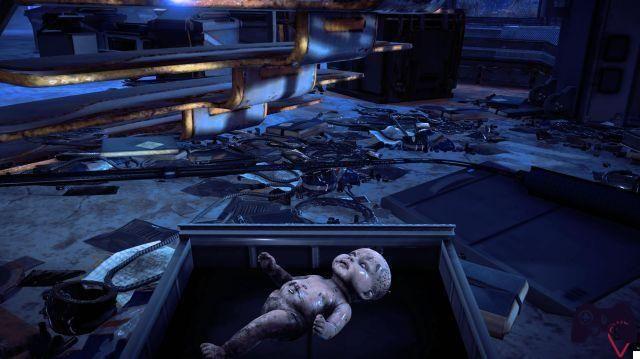 In this guide dedicated to the easter eggs of Horizon Zero Dawn, developed by Guerrilla Games, and supported by the Decima Engine, we will help you find themed ones Death Stranding, honored for using the same graphics engine. Having this feature in common, through the easter eggs there was an exchange of niceties, first by Death Stranding (here you can find our review), and then kindly reciprocated by Horizon Zero Dawn.
Where to find the three Horizon Zero Dawn easter eggs? Here is the guide
Within this open world there are three references to the video game of Kojima, and can be found in different areas and at different moments of the main story, let's see what they are:
Stranded Necklace: this item is worn by Norman Reedus and serves to connect the world to the Chiral Network.
Where it is: at the beginning of the story.
Stranded chains: are the handcuffs from the protagonist of Death Stranding that serve as a menu.
Where they are: they are in the underground area behind the Colosseum, between the tables on the left.
Beached Doll: This terrifying doll is related to the character played by the internationally renowned Danish actor Mads Mikkelsen.
Where it is: when you are in the initial area, go through the wide corridor and go up the stairs on the left, at the bottom of the latter look for the narrow space on the left.
All three of these items are marked in the game menu with the Homo Ludens helmet and can be exchanged for other items from merchants scattered around the map.
And that's all about the easter eggs in Horizon Zero Down that refer to the game from Kojima Productions. For other advice or help we refer you to our section dedicated to guides always updated with all the topics of the moment.