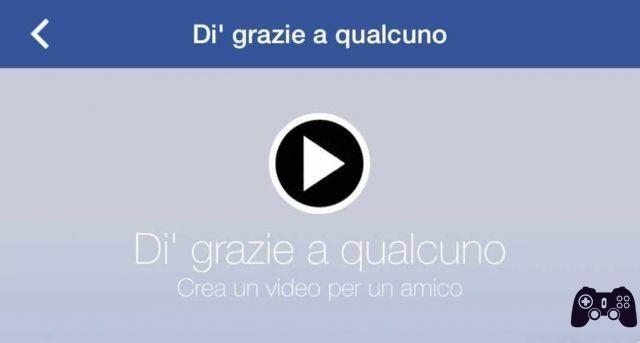 Say Thanks to Someone Facebook allows you to create and share a video with your Facebook friend.
Say thanks to someone Facebook is a special page that will allow you to create and share with the person of your choice a video made from photos and videos selected by you to say thank you for something, for his friendship, for a moment spent together and much more.
This function of Facebook Say thanks to someone it is very useful and fun to create videos to share with your friends.
Say Thanks To Someone Facebook: How To Use It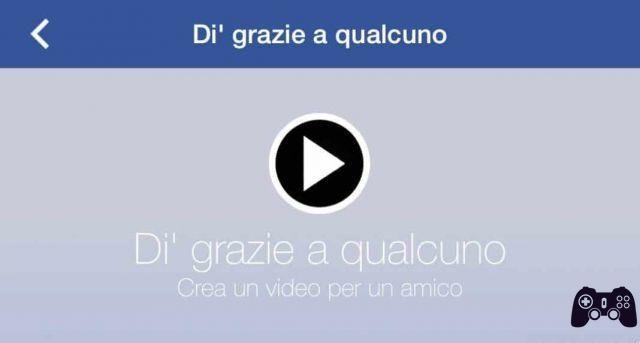 The first thing you need to do is connect to this web address https://www.facebook.com/thanks.
Then choose the friend you want to make the video for by clicking on their name in the list of your friends that will appear on the page on the left.
Once you have selected the person of your interest below, choose the theme of the movie that will be made:
Old friends
Friends
Family members
Then choose the greeting you want to address to the person from the menu Choose a greeting.
Then select the photos or videos you want to include in the movie by selecting them or using Choose photos and posts you can also upload photos and videos. You can use a maximum of 7 elements between photos and videos.
Once you are done press the button Play to preview it. If you are satisfied with the result, click on the button Share video.
The video in question will be published on your Facebook profile (you can choose to customize the privacy of the post and therefore show it to all your friends or just between you and the person from the thank you video) the person for whom you made the video will be automatically tagged in the video post.
You can also use this feature from smartphones and tablets: just open the browser you use to surf the Internet and go to the appropriate website. Once you have logged in to the mobile version of the social network, you can use the tool Say thanks to someone.