They all seem powerful, but some are far more so. So let's find out in this guide the best Minecraft Dungeons Artifacts
Minecraft Dungeons is the new video game from Mojang that introduces the series to the genre of action hack and slash. While the similarities with its peers, such Diablo III or Path of Exile, are quite evident, some design choices that make it very different. In addition to the usual graphics that minimize polygons, there is a lot lighter and less hard core air here.
The game can also be finished rather quickly, but with too much haste some of its specialties could be lost sight of. Exploring far and wide you may in fact come across some rare and very powerful items. We are talking about the Artifacts and in this guide we tell you the best of Minecraft Dungeons.
What are these objects so useful?
Before knowing them it might be useful to understand what they consist of. Artifacts are unique objects that can be found during our adventure, both necessarily and totally randomly as a drop from enemies. There are one total of twenty and each with different effects to use. While some might come in handy depending on your play style, we're sure there are some that are more powerful than others. Now let's finally find out in this guide which are the best Minecraft Dungeons Artifacts.
Death Cap Mushroom - Minecraft Dungeons: guide to the best Artifacts
This is certainly one of the most versatile Artifacts in the whole game. Its effect is that of boost attack and movement speed user for 9.8 seconds. Particularly suitable to be coupled with any other type of weapon, even making those that previously had poor attack capacity become useful. Its cooldown (i.e. the amount of time before you can use the Artifact again) is also relatively low, after just 30 seconds you can use it again.
Also not to be underestimated is the increased movement speed. In this way you can in fact run faster between the dungeons. Perfect for those who want to do some quick farming or speedrun.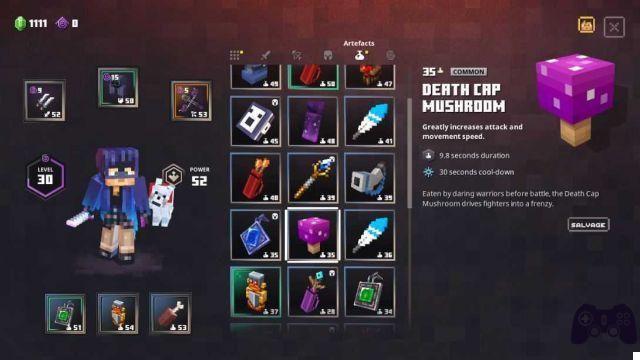 Soul Healer - Minecraft Dungeons: guide to the best Artifacts
Having discovered in this guide the best for damage, let's now move on to the one that in the Artifacts is among the best for its ability to care in Minecraft Dungeons. While potions are already a powerful healing tool, it certainly can't hurt to bring something extra with them.
The Soul Healer allows indeed to heal the most damaged character on your team, or yourself when you are alone. Also seen that the cooldown is only one second, it can be exploited more than once in a short time. Also pay attention to the amount of cores you have because this tool consumes them with each use.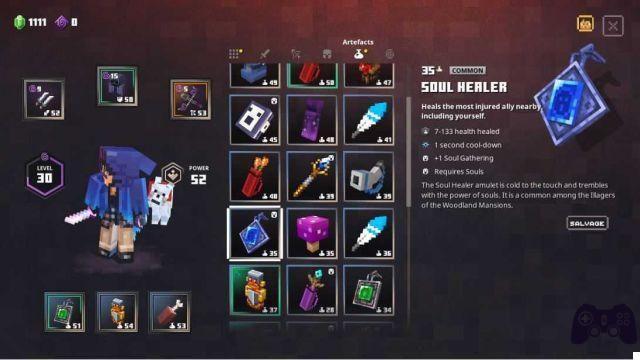 Tasty Bone and Wonderful Wheat - Minecraft Dungeons: guide to the best Artifacts
If you're looking for a more ally-based style of play than Diablo III's Necromancer, these Artifacts will partially emulate the experience. With the Tasty Bone you summon a wolf with great attack capabilities, but not very resistant to damage, you will therefore have to be careful and recall it in case it dies. Wonderful Wheat instead it allows you to have a llama to fight alongside you, characterized by the wolf's greater defense, which balances with a less incisive attack capacity.
The choice between the two is up to you. It depends if you prefer more attack at the expense of having to recall the wolf at his death. Or worry less with a stronger but weaker blade.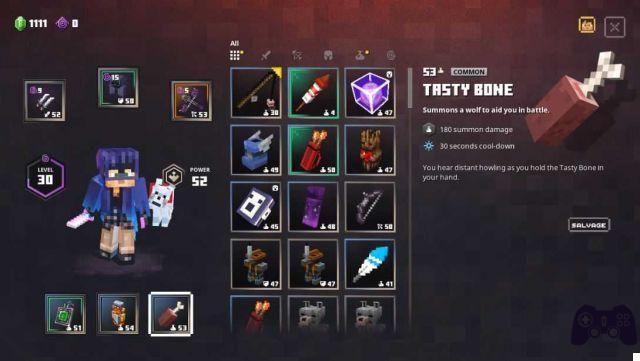 Harvester and Light Feather - Minecraft Dungeons: guide to the best Artifacts
At the end of this guide, let's talk about the two best Artifacts to deal with groups of enemies in Minecraft Dungeons. Harvester release aexplosion of souls which knocks back and damages surrounding enemies for 17-432 damage. Its low cooldown make it particularly useful for killing weak enemies or making room for better repositioning.
Light Feather he too allows us to push enemies away, but instead of damaging them there stuns for 3 seconds. Together with the cooldown of just three seconds it will allow you to control the battlefield in an extremely effective way.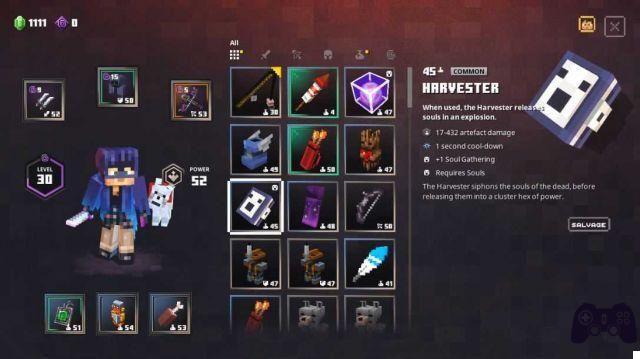 Cubes and blows
With the guide that we have provided you now know the best Minecraft Dungeons Artifacts. In case you have any doubts or want clarifications about this hack and slash ask us your questions below in the comments. If, on the other hand, you are looking for a way to improve your equipment, we have a guide on the best armor.
Minecraft Dungeons is available on PC, Xbox One, PlayStation 4, Nintendo Switch, iOS and Android. I also invite you to continue following us on Holygamerz to stay updated on the world of video games and technology.