In this guide on Marvel's Spider-Man: Miles Morales we will go to see what are all the Venom abilities in the new title of Insomniac Games
The new title developed by Insomniac Games he sees us in the shoes of Miles Morales, the new superhero who has taken over from Peter Parker in the Ultimate Universe of the comic series. This chapter will see us pitted against the new enemy tinkerer (the Thinker), who for the occasion is personified by a woman. Let's start this guide on Marvel's Spider-Man: Miles Morales now and find out what all the Venom abilities are.
Here are all the Venom abilities - Marvel's Spider-Man: Miles Morales
In the title, our Spider-Man will have at his disposal 3 skill trees which will allow him to progress through history. Although in the end we will be able to unlock them all, in the course of the adventure, unlocking each of these will give us an unparalleled sense of growth.
One of the differences that sets Miles apart from his mentor is the development of the superpowers that characterize New York's new savior. The Venom skill tree revolves around one of these unique powers and allows the superhero to face off against increasingly bigger and badder enemies. Focus on this skill tree will allow your hero to reach an even higher level. Let's see what they are together.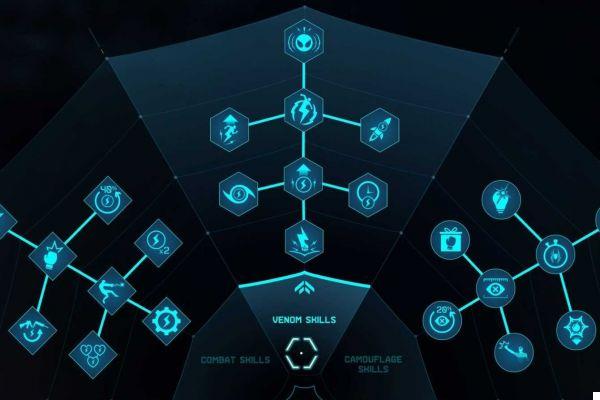 Venom Crash - To activate it you have to press L1 + Square + X. You will perform a Venom Smash that will damage and stun the surrounding enemies. Its cost is 1 skill point and it can be unlocked at level 3.
Venom jump - Activated by pressing L1 + X. This technique throws nearby enemies into the air, disarming and stunning them. Its cost is 1 skill point and it can also be unlocked at level 3.
Synaptic collapse - This ability will double the stun time of opponents. Its cost is 1 skill point and it can be unlocked at level 4.
Embankment - Increases the scope of Venom Fist's splash damage, allowing more enemies to be stunned on impact.
Miles Smashes! - Increases the area of ​​effect of the Venom Smash.
Venom rocket - Wall attacks cause stun on impact. This can happen once every 5 seconds.
In short, not bad skills that will allow you to fight against multiple enemies at the same time, while maintaining control of the situation. If you want some advice to start playing, I invite you to read our guide. Recall that the title is a PlayStation exclusive and is available for PlayStation 4.
For the PlayStation 5 version we will have to wait for the arrival of the console, scheduled for November 19th. In order not to miss further news regarding the Marvel universe and the videogame world, continue to follow the pages of Holygamerz!