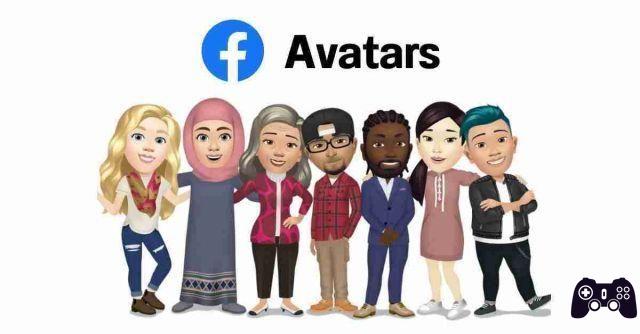 Using a Facebook avatar is an easy way to add fun to your Facebook profile, posts and comments. But how do you go about making one?
In your Facebook feed, you've probably seen your friends and family post cartoon-style emojis. If you haven't already, you can also create your own similar custom avatar.
What are Facebook avatars
The Facebook avatar is a person lookalike with a funnier twist. Using different faces and hairstyles, you can customize them as you like. Once created, avatars can also be used as stickers to show emotions that you would otherwise normally express through emojis.
You can share Facebook avatars regardless of whether you use the platform on your computer, tablet or smartphone.
How will I create an avatar di Facebook
To start creating your avatar on Facebook, you must first log into Facebook on your smartphone. Click on the three dots in the top right corner to open Menu or swipe right a few times to get the same final result.
After scrolling down and choosing See More, select Avatar to start creating your own. Here you can customize your look based on your face, skin tone, clothes and so on.
When you are satisfied with everything, select Done. On the next page you will see a preview of your avatar. If you are satisfied, click Next.
Facebook will give you the option to publish a post announcing your creation, while you can also use it during comments.
How to make your avatar your profile picture
If you want to use your avatar for your Facebook profile picture, you must first go to Settings> Avatar. Once your avatar is loaded, click the arrow button at the top of the options list on the right.
Next, select Create profile picture.
On the next screen, you'll be able to choose an avatar pose and profile background. Choose your preferences for both, then click Next once you're done.
Facebook will allow you to set your new avatar as a temporary profile picture for an hour, a day, or a week. You can also set a custom date if you prefer to use it longer. Regardless of your choice, hit Save once you've made a decision.
A new avatar will replace your existing profile picture. In the Facebook profile section, you can also see how many days you have left to use your avatar as a temporary profile picture. After a few seconds, this will disappear.
How to use your avatar on a Facebook post
Now your avatar is ready, it's time to start having some fun. To use it on a Facebook post, follow the steps below.
Go to Settings> Avatars .
At the top, click the button Share .
Click the button Create post .
Select a pose for your avatar.
click on Share in the news feed .
Write what you want to share with your friends.
click on Mail .
When you create a new Facebook post, you can also use your avatar and add a different background to your content. Here's how to do it.
Create the post as you normally would.
At the bottom right, click on box-shaped symbol .
Choose a background for your posts in Choose background .
Write the post and check that it is what you want to send.
Click the button Public .
How to use your avatar in Facebook comments
You can also use your avatar as a sticker when commenting on Facebook posts. Below are the steps that you need to follow for this.
Go to the comments section of any post.
Click the button with the smiley from which you add the stickers.
Click avatar icon under Write a comment… .
Select an avatar.
Publish the comment by clicking arrow icon .
Tapping Edit avatar in the top right corner, located under Your avatar, will take you to the avatar preview window. Here you can make changes to the sticker you have chosen.
How to use your avatar as a Messenger sticker
In addition to commenting on other people's posts, you can also use your Facebook avatar as a sticker on Messenger. Follow the steps in this paragraph to do this.
Go to Settings> Avatars .
Select the second option: All stickers .
Choose an avatar sticker.
click on Send in Messenger .
Find a friend you would like to send the Avatar to.
Select Send .
Once shared, you can reuse the sticker on Facebook Messenger. You can also save it directly to your phone's gallery to share it on other platforms, and the process is identical to if you shared a regular image.
How to share your Facebook avatar on Instagram
If you wish, you can also share your Facebook avatar on other social media platforms. One of them is Instagram; you can find the steps to do it as a sticker on this app below.
Go to Settings> Avatars .
Click on the second option in the preview window.
Choose a sticker.
click on Other options ... .
Select Instagram from the list of apps. The sticker will then be imported to Instagram.
Share your avatar sticker after writing a description. You can do this by clicking check mark icon top right.
Besides Instagram, you can also share your Facebook avatar on WhatsApp, Snapchat and Twitter, as well as other apps. The process for each is quite similar to Instagram.