The new challenges have just arrived and with them here is our guide to help you complete them as quickly as possible. Let's see together how to overcome this week 5 of Fortnite season 7
We have now reached the halfway point for this season 7's Fortnite and as the holidays slowly flow away, here come the challenges of week 5. In this guide (as always) we will provide you with the solutions in the form of maps and some tips that will allow you to get through this week as fast as possible. Let's see how to complete all the missions.
Fortnite: guide to the free challenges of week 5 | Season 7
Phase 1: Land at Polar Peak (0/1)
This is the usual challenge he plans to land in a certain place. The first will be Polar peak and then it's up to Lande Letali, Tomato Temple, Adventurous Landing e Snobby beaches. In the map below of this guide you can find all locations mark where you will need to land to complete this mission.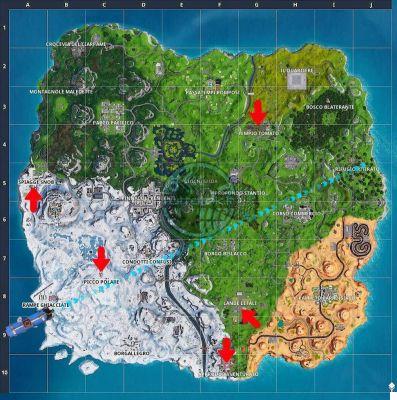 Inflict damage to opposing structures (0/5000)
The second of the challenges of week 5 for this season 7 of Fortnite turns out to be really simple. We already mentioned in some previous guide that it's super easy to find enemy structures created as a result of a fight. Our advice, to do as much damage as possible in a short time, is to have explosives with you or some rocket launchers. In this way, in a short time you will be able to get a good amount of damage and complete the challenge.
Eliminations with silenced weapons (0/3) (HARD)
Perhaps one of the most demanding challenges is to eliminate opponents with some particular weapon. This time it will be enough have one silenced (we recommend the assault rifle) to be able to take out an opponent. If you manage to get close without being seen by the enemies, you can open fire and melt them in no time.
Fortnite: guide to the challenges of the Battle Pass of the week 5 | Season 7
Phase 1: Dance on top of a water tower (0/1)
As in the week 1 challenge, this one also plans to dance somewhere. The first time will be on top of a water tower (Corso Commercio), while later you will have to do it on the ranger tower (Refuge withdrawn) and finally on control tower (Frozen Ramps) of air traffic.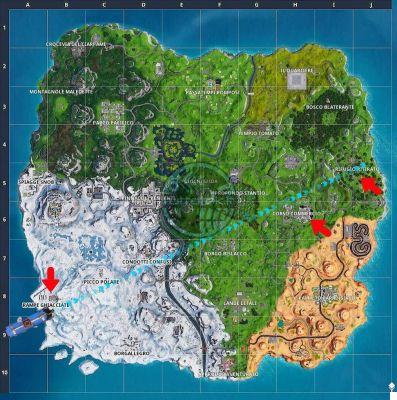 Look for chests in Bosco Blaterante or Palmeto Paradisiaco (0/7)
The second of the challenges accessible through the Battle Pass of week 5 for this season 7 of Fortnite plans to open 7 baskets in the Bosco Blaterante and Paradise palmetto. I remind you to pay attention to where you land and to always keep an eye on your opponents to prevent them from taking you by surprise.
Search among a rock giant, a crowned tomato and a circled tree (0/1) (HARD)
Il exact point where to look for the star is shown in the map below.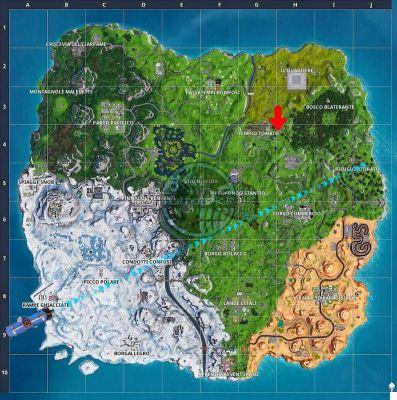 Eliminate an opponent 5 meters or less away (0/3) (HARD)
Close combat is a focal point of this game. Like any good self-respecting close combat, the key point will be have a good weapon. Obviously it goes without saying that the shotguns they are the best, but also one machine gun (in case you don't have the first one) can come in handy.
That's all for this week 5 guide. If you are left behind with the missions from the previous week, you will find what is right for you in this article. In order not to miss further news regarding Fortnite season 7, continue to follow the pages of Holygamerz!