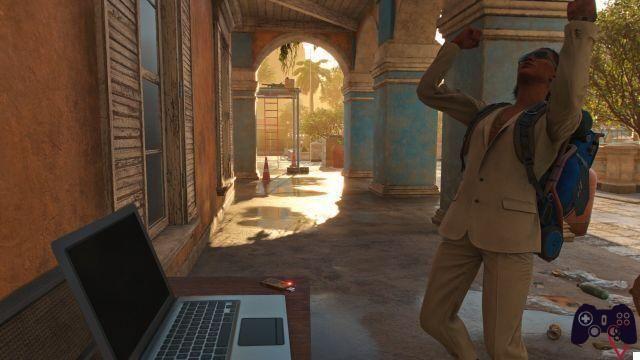 Far Cry 6 is a game full of secrets and mysteries, we have talked about it abundantly in our dedicated review but, today, we have thought of a guide to help you tfind all 15 USB sticks in the game. Each device contains a piece of music inside and, once you have taken all of them, you will also get the dedicated trophy.
Before starting, we also remind you that if you have difficulty finding the Amigos we also have a guide dedicated to them. which you can reach by clicking here.
How to get all USB sticks in Far Cry 6? Here is the guide
Before starting it is fair to tell you that you can not miss the pens, even if you complete the story you can go and get them at any time. For greater clarity, we also invite you to view the PowerPyx video, which as usual we thank for the content and which you can find below.
Sanctuary Island
– Hit Boy: You will find this USB stick in a building of the Viviro Plantation, which is located in the south-east of the island.
Dawn
– Tamarind Pulp: inside a den in Ocaso Marina.
- Original feeling: on the northernmost island of the region there is the Mambo hiding place, you will find the keys in a dumpster.
- Abuse of power: go to the control tower of the Olympia air base, the USB will be at the foot of the antenna located on the roof.
– What a Bam Bam: in the town of Verdera, on a table outside an orange building
Gold Valley
– Educate Of: you have to find a petrol station, the key is attached to a laptop located on the counter.
– Macarena (Bayside Boys Remix): you will find it in a dumpster in a parking lot, exactly under a poster that says jazz.
- Money: you have to go to the roof of Villa Orquidea, to go up take advantage of the ivy located at the back of the house.
– Is Grandma "La Figura": in the DJ console at the end of the treasure hunt.
The East
– The Beautiful Ciao Of Freedom: you will find the stick inside an underground bunker, which is next to the red radio tower, next to an FND chest.
- The ways of the life: On the patio behind a wooden house.
- I learned: in the city of Maldito, in a wooden shack that can be reached by a ladder.
- La Vida Me Cambio: in the guard house at the entrance to the FND Base.
Hope
Pxssy Powah!: in the "Mercurio Mecanico" guerrilla hideout on a table.
Here We Kum: to the balcony where the story began, where you chose whether to play the male or female character during the first movie.
This is all there was to know in our guide dedicated to Far Cry 6 USB sticks, the new title of one of the most famous Ubisoft sagas.