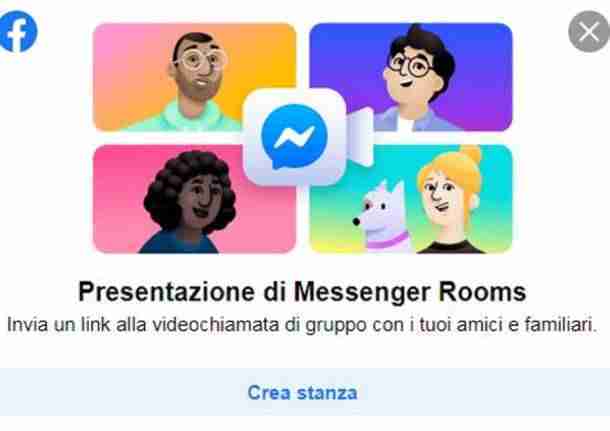 The facebook room allows you to make free group video calls up to 50 participants and with no time limits. Just log in to Facebook from your browser or from the official Facebook and Facebook Messenger apps.
Facebook room how it works
Let's see how to create a "facebook room" videoconference up to 50 participants.
How to create a room on Facebook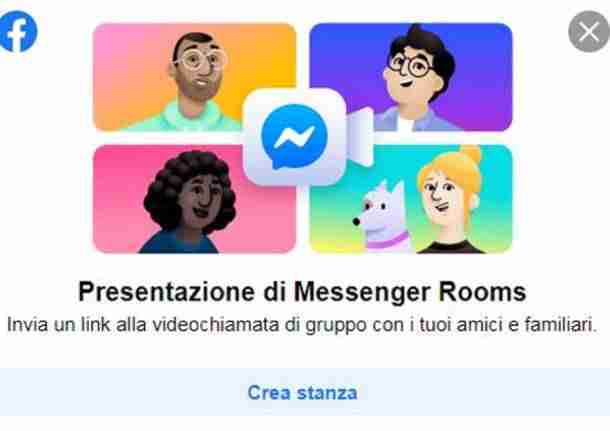 To create a "room" go to creating a new post and you will see the Room button (a purple camera icon with a + in it).
A window will appear where you can customize the settings of your group video call on Facebook, precisely your Facebook room.
The settings are:
Link: this link can be sent via emial, or message to anyone who does not use facebook or messenger and is not in your friends or cantatti list of the social network. Thanks to this, even not being registered on facebook, the people who receive it will be able to participate in the room through the Chrome browser on their computer by clicking on the link.
Room activity: "Family" to "Break from studying", passing through "Chat", "Si balla" and much more. This setting is not mandatory but at your discretion.
Who can find the room and enter? : Now this is the most important setting, by selecting it you can decide whether to make anyone join your friends on Facebook and contacts on Messsenger leaving the Friends setting, or make a room, private video call, only with Facebook friends and messenger contacts selected by you, or invited via the link in the previous window. So if you want to create a room with specific people select Invite specific people ... Select from the list of your facebook friends the people you want to include in the room, remember to deactivate Allow sharing of the invitation link if you want it to remain private with friends who you chose.
Now I start: You can decide to open the room immediately or to set a fixed day and time.
Once you have set your options, press the Next button.
A window will appear with Facebook warnings:
Visibility of the room. When you create a room, Facebook will show it to your friends. You can control who sees your room by choosing who to make it visible to.
Sharing links. The people you invite can access your room. You can allow sharing of an invitation link to allow others to log in if they have the link, including people who aren't your friends or don't have Facebook or Messenger.
Closing the room. You must be in your room to allow others to access. You can close your room at any time if you don't want new people to log in.
Read these warnings, click on Log in to enter the room and start a videoconference with Facebook friends or the people you send via link.
If you have given a start time, facebook will remind you that you have programmed a room and you will be able to access it at that set day and time, as well as will be notified to the friends you have selected or who have received the invitation to participate.