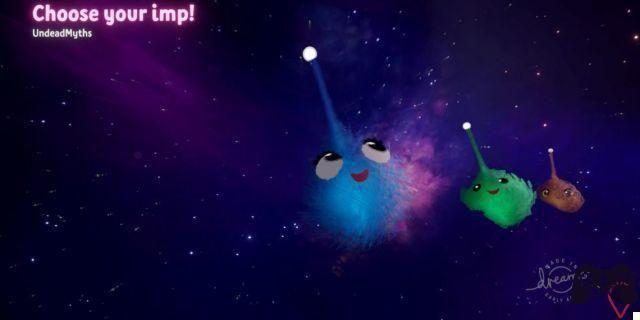 Dreams has finally come out of its early access phase and is preparing to hit the shelves of all stores. We have talked about the work extensively in our dedicated preview, but today we want to help you in progression of missions Imp, or the little spirit that will accompany you every time you enjoy the work.
How to check the progression of Imp missions in Dreams
The first thing you will need to do as soon as you start the game is, of course, to complete the tutorial. Once this is done, you will be given the opportunity to check your profile and start customizing your Imp. The tutorial will be essential as it will give you the basics needed for creation, including information on how to move and rotate objects. Once this is done, the game menu will expand introducing two modes called respectively Dream Surfing e Dream Shaping, recognizable thanks to icons in the shape of Pad and violin.
To check the progression of the Imp missions, all you have to do is go to options and open the menu. Once this is done select the profile option at the top right of the screen. If you have followed our instructions step by step, you should now find yourself in front of the Imp missions. Select them, so as to enter the area dedicated to the progression of the game.
Here will be available all categories of Imp missions, which are mostly focused on the creation of certain items or completely of some levels, created by both the players and the same Media Molecule. You will see that the cards dedicated to the missions will be present, so that you can filter them as you complete them. Just select the Imp concerned to see its dedicated quests, so you know in advance how to complete them and what are the rewards that can be obtained in case of success.
You will soon notice that some missions are divided into several parts, therefore they will give you different rewards but with a greater expenditure of energy on your part.
This is all there is to know about Dreams Imp missions, we hope we have been useful to you. We also remind you that if you need more advice, we have an entire section dedicated to constantly updated guides.