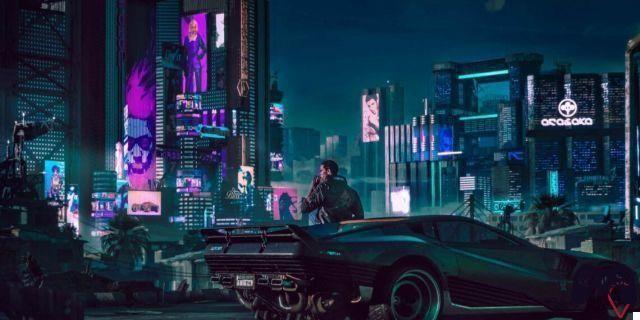 cyberpunk 2077 is finally here! The mammoth action RPG di CD Projekt RED has been waiting for eight years and, after not a few postponements, it is now available on PC, PlayStation 4, Xbox One, Google Stadia and on next-gen consoles, PlayStation 5 e Xbox Series X / S, through backward compatibility. As you surely know, the extraordinary Cyberpunk-style open world recreated by the Polish team contains a multitude of activities and secrets to discover. Obviously, to move in such a vast world, you can rely on different means of transport, such as auto e motorcycle highly futuristic, with which, more often than not, you will run into some accidents. So how do you fix yours damaged vehicle? The procedure is much simpler than you can imagine and we will explain it to you in this guide.
For more information on the game, we refer you to our specific section of Cyberpunk 2077, here is the link to access it, we also attach below all our guides on the game.
Guide to all love affairs in the game
Complete guide to all Tarot graffiti
Guide to trophies and Platinum
Guide to the endings and how to unlock them
Guide to all legendary and unique weapons
Guide to all legendary and unique armor
Complete guide to the skills, attributes and talents of the game
Complete guide to all vehicles in the game
Complete guide to all bosses in the game
Complete guide to tutti i Cyberpsicopatici
Drive the Porsche 911 and Johnny Silverhand's pistol for the Samurai Jacket
Guide on how to repair your car
Guide on how to make money quickly
Guide for quick travel and points on the map
Guide to creating objects
Guide on how to get infinite money
Here are some builds that are ideal for the game
Guide on how to take the Akira inspired motorcycle
Guide on how to unlock the secret ending
Guide for resetting Skills, Attributes and Talents
Beat on the Brat side mission guide
The Prophet's Song side mission guide
I Fought the Law side mission guide
Tune Up & Epistrophy side mission guide
The Beast in Me side mission guide
Complete guide to all Contracts
Guide to the choices to be made in the story
Complete Guide to Legendary Cyberware
Guide to all websites related to missions
Guide to the Colombario and who you can find us
Guide to the most interesting Easter Eggs
Guide to all side missions
Complete guide to hacking and hacks
Before leaving you to guide, we remind you that by reading the following text you may run into some minor and / or major spoilers related to Cyberpunk 2077, regarding different playful sections and different details on the story created by CD Projekt Red. We therefore advise you to continue only and exclusively if you have completely completed the game plot, or if you are not influenced by possible spoilers.
Repairing your car in Cyberpunk 2077, as anticipated, is really simple! In fact, all you have to do is go to one of the points where you can carry out the fast travel. Once you've interacted with the device, you'll need to travel to any destination. After loading, just recall your vehicle using the appropriate command (right arrow on consoles, V on PC) e the car will be like new. Indeed, within Cyberpunk 2077 the vehicles repair themselves automatically after a load.