There are just a few hours left for the official debut of Watch Dogs: Legion and we offer you a preview of this guide on the Tech Points of the game
For those who are already a veteran of the saga, they will already know what we are talking about. As in the previous chapter of the popular action open world hacking themed, also in Watch Dogs: Legion i come back Technology Points. In this guide we will explain everything about it, from how to get them to how to use them in the best way. For beginners, you just need to know that these points will be an essential prerequisite for having access to new ones skill di hacking and improve weapons and various gadgets technological.
The basic mechanics for obtaining this special currency remain almost unchanged from the previous chapter. You can get Tech Points in missions or by finding them in some specifications location of the map. Now, before proceeding, a few words on the Watch Dogs phenomenon and in particular on this highly anticipated chapter.
One, none and a hundred thousand hackers
Watch Dogs: Legion officially debuts in physical and virtual stores tomorrow, Thursday October 29. The game comes after a tortuous and extended period of development. The release, in fact, was originally scheduled for March this year. Things then went considerably different, even if, according to the developers, this delay helped the team a perfect your recruiting mechanics of the NPCs. Yes, because the entire gaming experience is based on this and Ubisoft has set up the entire marketing campaign for the title on this feature.
The concept is as simple as it is challenging in terms of technical achievement - in Watch Dogs Legion you can basically be anyone. Yes, in the game you can play any character you come across in the dark streets of one London reduced to exasperation. The city of Big Ben and Buckingham Palace is bent to the iron fist of theAlbion, a shady private security company that acts by making a big voice and showing off the shiny badge of city ​​police.
Your task will be to organize and replenish the ranks of the Resistance, the only bulwark left to guard freedom. In short, as always in the Ubisoft imaginary, here too we are witnessing a clash between pre-established order and the desire for independence. Contrary to the previous entries of the series this time, however, there will not be no protagonist. Each of the NPCs you will recruit will be the main actor of various sabotages and infiltrations from time to time. Even in this chapter, however, you can count on the entire arsenal of the DedSec, the hacker group at the heart of the game concept of the series.
Mobile phones, PCs, cameras, appliances, vehicles and any object that has at least one chip inside it will be your most faithful ally and servant, ready to shoot at the slightest input thanks to theomnipotence of hacking. All of course as long as you have the famous Technology Points, which we have mentioned, so vital for the purposes of general progression in Watch Dogs Legion.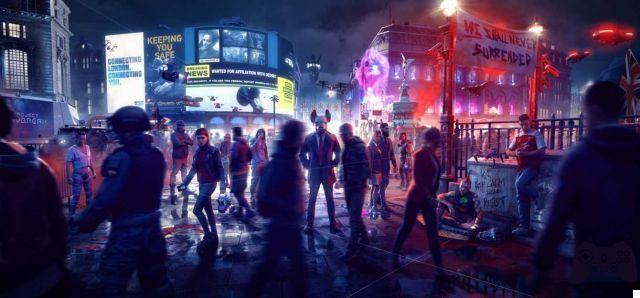 Getting Points - Watch Dogs: Legion, complete guide to Tech Points
We have already told you that you can find Tech Points simply wandering around the open world by Watch Dogs Legion. You will distinguish the points without particular problems, these in fact will be marked by a small diamond shaped symbol celeste on the map. There will usually be at least one Point to be found in each area explored during the main quests.
You will also be able to spot Tech Points in random positions, such as in vents, on the roof of several tall buildings and sometimes outdoors. Frequently, however, they are hidden in places of awkward access, so here are our tips for locating them.
When you log into aReserved AreaRegardless of whether you happen to be in the middle of a mission or not, you will probably be able to find the Tech Points. As you travel around London and discover more areas, new Points will automatically be revealed. However, to know the location of all Tech Points in a specific area, you will need to complete the Liberation Mission of that area itself.
Even if you will be able to see the position of every single point from the map this will only minimally facilitate the obtaining. The Technical Points light up green on the scanner and often will be buried under rocks or apparently hidden in the ceiling. You will therefore have to appeal to all of yours imagination in an attempt to find them.
Either way, your best friend in the Point hunt will be Spiderbot. This can sneak through air ducts, run through rubble, unlock doors, and can even collect Points for you if these are out of reach for NPCs for technical reasons. For other Technical Points, you will have to hack a Charging Droneor or the lift of a window cleaner to reach the top of a building and collect them. Some missions they will reward you with Tech Points, so if you're not in the mood for treasure hunts don't worry too much. You will have a fair amount of them available even simply by advancing in the game.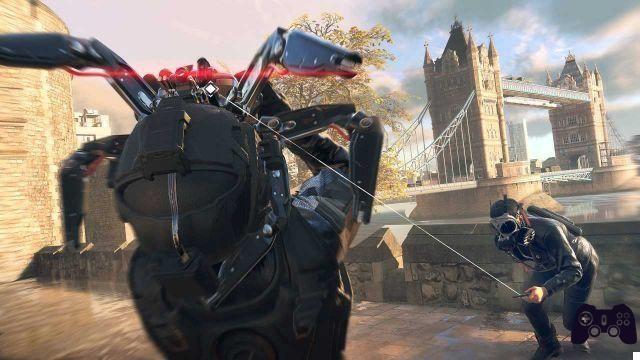 Using Points - Watch Dogs: Legion, complete guide to Tech Points
To use Watch Dogs: Legion Tech Points, go to Technology tab in the game menu (located next to the Missions). Most of the items you see here can be upgraded up to three times. Others, on the other hand, can only be unlocked but not improved. You will need around 15 Tech Points to unlock a gadget, so in between 25 and 45 Points at a time to update it completely. To upgrade individual items, select them and hold down the Upgrade Select button to the next level. Same goes for unlocking.
Our advice is to update it to the maximum Spiderbot immediately. From the Infiltrator model to the Combat model. You can also unlock the Deep Profiler and some of the weapon techs early on, most notably the pistol silencer DedSec.
THEElectro-Punch it is also very useful if you are a lover of healthy old fist fights. Of course, you can always follow the route of thehacking of drones so that you can fight enemy turrets and anti-terrorism drone in the early stages. This one, in particular, will get really treacherous later in the game.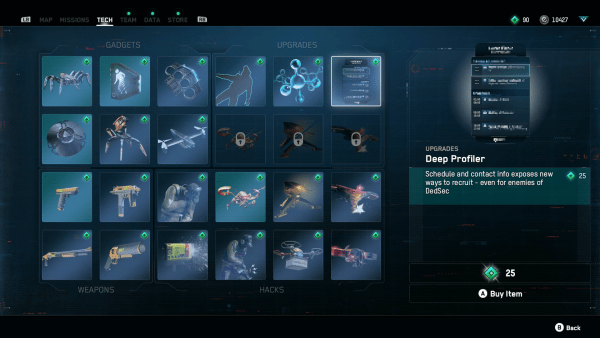 Proceed in order
If you are interested in Tech Points in Watch Dogs: Legion our advice is to proceed in order. The first and most logical step, in this case, is to focus first on the liberation missions of London neighborhoods through propaganda sabotage. These are some of the more challenging quests of the game but their completion will give you access to some of the most powerful recruitable units in DedSec as well as, of course, the location of the various collectibles in the area including the famous Points. Therefore, it will be worthwhile for you to immediately engage in such quests that will be the real key to boost your status.
Once you have completed the liberation missions you can from time to time locate the points on the map. Once in place you will want to unleash it Spiderbot and rely on luck. As you accumulate points, spend them on upgrading your trampling technological gadget. In this way, searches should become increasingly accessible.
We thank you for taking the time to read this guide in the hope that it has been useful to you. We remind you that on this page you will find our review on this highly anticipated Ubisoft game. Stay tuned to Holygamerz for all the news and curiosities from the gaming world and beyond.