In this guide we will explain how to best create your character in GreedFall to make the adventure even more exciting
Let's see how create your own De Sardet starting from the choice of role till when applying skill points. You will have 3 classes to choose from, and after choosing yours physiognomy you will have to choose the attributes and talenti to increase with your skill points. Let's go see all the details.
Let's take a look at the classes - GreedFall: character creation guide
At first each class ha different skills different startups and GreedFall will advise you to choose where to award your points for the chosen class.
Warrior
This class is all about melee combat

Il warrior excels with heavy weapons.
Initially the warrior has:

Heavy one-handed weapons,
Lick one hand
Weapons.

Recommended attributes: Strength and Constitution
Recommended talents: Craftsmanship and Vigor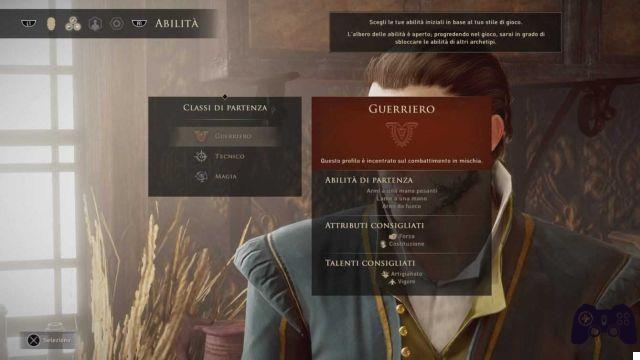 Apparel
This class focuses on controlling the battlefield.

The technician yes develop on strategy, on instruments science.
At first the technician has:

Elemental trap,
Weapons
Lick one hand

Recommended attributes: Accuracy and Agility
Recommended talents: Science and Burglary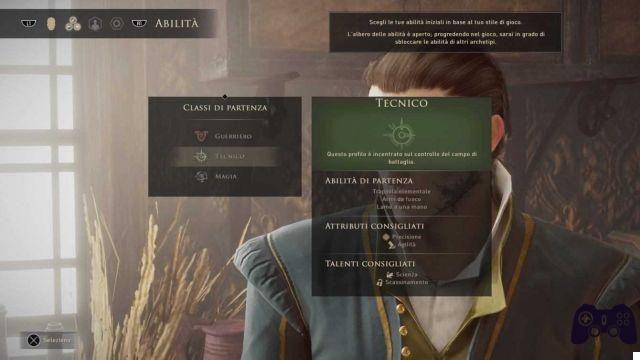 Magic
This profile focuses on the use of offensive spells at a distance

Il magician excels in ranged combat, using magic rings e skill to stop their opponents.
At first the magician has:

The divine magic ring,
The stasis
Heavy one-handed weapons.

Recommended attributes: Mental Power and Will
Recommended talents: Science and Intuition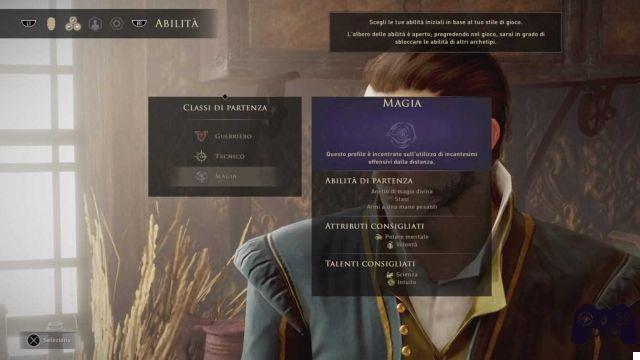 Let's take a look at the attributes - Greedfall: Character Creation Guide
- attributes I'm a components importante in Greedfall, in fact by increasing the attributes of the skills and unlocking the various skills you can wear the better armor, wield the best weapons e prepare yourself for the unknown lands di Tar Ferdee. Let's go to see more in detail.
Force

Increase the power of melee attacks
Attribute required for wield the best melee weapons with one or two hands

Constitution

Increases maximum health and balance
Attribute required for wear the heaviest armor

Agility

Increase the generation of fury and all damage inflicted in melee combat
Attribute required for wield the best swords ad one or two hands

Precision

Increase la power of all firearms and alchemical preparations
Attribute required for use the best firearms

Mental power

Increase la power of all spells
Attribute required for use the best rings

Will

Increase magic points and spell duration
Attribute required for wear amulets and necklaces best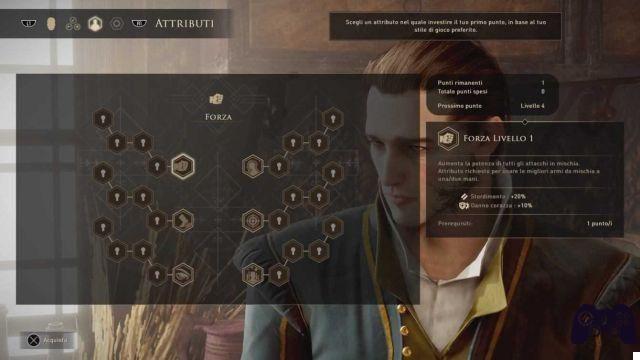 Let's take a look at the talents - GreedFall: guide to creating the character
Like the attributes, i talents are essential to your success at Greedfall. There are six in total and you can unlock one from the start. Although there are talents recommended for each class, you can choose one of the six according to your preferences. Don't forget that you can unlock more talents later!
Carisma

Reduces the prices of merchants and slightly improves the fighting skills of companions
Increase slightly le possibility of success in some dialogue choices

Science

Allows to create simple potions
Allows to destroy unstable walls helping you with the con explosive vials

Force

It allows you to go through difficult passages that require balance
Increases the maximum number of ammo you can carry and allows a slight recovery of Health e Magic out of combat

Burglary

Allows to picking simple locks
Le enemy traps I am more easy to see

handicraft

Allows to create improvements based on weapons and armor

Intuition

I collection points I am more easy to see
Increased of the number of ingredients e items during looting
Rende some dialog options are available contextual that in other cases would be inaccessible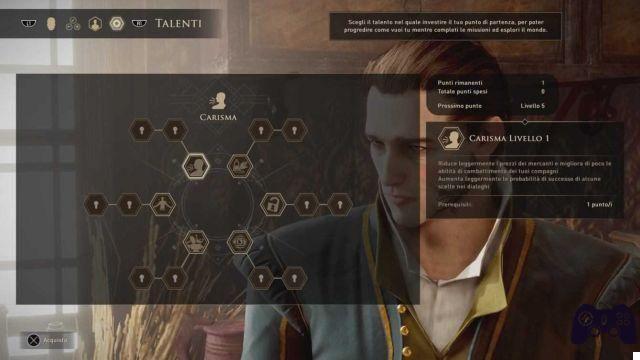 Happy creation!
Once you have decided on the look and style of yours De Sardet, you are ready to begin your journey to Teer Fradee. If you have already embarked on your journey in GreedFall I invite you to read our guide which provides you with gods tips and tricks to continue to the best. But in order not to miss any news on the world of GreedFall, the video game published by Focus Home Interactive keep following the pages of Holygamerz.