In this guide on GreedFall we will reveal some tricks and tips to start your adventure in the brand new Spiders title
Greedfall is developed by Spiders and published by Focus Home Interactive. The game's setting takes us back to the early seventeenth century, on an island where fantastic stories are told of hidden riches and magic. In this guide we will introduce you to the game with some little tips and tricks you can follow.
GreedFall: let's see tips and tricks to start your adventure!
Let's move on now list some tips to start your GreedFall adventure in the best possible way. These tips, in our opinion, will enable you to approach it in a simpler way, especially for those facing such a title for the first time.
You can safely visit the various CASE​ of the area e rob them. However, many of them require the talent to open the locks. This talent can be acquired upgrading your character over the course of the game.
Wandering around you will find yourself on the path of traders, do not hesitate and buy some ammunition. Weapons in the game they are a lot potenti, but ammo can be quite rare.
Exploring the length and breadth of the map you can find yourself at deal with minibosses and others powerful enemies optional which, for example, they protect a chest with legendary items.
When it comes to talents, it is worth spending at least 1 point on the Carisma. Whenever you pass one mission you will gain additional Charisma.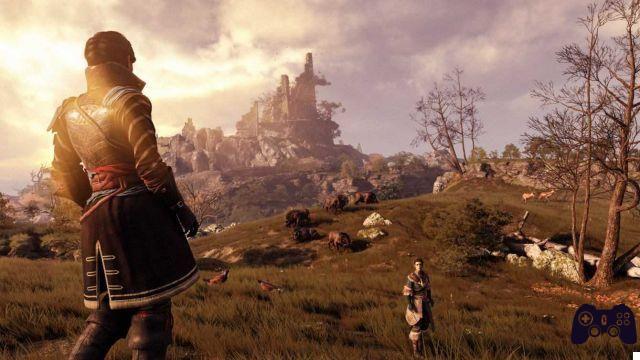 Give your teammates good weapons for combat. For example, Kurt with a two-handed weapon is able to destroy a large number of enemies on his own.
Unlock the ability of Magical Healing as soon as possible so as to no longer having to use health potions. Additional magical skill improvements are highly recommended. By improving Magical Healing, for example, you can heal your teammates too.
I fast travels they will help you to return to the places you have already visited to film them as well secondary missions, so try to find them as fast as possible.
When fight the enemies, try to don't go too far. In fact i enemies quickly lose sight of you in combat. This will restore their health and return to their original position.
Firearms are very powerful: even a normal revolver stuns the enemy and inflicts a lot of damage. Try to have at least 1 point in the Accuracy field.
La New Serene Arena rewards you with a powerful two-handed weapon. This weapon requires 5 points of agility and skill.
These were the tips and tricks to get you started on GreedFall. We remind you that the title is available to 4 PlayStation, Xbox One and PC. Have you already started GreedFall? If you are, do not miss any of our guides by continuing to follow the pages of Holygamerz.