It is known that landing in Fortnite is essential. The possibility of being alone and being able to find interesting loots helps a lot. In this guide, we at Holygamerz will explain to you in which places to land in order to win. Here is the list of the 12 best places to land in Fortnite season 6
Fortnite's latest big map update added quite a few juicy places and some of them will be reported in this guide. However, this has led to a "depopulation" of the places frequented so far, where there are still excellent places to land and which in this period find a lower frequency of population, giving us the opportunity to find substantial loot. We at Holygamerz in this guide will show you which in our opinion are the 12 best places to land for this season 6 of Fortnite.
Fortnite season 6: general information on the best places to land | Guide
Most of the places listed in this guide are away from the main areas, also because it would be useless to make a guide as we all know that there we will certainly find good objects, but a lot of enemies.
If you are letting yourself fall into an important position, I recommend Confused Conduits (it's fun to explore the underground passages) o Adventurous Landing (a deserted Chinese city with lots of loot). At the moment, many of the named locations on the map (based on the route of the bus) are less busy as everyone rushes towards the one they will need to complete the missions of the various weeks accessible with the Battle Pass, but I am sure that over time they will return to render as before.
We must also give a Fast Risky, some importance. In fact in this place they are found countless chests, but you must always be ready to fight at any moment. A good goal would be aim for the car just north if possible (it will almost always have a chest). However, you can turn back to the two houses to the north east of this place and then return once fully armed.
Fortnite season 6: general advice on the best places to land | Guide
We'll move on to this Fortnite season 6 specific locations guide soon, but first, here are five tips to ponder as you descend, regardless of which seats they choose.
1. Capture unwitting people as they leave the main positions
If ten people land in one place it means that only one will come out with all the best loot. The wisest thing to do would be to walk away to find some weapon quickly and wait for them to take each other out. When the winner leaves the quiet place of being alone, then we can strike and with a few hits (before he notices of course) we will steal the loot and have ten fewer enemies.
2. Go late if you want peace and quiet
Most of the players can't wait to jump off the bus to land and fight. Using this knowledge and especially if you are the type who wants to get to the end of the game without too much effort, you can wait and launch yourself after to land in quiet places.
3. Go far
Launching away from the bus path will allow us to land in places with less resistance. To go as far as possible, just open the parachute first (the map is so small that it allows us to get anywhere).
4. If you play alone, look for more secluded places
If you play alone, landing in more isolated places is a great idea. In fact, two or three speakers they should guarantee a good arsenal to survive. If, on the other hand, you play as a team, you must necessarily go to more populated places as two or three boxes will not be enough for the whole team.
5. Keep your eyes on the sky
This is perhaps the most important advice. As you fall, rotate the camera so you can see who is with you as you descend and try to memorize their positions so that you have an advantage in the next firefight.
Fortnite season 6: here are the 12 best places to land | Guide
After these necessary advice, we can finally move on to the guide on 12 best places to land in this Fortnite season 6.
The Motel West of Pomposi Passatempi - Best Places to Land in Fortnite Season 6 | Guide
Just land on one of the motel wings and blast your way through; alternatively you can land on the two small houses near the motel. Lend the maximum attention to find the speakers hidden and watch out for possible enemies you will encounter! So much loot can be found here that it will probably be enough for a whole team.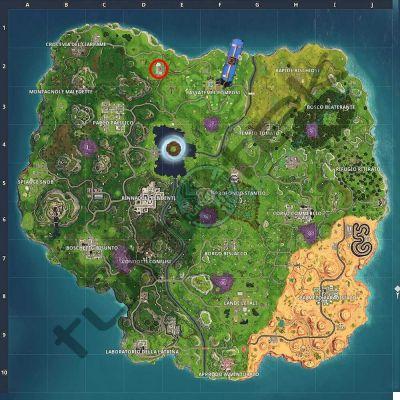 Once finished here you could go to Pompous pastimes or Pacific Park looking for some kill.
The Stone Circle East of Paradise Palm Grove - Best Places to Land in Fortnite Season 6 | Guide
This is a great place to get one speaker series in no time. Clean up the place and head north immediately where you can find two more crates. If the storm circle is far away, head there at full speed, perhaps with a breach, otherwise you can safely go and loot the houses of Palmento Paradisiaco and maybe take out some opponents.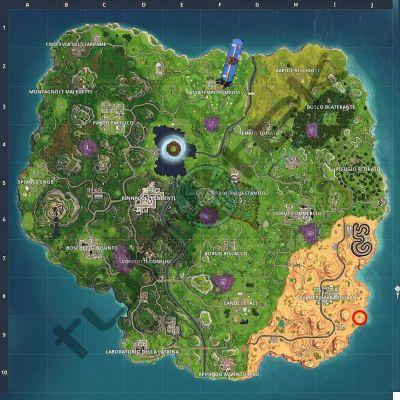 An Overhead Look at Tomato Temple - Best Places to Land in Fortnite Season 6 | Guide
Tomato Temple it's usually a very busy place after the rework right away, but south of the city you can find a bunker with stairs leading into the tunnel leading out of the city. Along the stairs there are usually two or three weapons, and at the bottom of them one or two baskets.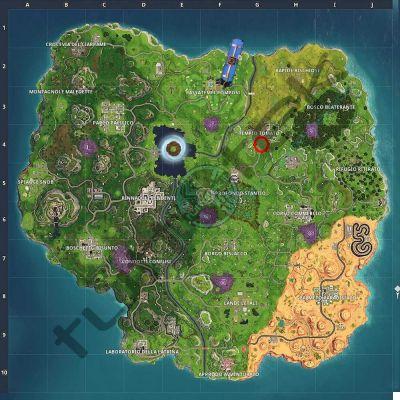 Now you have to be very careful. Coming from above could give you a small advantage than those that land directly in the bunker, but be careful. The area is very popular and there will be no shortage of enemies. After securing the area, head to the wall inside the tunnel and take it down to find a chest. The wall is on the opposite side of the staircase, next to a car.
Agglomeration Northeast of Laboratorio della Latrina - Best Places to Land in Forntite Season 6 | Guide
This is one of the smaller places in Fortnite, but it's a lot full of baskets! Just go down directly to the southeast corner of the complex and land on the high chimney to get a chest right away. From here you can immediately try to take down some enemies.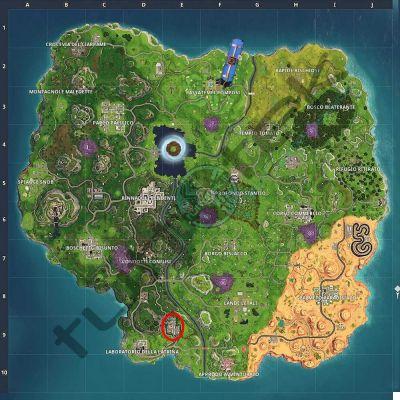 From here we proceed to search the large building full of metal containers and, if luck helps, two crates upstairs. Trucks and open-air containers between buildings usually house a few more chests, while buildings normally have one each. This is a good place to go in duos or teams.
Villa South of Retired Refuge - Best Places to Land in Fortnite Season 6 | Guide
Here they can be found fine to four roads and it's a great place on the map to play as a team as well. In the villa we will also find weapons and useful items. It will be convenient to land on a balcony or directly from the hole in the ceiling and once inside, head straight to the attic where we will find the first basket. From here we can go down to the basement where there will be a second one and if we are lucky we will find the third one near the dock overlooking the basement. In the building behind the villa we can find the fourth basket.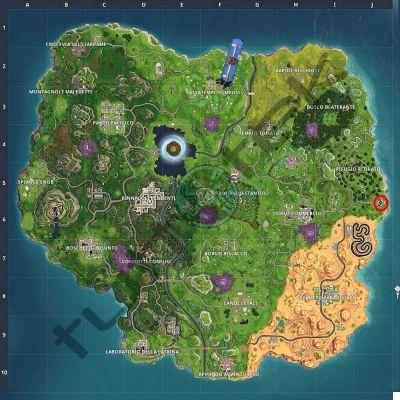 From here you have two options. Head towards Retreat Refuge or continue east towards the agglomeration that is nearby and then to Commerce Course. They are both very populated and famous areas, so be careful not to expose yourself too much.
The Tower at the Northeast End of the Map - Best Places to Land in Fortnite Season 6 | Guide
This is one of the old Fortnite posts that is still worth a look even after the update. Tucked away in the far northeast corner of the map is a tower that can generate three crates (if you are very lucky sometimes even four) and just west of this is a ice cream truck which can generate two more. The first location is right on top of the tower, so you can directly land on the roof.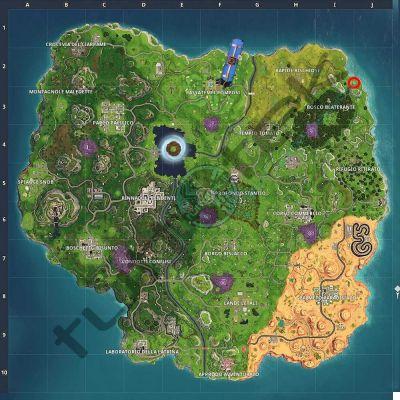 This used to be a very popular place, but hardly any enemies are encountered after the update. Once finished, just head directly west to the abandoned ice cream truck for a chance to find another couple of crates.
The mountain north of Borgo Bislacco - Best places to land in Fortnite season 6 | Guide
This is not really a good place for looting, but you can have some great fights and an advantage over your enemies. Basically, it's a multi-stepped mountain that it usually has two or three hidden boxes, one of which is at its highest point. Make sure you peak before anyone else has the same idea.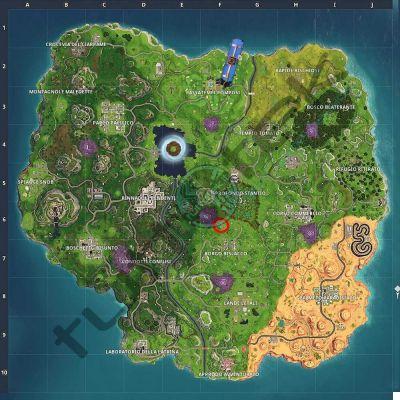 If you can, take a look at the mountain from all angles before landing to locate all the chests and then track them down. You will likely have company, but with a little bit of haste you will get the best weapons. Once finished, all that remains is to head towards Borgo bislacco.
The 7 Runes Corrupted Zones of the Cube - Best Places to Land in Fortnite Season 6 | Guide
Although these corrupt areas there are a total of seven and therefore increase the number of seats proposed in the guide, I thought consider them as a single landing site. The reasons are two:
the fact that they are isolated from the named places
they are all identifiable through a single figure, the runes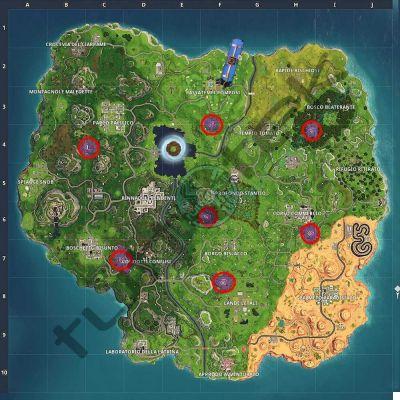 In the map above you can find all the locations of the various corrupted areas. At their feet you will find from 1 up to a maximum of 3 baskets. Once you have collected all the necessary equipment you can head to one of the main places to try to eliminate some opponents, or continue the game in "safe" mode.
Headquarters atop the Western Mountains - Best Places to Land in Fortnite Season 6
This is a very risky place and it is convenient to do it yourself. There are three multi-level mountains along the road between Leaning Pinnacles and Snob Beaches, but what interests us is the mountain at the top left. As you fall, keep your eyes peeled for baskets as one can spawn right on top.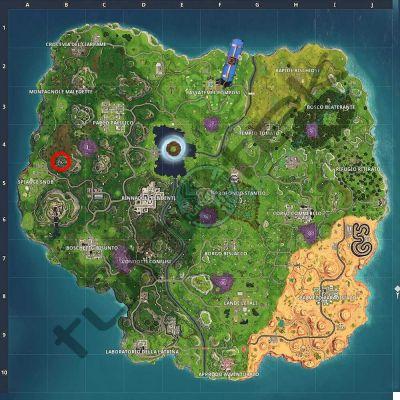 You have to keep the open eyes for enemies. In the event that there are no trunks on the top, you must immediately head towards the entrance of the headquarters located towards the west side of the mountain.
Once finished we could wait for the winner to come out of Snobby beaches or get off the north side and continue our adventure.
The houses south of Snobby Beaches - Best places to land in Fortnite season 6 | Guide
Another place, which should be visited when playing solo, is the two houses south of Snobby Beaches. The area is obviously very busy, but it provides us with the opportunity to escape from Snobby Beaches if we see many people heading there. The two houses will provide at least two roads (be careful not to get lost in the basement of the southern one).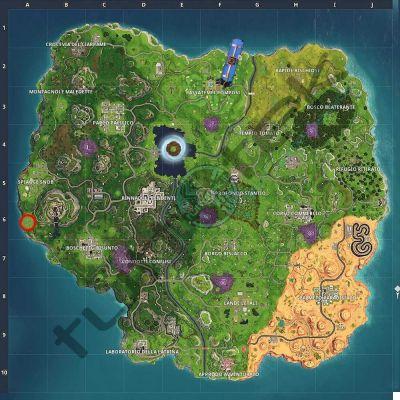 If you have enough equipment you can go north and ambush to anyone trying to escape from Snobby Beaches. If not, you can head south where in a clearing we will (almost always) find an open chest.
Agglomeration south of Palmeto Paradisiaco - Best places to land in Fortnite season 6 | Guide
This is a great place to land. Quite often the opponents pass without even glancing at us, but here they can be found a lot of baskets and a lot of loot on the ground. My advice, however, is to land not very close and pay close attention to the enemies who will try to land in Palmento Paradisiaco, but for some reason they will change their mind by heading here.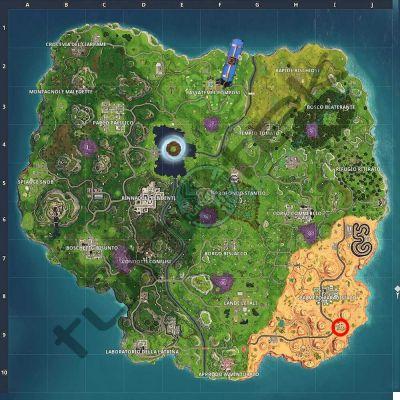 The Football Field West of Leaning Pinnacles - Best Places to Land in Fortnite Season 6 | Guide
There is certainly one of the fun places to land in Hanging Pinnacles, but it can be very hectic at times. To remedy we can head further west where there is a small group of buildings. One of them actually hides an indoor soccer field.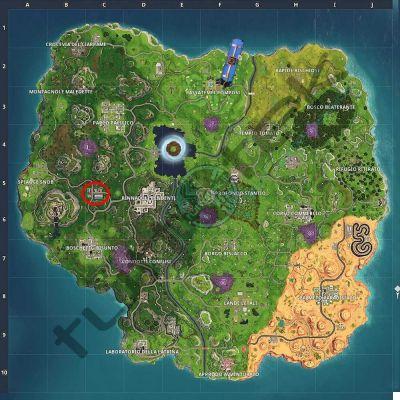 In the camp we could find guns and at the ends of it there could be some crates. From there we have to head to the west building which often contains loot crates. Once finished we can head towards Pinnacoli Pendenti in the hope that they are all gone (and that there is something left to rob) or head towards Sponde del Sacking and keep a lower profile.
We remind everyone that our guide on best weapons for this season 6 of Fortnite. You can consult it by clicking here. If, on the other hand, you are tired of playing alone e you are looking for someone to play in company, then you have to go to ours new Discord channel which is being expanded. You can access the channel directly by clicking here.
And what tactics will you use for this season 6? Will you boldly throw yourself into the crowd in the full spirit of Fortnite or will you choose quiet places where you can land and get to the bottom? In order not to miss any news, be it a guide or news, regarding Fortnite, continue to follow the pages of Holygamerz!