Yesterday the second half of Fortnite season 4 began, which again sees us grappling with rather demanding challenges. We at Holygamerz are here to help you get through week 6 thanks to our guide
Getting to the 6 week this season has not been easy, but it has certainly given us a lot of satisfaction. There Fortnite season 4 in some ways it is proving much more compelling thanks above all to changes during the course of the same, with adding new modes and weapons that can change our style of play. That's why we of Holygamerz we have thought to make it easier for you at least in terms of completing this week's challenges thanks to our guide.
Fortnite: how to overcome the challenges of week 6 of season 4 | Guide
Search for supply deliveries (0/3)
To complete this simple mission, just find and open the supply crates that will land during the game, or find the lama. I advise you to play in different modes than the normal ones as there the crates will spawn earlier than in the normal mode.
Inflict damage to opponents with heavy rifles (0/1000)
Despite the small nerf suffered by both the shotgun and the tactical shotgun, these weapons still remain very lethal and are capable of causing a tremendous amount of damage to opponents. My advice is to always try to fight in close quarters to complete the mission faster.
Search for chests on the banks of the pillage (0/7)
Here is the map where you can find all the chests. I suggest you to land along a bank and to quickly open one to get some weapons so you can take on the enemies. Be very careful because the area is very populated.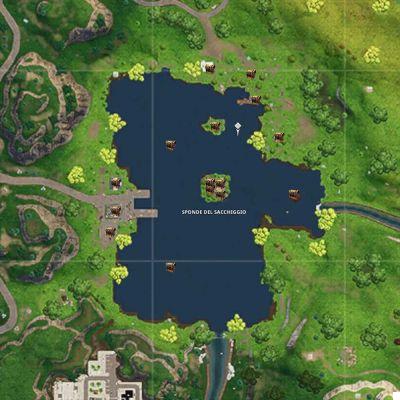 Spray the spray on different Carbide or Omega posters (0/7)
Here too we propose the map with all the posters that we were able to find. Since it is not mandatory to complete the mission in a single game, you can easily try to land in one of the less isolated spots and play your game as you see fit. Remember to equip at least one spray !!!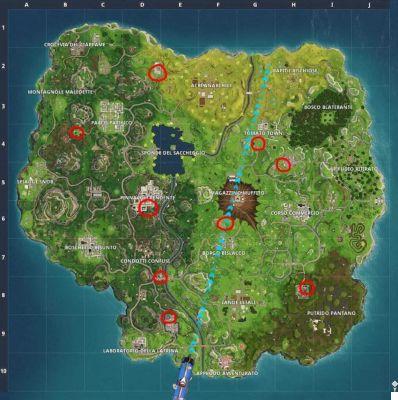 Fortnite: how to complete the most difficult challenges of this week 6 of season 4 | Guide
Search between a playground, a campsite and a footprint (0/1) (DIFFICULT)
This is one of the most demanding challenges as we will have to try, before landing, a weapon to be able to defend ourselves and then rush directly to the point where the star will appear, fighting against various enemies. The exact spot for this week 6 of Fortnite season 4 lies a little at northwest of Greasy Grove. Here is the map.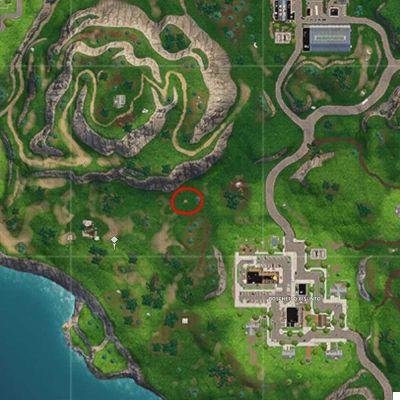 Eliminations with machine guns (0/3) (DIFFICULT)
This is undoubtedly the most demanding challenge because it is not always easy to take down an enemy with a machine gun. A good way to defeat an enemy with a submachine gun is to land as fast as possible, pick it up from the ground and shoot before the other can find a weapon. If, on the other hand, we have been in the course of a game for a few minutes now, we will agree sneak up on us and take him by surprise without giving him time to react with a few precise blows to the head.
Eliminate enemies in the trade course (0/3) (HARD)
There is nothing to add here. Shoot and build and good luck. The only advice I can give you is to land first, or to choose to land a little further east, in the camper depot and to move quickly to Corso Commercio after being well equipped.
Completing the challenges of this week 6 of Fortnite will certainly not be easy, but with our guide we hope to have given you a hand and some useful advice at least on how to set up your tactics. I remind those who have not yet completed the week 5 of season 4 which is present our guide. To consult it you can click here.
Where are you at? Did you complete all the challenges or was this guide helpful? Let us know what you think. In order not to miss other guides and news regarding Fortnite season 4 and its weekly challenges such as those of week 6, continue to follow the pages of Holygamerz!