The challenges of week 7 for this season 4 of Fortnite have just been revealed, but thanks to the patch introduced at the beginning of the week and the leak that revealed them many days in advance, we at Holygamerz can already provide you with a guide and advice for complete missions
We are now approaching the end of the Fortnite season 4 and after some changes made to the map by the following patch here is the 7 week with its new challenges. We from Holygamerz we will reveal some tricks and give you some advice to complete them without too much difficulty thanks to our guide. Let's see how to do it in detail.
Fortnite: how to overcome the challenges of week 7 of season 4 | Guide
Inflict damage to opponents with a pickaxe (0/250)
This might seem like a daunting challenge to many, but there is a little trick to complete it. In fact, it will be enough for you play in any team mode and try to take down an opponent. Once done, instead of killing him permanently with a weapon, it will be enough hit him with the pickaxe. By doing so you will have inflicted 100 damage on him and with 3 of these eliminations you will be able to complete the challenge.
Search for chests in Risky Rapids (0/7)
The usual basket search challenge found every week. We leave you below the map with all the baskets which can be found in the area.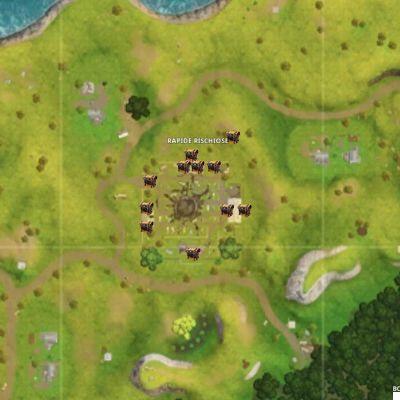 Consume Jumping Rocks, Apples or Mushrooms (0/20)
One of perhaps the simplest missions of the week. To complete it will be enough search for objects and use them. You can find many Jumping Rocks in the HQ on the mountain northeast of Snobby Beaches, while Apples and Mushrooms are scattered all over the map.
Score goals on different fields (0/5)
One of the most unusual challenges ever for this season 4 of Fortnite. In fact, this week 7 could be a prelude to the new season 5, or it could be a simple one tribute to the soccer world cup which are about to start in Russia. This thesis seems the most plausible as we are already talking about the new ones skin with the uniforms of the national teams.
You can find the various fields in the map below. Our advice is to play this mission in 50vs50 mode in order to have a greater chance of completing it with fewer games by being able to visit more fields at the same time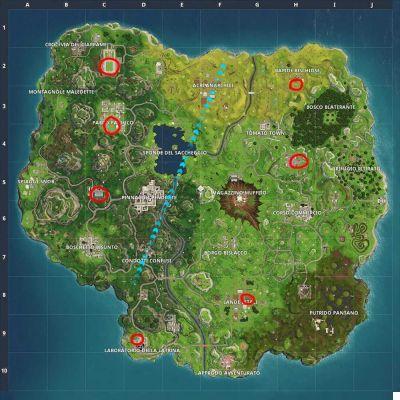 Fortnite: how to complete the most difficult challenges of this week 7 of season 4 | Guide
Follow the treasure map found in Parco Pacifico (0/1) (HARD)
Nothing simpler. You will find the map below with the precise place where the star will appear. We remind you to pay attention as Pinnacoli is one of the most popular places thanks to its loot. So try to don't expose yourself too much and above all, don't land directly there without having a weapon with which to defend yourself.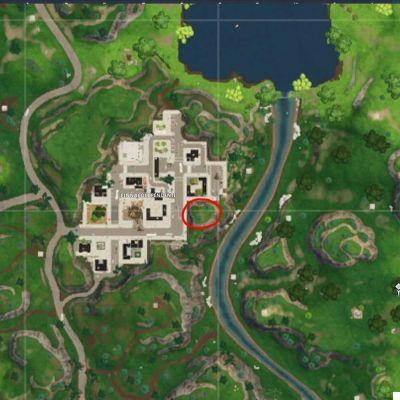 Eliminations with assault rifles (0/5) (HARD)
Nothing to tell you about it. The assault rifle is one of the most used and strongest weapons in the game, so you already know how to use it! The only difference with other similar missions is precisely the higher number of kills to accomplish.
Eliminate enemies in Confused Conducts (0/3) (HARD)
The personal advice I can give you regarding this challenge is to land and look for a shotgun right away. In fact, the map in that area does not allow medium-long distance clashes, but rather those at medium-short distance. With a good shotgun you should also be able to complete the mission in one game if your skill allows it.
We remind you that once you have completed all the challenges of this week 7 and the previous ones of Fortnite season 4, you will be able to access the Wreck-It Skin. If you are still on the high seas with the missions of the week 6, we remind you that it is present our guide accessible by clicking here.
Where are you at? Are you completing the missions without problems or did you need our guide for any of them? Let us know and remember that in order not to miss any news regarding Fortnite and its weekly challenges of this season 4 (such as those of week 7 and the 8 week that will come) and other guides regarding the game, you must continue to follow the pages of Holygamerz!