The challenges of week 9 for this season 6 of Fortnite have just come out and we at Holygamerz are here to provide you with a special guide with tips and maps to help you overcome them. Let's see together how to survive this week
Although we are now in the home straight with this season 6's Fortnite, the challenges keep coming out on time as usual. In fact, those of week 9 were made available a little while ago. Before seeing how to overcome these missions, I remind you that a few days ago there was a major update related to patch 6.30 which has brought numerous innovations to the island. Let's see how to get through this week together thanks to our guide.
Fortnite: guide to the free challenges of week 9 | Season 6
Get 30 seconds of flight time in a vehicle (0/30)
How many of you have never happened to find yourself in the air while driving a vehicle on the island? Whether it is by means of a ramp or simply because you have decided to jump below, the important thing is fly with your vehicle. Obviously, to complete the mission you will need more jumps as there is not an adequate height that will allow you to get the 30 seconds with a simple jump.
Get a score of 10 or more on different Carnival boards (0/3)
Below we report the places where you can find the various Carnival billboards. Watch out for the various enemies that might target you as you try to complete the mission.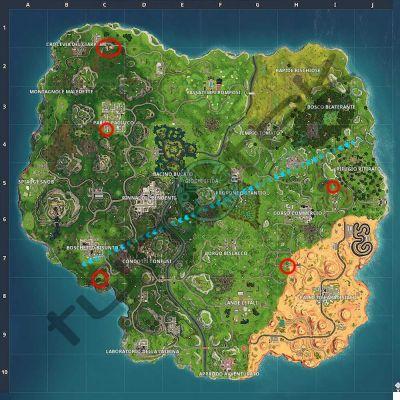 Phase 1: consume mushrooms (0/5) (HARD)
This mission will be divided into several phases. The first involves consume 5 mushrooms. In the next 3 phases you will have to consume the small shield potions, the large shield potions and carafe of drinks.
Fortnite: guide to the challenges of the Battle Pass of the week 9 | Season 9
Inflict damage on opponents with sticky grenade, smelly vial or grenade (0/300)
Definitely not a very simple challenge. My advice is to play in a team mode and while your friends draw the opposing fire, all you have to do is get around the enemies and throw everything you have at them!
Inflict damage to enemy structures with dynamite (0/10000)
The new object introduced in Fortnite season 6 with the update of the 6.30 patch immediately becomes the protagonist with one of the challenges of week 9 entirely dedicated. How many times has it happened to you to find immense structures while moving from one point of the island to another? All you have to do will be blow them up to complete the challenge. Our advice in this guide, after collecting dynamite, is to approach any opposing structure and throw dynamite at.
Eliminations rocket or grenade launcher (0/3) (HARD)
Sure, eliminating enemies with these weapons is not a walk in the park. My advice is to sneak up on you to enemy structures (with them inside) and open fire as if there was no tomorrow. If you can get through a grenade or rocket, the kill will be almost completely safe.
Phase 1: inflict damage to opponents with grenades (0/100) (HARD)
In the first phase, as written in the challenge itself, you will have to inflict damage on opponents with grenades. My advice is to complete this phase together with the first challenge of those of the Battle Pass. Next you'll have to inflict damage on opponents first with the grenade launcher and then with i rockets. Either way you will have good opportunity to complete the previous mission as well.
That's all for this guide on Fortnite week 9 challenges. In order not to miss further details on the season 6 that is ending and the new one that will start shortly, continue to follow the pages of Holygamerz!